Travel: The must-see destinations of Monument Valley and the real Hollywood
A major benefit in diverse travel is the ability to see many unique sights often rich in history and also the opportunity to meet many fascinating people. Monument Valley, Navajo Nation, Utah and "Hollywood" California are but two examples of very unique must see destinations. And you might not believe this but those two places are very much connected.
Monument Valley — Navajo Nation — Utah (aka Oljati)
This magnificent plateau sits slightly more than 5,009 feet above sea level located within in southeastern Utah and northern Arizona, entirely within the Navajo Nation. The Navajo people refer to the area as "Tse Bil'Ndzisgall" which means Valley of the Rocks — and oh what beautiful rocks they are.
One of the common gateways to Monument Valley is via Kayenta, Arizona which is within Navajo County. Arizona and the Navajo Nation. Are you getting the picture? This, folks is long time Indian aka Native American country and it is a paradigm of western beauty within the United States.
Beyond the vast natural beauty there is a venerable lodge and restaurant located just 18 miles north of the Arizona-Utah border and it has been there just shy of a century. It also brought Hollywood to Monument Valley.
Back in the early 1920's Harry and his wife Leone "Mike" Goulding opened a trading post in Monument Valley. It grew nicely but by the early 1930's the Great Depression began to have a severe negative impact on the whole United States but the Navajo nation was hit especially hard. Harry Goulding heard that Hollywood was looking for great locations to shoot their western movies so he took his last few dollars and went to Hollywood
He met with a lot of rejection and disappointment and then one fine day he met the famous Director John Ford and Ford was instantly very interested. Just to make the deal real Ford gave Goulding an advance payment and not long after a large production crew showed up in Monument Valley to shoot the huge film Stage Coach, starring John Wayne. Ford even hired most of the indigenous population to play the role of American Indian in the movie  Since then a great many movies have been filmed at least in part in Monument Valley.
And this is but a very short list.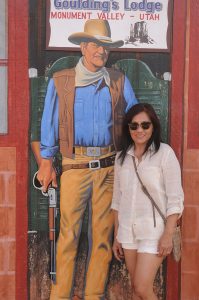 Even today the biggest draw to Monument Valley is not so much its Hollywood connection but its vast natural beauty. The Goulding Lodge remains at the epicenter with great accommodations, a captivating museum, a wonderful restaurant and a very nice gift shop all coming together to a make a visit to Monument Valley something you will love and remember forever.
Hollywood, California
I will never forget my first introduction to Hollywood, California. It happened when I was about 11 years old living in a Chicago suburb, A new show came on TV called The Mickey Mouse Club and one of its female stars was the most breathtakingly beautiful young women I had ever seen. Her name was Annette Funicello. She was gorgeous so I wanted to see her in person. When I asked my parents where I could find Annette they said in Hollywood. I had no idea where or what "Hollywood" was. That was then
Now for the last 36 years I have been living in the real Hollywood. No it is not all that near to the intersection of Hollywood and Highland, nor can I see the Hollywood sign from where I live because the Hollywood sign it turns out is lot like the sign on a store.
For example, think about a Walmart — where is the sign that tells you the store is Walmart? It is front of the store, right? So to actually be IN Walmart you have to go beyond the sign and the same thing is true of Hollywood. Just the other side of the hill where you will see the Hollywood sign is the real Hollywood, also known as Burbank, California. It is in Burbank that you will find Disney Studios and Warner Brothers and even though Universal Studios in within the city limits of Los Angeles it is immediately adjacent to Burbank. Even Cartoon Network and pretty much every major record label call Burbank home
So while visiting Hollywood and Highland does have some benefit, mainly taking a peak at the Dolby Theatre home of the annual Academy Awards show and an opportunity to see some of the biggest names in film and television on the Hollywood Walk of Fame, the odds of seeing an actual movie star in that area — except on Oscar night — are about the same as seeing Donald Trump and Nancy Pelosi together on a date.
Just a few of the celebrities I have seen and in some cases met in Burbank include Jay Leno, Tim Burton, Jennifer Aniston, Bruce Willis, Brad Pitt, Jason Stuart, Chick Vennera and Kirk Taylor. I even kinda finally fulfilled my Annette Funicello fantasy.A lovely young lady who went to Burbank High School and was even in a few performances with my daughter became a genuine Disney star. One day while shopping in a local food market she saw me, ran over and gave me a hug saying "Hi Mister Irwin."  More than a half century coming but it finally did happen with a modern day Annette, and no I am not revealing her name.
Other than certain Burbank grocery stores other great locations for star spotting include these restaurants: The Castaway Restaurant with magnificent view from high atop a big beautiful hill and the food equals the view. The Granville, located on San Fernando Boulevard in Beautiful Downtown Burbank, Bea Bea's on Pass Avenue for breakfast and my personal favorite The Smoke House located at the intersection of Lakeside Drive and Olive Avenue literally across the street from Warner Brothers.  Even if you don't spot a celebrity you will enjoy the ambiance and the food at any of these fine restaurants.
Then, of course you can dive in with full gusto by taking either the Warner Brothers tour or the Universal Studios tour. Both will leave you with powerful lasting memories and a real look inside what we call "Hollywood."
Be sure to bring your camera because both provide a visual treat you will never forget. This, folks is the real Hollywood and nothing like the endless supply of trinkets and trash along with smelly guys dressed as Batman typically found at Hollywood and Highland. And then to make your experience truly extraordinary I offer this option.
Host your very own 50-minute TV show that will be broadcast literally around the world via a wide variety of digital outlets. You can present virtually any lawful topic and I can even, if you so desire, provide one or more actors to be a guest on your show. What fun is that? Get home from Hollywood and have all of your friends watch YOUR TV show. I will assist you in all production needs including providing a professional TV studio literally right next to Warner Brothers. Interested? Send me a note to drcommunicator@gmail.com and I will provide you with complete details at absolutely no cost or obligation to you.
••• •••• ••••• •••• ••••
Looking for a great read? Look here.

Ron Irwin was born in Chicago, Illinois a long time ago. He served in the Marine Corps in Vietnam, became a trial lawyer, TV and radio host, CEO of a public company and once held an Emmy. He never won an Emmy he just held one. Ron has written and published twelve books. His most important book to date is "Live, Die, Live Again" in which Ron tells of his early life and his unexpected and very temporary death in 2012. That experience dramatically refocused his life and within the pages of that book Ron reveals how he achieved a much healthier life, ridding himself of Diabetes, Cancer and Heart Failure. Now Ron enjoys writing about many things including health topics, travel [he has circled the globe several times], adventure, culinary experiences and the world of performing art. Ron's motto is "Live better, live longer and live stronger because it feels great and annoys others." Contact the author.