USC beats Cal, gets ready for UCLA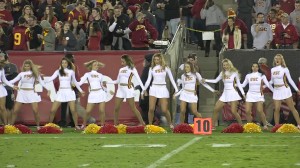 The University of Southern California, USC, has several football rivalries: UCLA, Notre Dame and Cal, the University of California at Berkeley. Before last Thursday's game, held at the L.A. Coliseum, USC's record was  6-3, 5-2 in the Pac-12. Cal was 5-4, and 3-4 in the conference. As many of us thought, this was a close game between conference rivals, but it didn't start out that way.
The USC Trojans scored two touchdowns in the first quarter before the Cal Golden Bears could post any score and the first score they got was a safety, two points, when USC running back Justin Davis was tackled in the USC end zone.
Davis redeemed himself on the next drive though when he scored on a three-yard run, bringing the score to 21-2. Cal scored a touch down in the second and third quarters, but USC scored 10 points in the second, to stay ahead of Cal.
Even with their two touchdowns in the 4th quarter the Golden Bears couldn't quite score enough to overtake the Trojans, who added one more touchdown in the fourth to bring the game to its final score of 38-30.
Cal had a terrible start to the game. With about four minutes left in the first half they were down, 28-2. So they had  punter Cole Leninger attempt a fake punt which ended so badly, Leninger's pass attempt anemically fell to ground, it might be the most notable play of the day for the Golden Bears.
Cody Kessler is the star quarterback for the Trojans, was averaging 283 yards passing per game. He also had 25 touchdown passes before Thursday's game. He now now has four more. He passed for 371 yards with 31 passes Thursday, completing 73.8 percent of his passes, which averaged almost 12 yards each. And now he is averaging 291 yards per game. Kessler had one interception Thursday, but it was only his third of the season.
Cody Kessler: Heisman Trophy candidate … except that the junior hasn't been mentioned by anyone outside of the USC universe as being great enough to be considered for the honor.
He has as his number one receiver another junior, Nelson Agholor, and that is probably one reason Kessler has such great numbers this year. Agholor has 82 receptions this season, 16 of them against Cal. He had 216 yards Thursday, with two touchdowns.
That was really the story of the game: Cody Kessler and Nelson Agholor — and the rest of the USC offense — were just too much for the Golden Bears.
After the game USC head coach Steve Sarkisian said of his team's win, "Cal's a good football team. We know that all along. Their offense at some point would start clicking. We wanted to continue to remain aggressive offensively; I wish we would have performed a little better in the red zone opportunities; we had a couple touchdowns called back, an interception in the red zone. I think we left some points on the board. I don't think we let down. Cal's a good team. We need to fine a way there, late in ball games, to continue to play with confidence more than anything else, quite honestly."
This was the 1th straight time the USC Trojans have beat Cal.
•••• •••• ••••• •••• ••••
On Saturday (Nov. 22) USC will meet their cross-town rivals, UCLA, in the Rose Bowl. Last year when the two teams met for the Victory Bell in the L.A. Coliseum, The UCLA Bruins won 35-14. If USC plays like they did against Cal, the Bell will move back to the Coliseum after the game.

Claudia is of Peruvian and Italian descent, having been born in a small town, in the North of Peru, South America. She was raised by her grandmother from an early age, living in poverty until Claudia's mother brought her to America. She landed in Miami, FL and started her new life, playing high school basketball and eventually becoming a United States citizen. Claudia completed her education at Florida International University with a BA in Broadcast Journalism and became a model to supplement her income. Since graduating from FIU Claudia has worked with many of the Spanish Language broadcasting companies, including Telemundo, Univision and most recently Spanish Language channels on SiriusXM satellite radio and PasTV Deportes in Venezuela.She encourages you to follow her on Twitter and Facebook. Her content appears here under a shared content agreement with her Spanish television clients.