Wiz Khalifa Launches HotBox Restaurants Across US with Stoner-themed Dining
Wiz Khalifa, the popular and Grammy-nominated rapper, is going to make fans very happy. He's launching a chain of delivery-only restaurants in collaboration with Nextbite, the Denver-based company.
The restaurant chain will be serving spots all around the United States. As an avid marijuana smoker, WIz Khalifa's new HotBox restaurants are bound to serve up the best munchie food.
'HotBox by Wiz' will sell food curated by the rapper himself and he says it's not just for weed smokers.
Although the full menu has not been shared with the public yet, nothing on offer will contain any cannabis.
Currently, the aim is to open the delivery-only restaurants, also called 'ghost restaurants' in October 2020.
When WIz Khalifa's new HotBox restaurants have officially launched, people will be able to order food through popular delivery services such as GrubHub, UberEats, Postmates and DoorDash.
For now, the menu sounds pretty appetizing with many of Wiz Khalifa's favorite dishes.
Customers can expect to order Taylor Gang Turkey Burgers, which are juicy turkey patties with sliced tomato, fresh lettuce, onion, and mayonnaise served with Chip Hits. These are chips, which were tossed in lemon and parmesan.
Other meals reported to be on the menu include Blazed Ends – savory crispy brisket ends that were smothered in BBQ sauce and Mac & Yellow. Mac & Yellow is macaroni and cheese with lots of cheese.
For dessert, there will be Mile High Dark Chocolate Brownies. Delicious!
Where To Find 'HotBox by Wiz'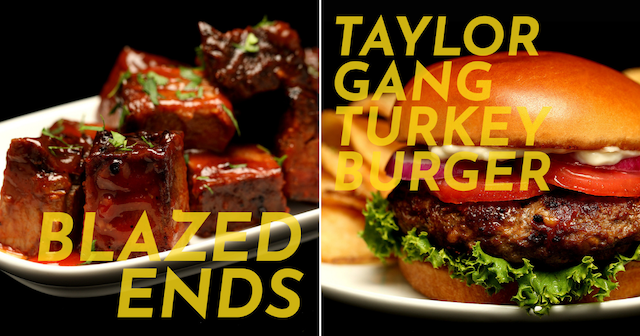 Fans of Wiz Khalifa and good food will be happy to know that he plans to have restaurants in more than one location.
It has been reported that Indianapolis, New York City, San Diego, California, and Los Angeles will have restaurants.
The rapper's hometown of Pittsburgh will obviously also have a restaurant, as well as Houston, Washington, D.C, Denver and Chicago.
But he won't be stopping there. There will be more of WIz Khalifa's new HotBox restaurants in even more locations and fan voting will decide where. New locations will be added on a monthly basis.
Marijuana Edibles
For those who are a bit disappointed that HotBox won't offer edibles, there are great marijuana-infused meals you can enjoy at home.
Weed brownies are a classic and favorite with many and easy to bake. Cannabis-infused mushroom stew served with pasta is just as easy and really delicious as well. Cannabis flour involves cooking with and consuming the entire plant and cannabis-infused honey tincture is great with a cup of coffee or tea.
There's no denying that marijuana can do a smoker many favors – it is a well-known antidepressant. Medical marijuana is also great for treating pain and inflammation.
Alternative to MJ
If you're not too fond of the high that comes with smoking weed but want the positive effects, there is an alternative. CBD – Cannabidiol, a chemical compound found in Cannabis Sativa plants – is a much tamer option. 
It usually contains 2% or less of THC, Tetrahydrocannabinol. THC is the active principle of cannabis, and it's what causes a high. THC stimulates cells in the brain to release dopamine and create a feeling of euphoria.
If you're interested in trying it out for yourself, get the discount by using these: Medterra coupon code.    There's offers up to 40% off at times.   Too bad the mighty MJ doesn't have such offers, but maybe in the future.