World Series goes to Game Six, Giants lead 3-2
Photo above: one of the commemorative mats the MLB puts on the field during each World Series game.
Sunday Night's Game Five of the 2014 World Series was an historic event. It is what many people expected: a tight pitchers dual between James Shields of the Royals and Madison Bumgarner of the Giants.
Unfortunately for the Royals, the Giants scored two runs on Shields, which in most other games would be good enough to win. But Bumgarner pitched a complete game shut out — the first one since Josh Beckett did it in Game Six of the 2003 World Series when the Florida Marlins, with Beckett pitching, beat the New York Yankees.
The two runs aside, James Shields pitched very well, keeping the Giants from scoring in four of the six innings he pitched. But his efforts were not enough. The Royals usually great bullpen got hammered by the Giants bat and even Kelvin Herrera, the Royals near perfect reliever, got into trouble in the 8th inning, putting Pablo Sandoval and Hunter Pence on base.
Wade Davis came in to relieve Herrera and with the second batter he face, Juan Perez, gave up a long double that bounced off the top rail of the center field wall that brought Sandoval and Pence home. One out later Brandon Crawford collected his third RBI of the night with a single to left that brought Perez home for a run.
That was more than enough offense for the Giants with Bumgarner on the mound. To finish the game the San Francisco ace pitched a one-two-three 9th inning.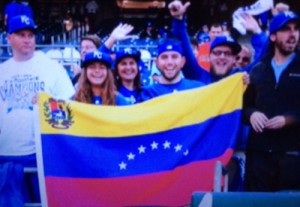 Besides the great pitching from both starters, both teams had exceptional defense. Royals outfielder Lorenzo Cain robbed Hunter Pence of a hit (and two RBI's) when he chased down a flyball. The field is so big at AT&T Park it is hard to get homeruns, especially to center, but it also means the outfielders have to run farther and be faster to catch those long balls.
Game Five was exciting, especially for Giants fans that saw their ace, Madison Bumgarner make history. Not many pitchers throw complete games in the World Series and very few throw shutouts.
Bumgarner's stats for the game: nine complete innings, four hits, no runs, eight strikeouts and no walks. His post season ERA is 1.13. His ERA over the three World Series he has pitched in is 0.29, the lowest of any pitcher who has thrown at least 25 innings in the Fall Classic.
Shortstop Brandon Crawford helped Bumgarner and the Giants by delivering three RBI's for their 5-0 win over the Royals.
•••• •••• ••••• •••• ••••
Game Five is over and now the teams focus on Game Six in Kansas City. Kauffman Stadium is the home of the Royals and we can expect their usually great pitching will be even better in their familiar surroundings. Tuesday's game is a must win for the Royals; the Giants lead the series 3-2. Their starting pitcher will be Yordano Ventura. He pitched well in Game two, when the Royals beat the Giants 7-2, but KC will need Ventura's best game Tuesday. He will need to pitch five innings or more and hopefully not give up any runs. His teammates contributed seven runs and the KC bullpen kept the Giants from scoring any more runs from the 6th inning on, but after Sunday Night's explosion by San Francisco's hitters, especially Crawford, Ventura and the bullpen will need to produce some World Series history of their own.
But KC also needs its hitting crew to score runs like they did in Game Two, but they need more than one big inning. They need to have four or five hitters get multiple RBI's in four or five innings.
KC has to play like there is no tomorrow because, for this season, there is no tomorrow if they lose.
If the Giants win again, that's it, the series is over and the San Francisco Giants are the champions. If the Royals pull out another win on Tuesday it's a good bet they will capture the World Series trophy on Wednesday.
It's been my feeling all along this would be a long series, seven games most likely and that the Kansas City Royals would emerge as the World Series Champions. I still feel that way today, but the San Francisco Giants have proven to be the stronger team than most people expected. They beat the other National League powerhouse team, the St. Louis Cardinals, winning four out of five games.
Their pitching staff has shown itself to be as good as the KC pitching staff — both have had bad nights and both have had great nights, which adds up to this being one of the best match-ups in recent years and, as KC manager Ned Yost put it, "This is a phenomenal series. It's exciting. It's fun!"
Starting pitchers for Tuesday Night's Game Six will be Jake Peavy for the Giants and Yordano Ventura for the Royals — a rematch of Game Two.
•••• •••• ••••• •••• ••••
On a sad note, it was announced during Sunday's game that St. Louis prospect Oscar Taveras, was killed in a car wreck in his native Dominican Republic, along with his girlfriend Edilia Arvelo. It was obviously shocking news, especially for Giants
The rookie outfielder had a good post-season, hitting a homerun for the Cardinals in Game Two of the NLCS.
Giants outfielder Juan Perez was a close friend of Taveras and learned of his death during the 5th inning of Sunday's game. In the 8th Perez hit a two-run single and dedicated it to his friend Oscar.
 All photos by Claudia Gestro unless otherwise noted.

Claudia is of Peruvian and Italian descent, having been born in a small town, in the North of Peru, South America. She was raised by her grandmother from an early age, living in poverty until Claudia's mother brought her to America. She landed in Miami, FL and started her new life, playing high school basketball and eventually becoming a United States citizen. Claudia completed her education at Florida International University with a BA in Broadcast Journalism and became a model to supplement her income. Since graduating from FIU Claudia has worked with many of the Spanish Language broadcasting companies, including Telemundo, Univision and most recently Spanish Language channels on SiriusXM satellite radio and PasTV Deportes in Venezuela.She encourages you to follow her on Twitter and Facebook. Her content appears here under a shared content agreement with her Spanish television clients.