Aaron Rodgers not a Packer? Will the Lakers repeat?
Top photo of Aaron Rodgers by Claudia Gestro
Several weeks ago Packerland woke up to the news that MVP quarterback Aaron Rodgers wanted to leave Green Bay.
WTF!
It was from a reliable source, Adam Schecter of ESPN and he was getting his information from someone close to the situation — A Packers organization insider. Information dribbled out over the next two days about the rift, that Rodgers is unhappy with general manager Brian Gutekunst for personnel decisions he made without any input from Rodgers.
In his defense, when Rodgers was at the Kentucky Derby, he said he was disappointed the rift was made public. For his part, Gutekunst said he has no interest in trading Rodgers and that he expected the 2020 MVP to suit up for the Packers. He told the media, "The value that he adds to our football is really immeasurable, you know what I mean? He brings so much to the table not only as a player but as a leader. He's so important to his teammates, to his coaches, so yeah, that's the goal."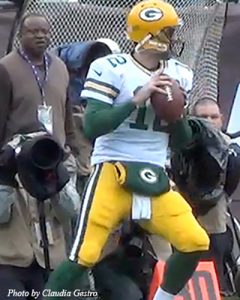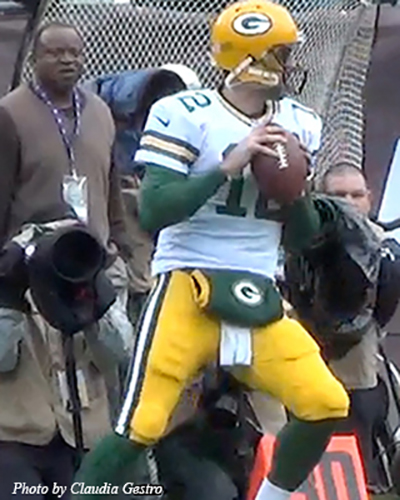 It was also interesting to see all the speculation on which teams would trade for Rodgers. The cost would be extraordinary. Some thought Seattle would be the top choice for Rodgers, with the Seahawks sending Super Bowl XLVIII champion QB Russell Wilson plus a couple other players and a handful of future early round draft picks. Aaron Rodgers is worth all of that.
It got me to speculating about the Los Angeles Rams. Were they thinking, "Aw dang, we pulled the trigger on Matthew Stafford too soon! Maybe we coulda' got Rodgers!"
Back in 2016 the Rams gave away an armful of future early round draft picks to get the number one pick in that year's draft and they picked Jared Goff, a University of California star with some great skills, but just doesn't measure up to other recent quarterbacks, like Patrick Mahomes, Dak Prescott, or Lamar Jackson, to name just three.
So, after the Rams were out of the playoffs this past season head coach Sean McVay and general manager Les Snead went about looking for a way to get a better quarterback. After getting some early round draft picks after weathering the payment for Jared Goff, Les and Sean decided to trade away even more early round draft picks to the Detroit Lions for Matthew Stafford, with Goff heading off to the Motor City.
Stafford is another quarterback with stellar skills and he's a proven veteran — but he hasn't won anything yet, not even a division title. Goff led the Rams to the Super Bowl. Still, the Rams felt they needed to make a change.
Ever since Sean McVay became the head coach, I've always had the feeling he was not pleased with his starting quarterback. In his first training camp as head coach, McVay never conveyed the message that Goff was assured the top spot and he always said it in such way as to hint he was hoping for something different. Now McVay has his guy, not Snead's #1 draft pick.
Back to Aaron Rodgers. Recently someone posted, on Instagram, what a trade to the Denver Broncos might look like. That made my heart drop — again. For the past several weeks the GM for the Packers Brian Gutekunst has emphatically stated Rodgers is their guy, our guy, to lead the team next season.
After years of following sports of all types, it's always been disconcerting when a GM or head coach makes passionate claim like "He's our #1 quarterback." Quite often a trade follows and our favorite players is gone. I remember the shock in Los Angeles when the Clippers traded away Blake Griffin, who had been the face of the team since he was drafted. They did it again this past season when they traded away Lou Williams for Rajon Rondo. The latter is playing great so the fans have gotten over the loss of Williams.
What Clippers fans can't figure out is why they let go of Montrezl Harrell, the power forward/center who won the Sixth Man of the Year Award last season — with the Clippers. Now he's with the Lakers playing even better than he did with that other L.A. team.
Los Angeles basketball fans are hoping to see these two teams meet in a seven game playoff series. I'm not picking who wins that if it happens, but wouldn't it be nice to see the Clips with an NBA championship?
Anyway, I don't want to see anymore speculative tweets or IG posts about what an Aaron Rodgers trade will look like. GM Gutekunst needs to remember the fans in Green Bay are the owners — his boss — don't piss off the owners. They like Aaron Rodgers a whole hell of a lot more than they like you.
Another big story in sports news: The Los Angeles Angels of Anaheim (C'Mon man, just be the Anaheim Angels) cut slugger Albert Pujols loose and about a week later the Los Angeles Dodgers — the baseball team that is actually located in Los Angeles — picked him up. Let's get real: Albert Pujols is way past his prime and anyone that believes otherwise is driving that train, high on cocaine and Casey Jones isn't around to watch your speed (Thanks to Robert Hunter, Jerry Garcia and the rest of the Grateful Dead and Dead & CO.).
Yet, in his first game with the Dodgers Pujols hit an RBI double and in his second game Pujols was hit by a pitch, took his base and was promptly traded out for a speedier runner. Then of course the speedier runner, D.J. Peters, eventually scored and the Dodgers defeated the Arizona Diamondbacks.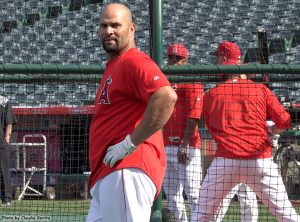 In his introduction to the Dodgers news media our reporter Claudia Gestro said to Pujols he and the Dodgers could be making more history and she asked Albert — in Spanish — what he liked about the Dodgers. One of the things he said was that his new team knows how to win games. Ouch, if I'm in the management suite at Angel Stadium in Anaheim watching and listening to the press conference. The comparison is clear and true. Pujols wasn't trying to be mean to his former team, but that is the major difference between the Dodgers and the Angels right now — the Dodgers know how to close out games, the Angels are having a lot of trouble doing so.
On Tuesday night, May 18, pitcher and designated hitter Shohei Ohtani crushed a solo home run to center field to lead off the scoring for the Angels. Justin Upton would get a 3-run homer in the 4th and then José Iglesias banged a solo home runs in the 7th" — that's a total of five runs — and the Angels still managed to lose to the Cleveland Indians 6-5.
How does a team that produces three home runs in one game manage to lose said game? Pitching, number one. The starting pitcher, Andrew Heaney, gave up five runs in the first inning. One more run in the 8th and voila, The Tribe gets the win.
Manager Joe Maddon must pull his hair out some nights (and days). His team is loaded with talent in that line up, from Ohtani, to Mike Trout, Anthony Rendon — who was back in the line up Tuesday — Iglesias and others, plus they just acquired veteran catcher Drew Butera. Yet they are still five games below .500 and seven games behind the division-leading Oakland Athletics.
The season started out so well for the Halos. They won six of their first nine games, then came the four and five-game losing streaks. Pujols was shown the door but that hasn't changed their fortunes. Ohtani leads the major leagues in home runs this season with 14, but how important is that stat if the team isn't winning? Every major league player — every professional athlete — worth his or her salt, will tell you personal achievements and stats are not as important as winning games and championships.
Pujols is one of those players who doesn't care, right now, about hist career cut line. As he told our reporter Claudia Gestro in a conversation they had four years ago, after he hit home run number 600, he will have plenty of time when his career is over to ponder his personal achievements. What he wants now is to help his team win another championship.
We can be cynical and think he's more about his stats and salary, but if that were the case he could have sat on the bench in Anaheim, going in sporadically, collecting his $30 million salary. He chose to leave rather than do nothing. Rest assured, he will make $30 million this season and he just might find himself playing in the Fall Classic.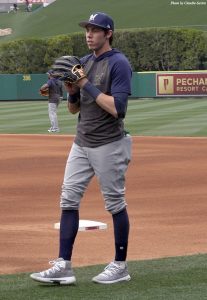 Here I am, a dyed-in-the-wool Milwaukee Brewers fan, saying nice things about the Dodgers. My Brewers are sitting on .500, putting up more "L's" than "W's", but slugging outfielder Christian Yelich is back so who knows, maybe we will see a turnaround soon?
Usually I write politics and climate change, but recently I've been captivated by sports. The NHL Stanley Cup Playoffs have started. I'm a Kings fan so, go Avalanche? I got family in Denver. Or go Lightning? I have family in Tampa Bay.
The NBA has a crazy system this year for their playoffs. Before the formal playoffs begin four teams from each conference have to play in the "Play-In" tournament. One game, winner gets into the playoffs, the loser plays another game to take the bottom seed in the conference. Tonight I will be watching the Golden State Warriors take on the Los Angeles Lakers. The basketball prognosticators say the Lakers have this one, but this is the postseason and the Warriors have Steph Curry and Draymond Green, both of whom are playing their best basketball.
Of course I'm pulling for the Milwaukee Bucks to win it all. They haven't done it since Kareem Abdul-Jabbar led the team to an NBA championship in 1972.
The Bucks begin their postseason on Saturday against the Miami Heat. Milwaukee is the favorite, but that was true last season. I don't want to dwell on it. The New York Knicks are in the playoffs. Good for Julius Randle. I would like to see he and his team have great success in these playoffs — until they get to the Bucks.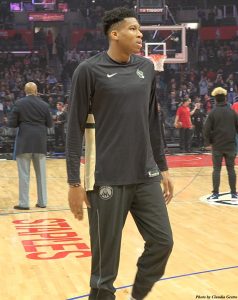 Many basketball talking heads pick the Brooklyn Nets to win it all. That's a team with Kevin Durant, James Harden, Kyrie Irving, Blake Griffin and DeAndre Jordan. And Landry Shamet. Look for Shamet to have a big impact in multiple games. When he was with the Clippers Shamet was outstanding. He could be a starter on just about any other team in the NBA.
Blake Griffin is their starting center. He's been a great power forward so why not? Who is better than KD at that position? Oh, Giannis Antetokounmpo with the Bucks and Anthony Davis with the Lakers. But on the Nets, Durant is the best power forward so Griffin takes the pivot. He needs to play better, grab more rebounds, block more shots and score more points. More assists would be good too. But he's not the best player on this team, like he was with the Clippers so let's see what goes on with the Nets in the playoffs.
None of the other teams in the playoffs interest me. I always like Blake Griffin since his time with the Clippers. Otherwise I don't really care about the Nets. Since I watch the two L.A. teams they interest me and then of course I like my Bucks.
Hopefully this goes live before the end of the Lakers-Warriors game. Right now it looks like the Lakers need to step up their game, otherwise they will play a second Play-In game instead of going straight into the playoffs. Steph Curry and his mates Andrew Wiggins and Juan Toscano-Anderson are burning up Staples Center. Score at half time: Golden State Warriors 55, Los Angeles Lakers 42. Wow.
Well, the Bucks are going to win it all and Aaron Rodgers is staying with the Packers. And Albert Pujols will join the 700 club and win his third World Series, this time with the Dodgers.
You read it here.

Tim Forkes started as a writer on a small alternative newspaper in Milwaukee called the Crazy Shepherd. Writing about entertainment, he had the opportunity to speak with many people in show business, from the very famous to the people struggling to find an audience. In 1992 Tim moved to San Diego, CA and pursued other interests, but remained a freelance writer. Upon arrival in Southern California he was struck by how the elected government officials and business were so intertwined, far more so than he had witnessed in Wisconsin. His interest in entertainment began to wane and the business of politics took its place. He had always been interested in politics, his mother had been a Democratic Party official in Milwaukee, WI, so he sat down to dinner with many of Wisconsin's greatest political names of the 20th Century: William Proxmire and Clem Zablocki chief among them. As a Marine Corps veteran, Tim has a great interest in veteran affairs, primarily as they relate to the men and women serving and their families. As far as Tim is concerned, the military-industrial complex has enough support. How the men and women who serve are treated is reprehensible, while in the military and especially once they become veterans. Tim would like to help change that.