Agatha Christie's The Secret of Chimneys
The Secret of Chimneys has more twists and turns than a renegade tornado. Lord Caterham has been persuaded to host a party at his country estate Chimneys. In attendance a British politician and the presumed heir to the throne of Herzoslovakia and others. AS the party progresses eventually bon vivant Anthony Cade arrives and connects with Virginia Revel. Suddenly a gun shot rings out and Cade and Revel discover the body of the Herzoslovakia royal; now dead from the gun shot. Now the full force of renown writer Agatha Christie takes full effect.
Soon Superintendent Battle from Scotland Yard arrives and begins interrogating all present. It doesn't take long before Anthony Cade becomes a prime suspect But then Cade is also a victim, not of murder, or course, but of a theft of an envelope with something very important inside, something that remains a bit of a mystery.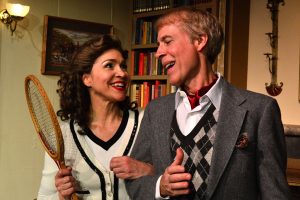 As the investigation continues the question of the missing black diamonds is brought into play thereby further expanding the broad range of mystery in true Agatha Christie fashion. Each character is well portrayed but to some extent over acted by design. Also each player adopted a British accent and while I make no claim of proficiency in British accents I had the good fortune of sitting next to a man from England and during one of the intermissions he commented that while not perfect the accents were indeed well done.
There is not one moment of this show that is anything less than totally captivating. Each twist and turn and revelation brings up new perspectives and suspicions. Just when you begin to believe you know the character he or she changes.
Every performance is top shelf all the way. And so then who really is Anthony Cade and who actually committed murder? The answers to both questions arrives shortly before final curtain and you will be amazed, but I am not going to reveal that here. Nope!
You will simply have to go to the Lonny Chapman Theatre, 10900 Burbank Boulevard, North Hollywood, California and see for yourself. When you do you will discover that as amazing as the destination maybe it is the journey that so thoroughly entertains.
The show runs now through May 5thwith showtimes Fridays and Saturdays at 8:00 p.m. and Sundays at 2:00 p.m. Reservations, ticketing and information available online or by calling 818763-5990.
•••• •••• ••••• •••• ••••
Looking for a great read, look here.
Photos by  Doug Engala
Top photo: Lee Grober as Anthony Cade and Daniel Lench as Superintendent Battle

Ron Irwin was born in Chicago, Illinois a long time ago. He served in the Marine Corps in Vietnam, became a trial lawyer, TV and radio host, CEO of a public company and once held an Emmy. He never won an Emmy he just held one. Ron has written and published twelve books. His most important book to date is "Live, Die, Live Again" in which Ron tells of his early life and his unexpected and very temporary death in 2012. That experience dramatically refocused his life and within the pages of that book Ron reveals how he achieved a much healthier life, ridding himself of Diabetes, Cancer and Heart Failure. Now Ron enjoys writing about many things including health topics, travel [he has circled the globe several times], adventure, culinary experiences and the world of performing art. Ron's motto is "Live better, live longer and live stronger because it feels great and annoys others." Contact the author.