Austin Butler and Tom Hanks give King-sized performances in 'Elvis'
3.5 out of 4 stars 
You knew this was coming.
It was only a matter of time that "The King" was going to get his movie, especially after "Bohemian Rhapsody" made nearly a $1 billion at the worldwide box office, with Rami Malek taking home an Oscar for his performance as the late Queen singer Freddie Mercury.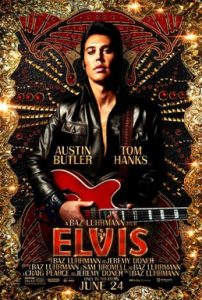 It wasn't a matter of when a biopic of Elvis Presley would hit the big screen, just when, and as it turns out, the time is rapidly approaching with the film's release on June 24.
Austin Butler is fantastic as "Elvis," from the way he looks to the way he talks, and from the way he performs on and off stage. He's better than Malek and Jamie Foxx, who won an Oscar for his portrayal of Ray Charles in 2004's "Ray."
But Tom Hanks gives a performance that's better than all of them as the sinister and scheming self-proclaimed "Colonel" Tom Parker, who basically takes control of Presley's career as a teenager and steers him into superstardom.
It's only June, but it's a good bet both Butler and Hanks will get Oscar nominations for their performances.
"Austin Butler channeled and embodied my father's heart and soul beautifully," Lisa Marie Presley, the daughter of Elvis and Priscilla Presley, tweeted. "In my humble opinion, his performance is unprecedented and finally done accurately and respectfully. (If he doesn't get an Oscar for this, I will eat my own foot, haha.)"
But does that mean "Elvis," at a whopping 159 minutes, will get a nod for Best Picture?
Maybe, depending on what Hollywood produces in the coming months. But there's a good chance director Baz Luhrmann's tale of the greatest selling solo artist of all time could be nominated for an Oscar – a feat the real-life Presley never accomplished.
"Elvis" pays homage to the singer's African-American gospel and blues roots that sprouted him into celebrity, beginning in the 1950s, when he did things on stage many Americans hadn't ever witnessed.
"Elvis" glosses over most of the 1960s, when he was known for making primarily mediocre movies, and picks back up again in 1968. That's when his televised "Comeback Special" spawned his jumpsuit era, which led to his five-year Las Vegas residency at the International Hotel, where his fatal downward spiral began.
Butler's transformation from starry-eyed teenager that drove the girls wild to overweight crooner is remarkable. His hypnotizing stage presence would have made Presley proud, from his commanding stage presence to his ability to drive the girls wild in his tight-fitted, over-the-top attire that only he could pull off.
While audiences will adore Butler, they will love to hate Hanks' Parker, who tells the story while on his death bed. Parker's nefarious dealings after earning Presley's trust as a teenager at a county fair makes the audience feel sympathy for the singer. Luhrmann does a tremendous job illustrating how Parker viewed Presley as the world's biggest cash cow and not a human being who had trusted Parker with his family's livelihood.
Parker deserves some credit for Presley's meteoric rise, in which he went from an unknown to a national star overnight. But he gets just as much blame for Presley's demise, as Parker kept pushing – and threatening to sue – Presley until he collapsed and never got up.
The movie does drag a times, as the final 30 minutes could have been cut in half. The cinematography is what you would expect in an Elvis movie, considering the singer's gyrating crotch and hips get plenty of screen time.
Luhrmann stays true to Presley's decadent life by merging real-life footage with his cinematic story.
"Elvis" stays true to Presley's respect for African-Americans and especially their music, which is spotlighted through his interactions with a young B.B. King (Kelvin Harrison Jr.) and his admiration for African-American leaders such as Martin Luther King Jr., despite growing up in the Deep South.
While Luhrmann has jokingly referred to "Elvis" as the "'Apocalypse Now' of musicals," it should remain in contention to be among the year's best films.
"Let me tell you that it is nothing short of spectacular," Lisa Marie tweeted. "Absolutely exquisite."

Jon Gallo is an award-winning journalist and editor with 18 years experience, including stints as a staff writer at The Washington Post and sports editor at The Baltimore Examiner. He's also an editor for CBSSports.com. He's crossing his fingers the only baseball team in Baltimore that will contend for a title this summer won't be his fantasy squad, the Catonsville Cartel. He also believes the government should declare federal holidays in honor of the following: the Round of 64 of the NCAA men's basketball tournament; the Friday of the Sweet 16; the Monday after the Super Bowl; and of course, the day after the release of the latest Madden NFL video game.