Bengals vs the Rams: SoFi Stadium is set for Super Bowl LVI
Top photo by Claudia Gestro
Well, just as I had hoped, the Los Angeles Rams will represent the NFC in Super Bowl LVI. They almost blew it, let's be real. Matthew Stafford — and his team — were pretty damn lucky San Francisco 49ers cornerback Jaquiski Tartt had bad hands in the 4th quarter. Tartt could have ended regulation time in a tie and pushed the game into overtime with an interception — and probably they would have won the game, as good as the Niners were playing … but he dropped the sure thing interception and voila! The Rams got down into field goal range with just seconds to spare and Matt Gay kicked the game-winning field goal, sending the Los Angeles Rams into the Big Game.
There were a few potentially game-changing mistakes made by the Rams, like that poor pass from Matthew Stafford, but head coach Sean McVay told reporter Claudia Gestro he was happy about how his team responded to their adversity, but they would have to clean things up for the Super Bowl. "I love the way that we were able to overcome some things, but we know to be able to finish this deal and get a win against an excellent Bengals team in a couple weeks, we got to do a great job playing clean football, being sharp with our communication in both phases, offensively, defensively. But just overall looking to play really clean, tough, physical brand of football — offense, defense and in the kicking game."
The big knock on Matthew Stafford was that he had never won a playoff game and he was prone to throwing poor passes, like the deflection Tartt almost caught. Well, Stafford has led his team to three playoff wins, this last one a come-from-behind thriller that was very much a defensive gem.
Our friend Claudia Gestro asked QB Matthew Stafford what the confidence level was like after defeating three very good playoff teams. He said, "I think we're a confident group. We're a confident as a team, I know that. But at the same time we have to go out there and prove it. Every time you step on the football field, it doesn't matter what happened the week before, the play before, you have to go out and prove it."
On February 13 he has to prove it once again.
As good as the Rams offense is, the defense is even better. In most NFL games we usually see the defenses getting tired in the third and especially the fourth quarter. Not so the Rams. That defense, led by the passionately super-charged Aaron Donald, never let their foot off the neck of the Niners' offense and in fact they twisted the screws tighter as the game went on.
Just look at everyone on that defense. We talk about Donald, Von Miller, Leonard Floyd, Greg Gaines and Jalen Ramsey quite a bit, rightly so, but the rest of the linebackers and secondary play big parts in locking down opposing offenses. Eric Weddle, who came out of retirement to fill in some gaps, had a huge game against San Francisco. They're going to need all of that against the Cincinnati Bengals.
The Rams offense, built on monster trades that have given away the team's future early round draft picks, was built to win these final two games of the season: the NFC Championship and then Super Bowl LVI. Part One accomplished. Now there is just one more, February 13 in their barn, SoFi Stadium.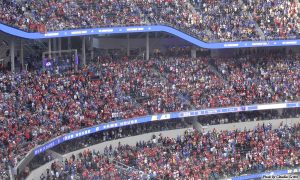 Every team will tell you home field advantage isn't absolute. Just ask the Green Bay Packers who lost at Lambeau Field — for the second year in a row. Putzes. The anti-vaxxer jinxed them. So, playing at home in the Super Bowl is no guarantee for the Rams. In fact there's likely to be as many Bengals fans in the stands as Rams fans. Just look at this photo from the NFC Championship game. Notice the sea of red 49ers shirts and jerseys? It will be like that for Super Bowl LVI, but it will be Bengals jerseys in those stands.
We have to wonder if Los Angeles — and San Diego for that matter — are true sports towns. Sure, the Padres have a great fan base in San Diego and the Lakers and Dodgers have great fan support in the Los Angeles Basin … actually the Kings have a great fan base as well … but the Rams and Chargers, not so much. Where would you rather be on a Sunday afternoon? At SoFi Stadium or in your recliner at home watching a football game? Or would you rather be outside, at the beach, or doing some other out doorsy activity?
Be that as it may, the Los Angeles Rams are getting ready for the Cincinnati Bengals and Super Bowl LVI.
Claudia asked head coach Sean McVay if facing very good running backs and receivers like Elijah Mitchell and Deebo Samuel (49ers) has prepared them for the Bengals. He told her, "They are great players from the Niners that you're mentioning, and we've played a lot of great players. But the Bengals have a great group of skill players — they're excellent on offense. They play a little bit differently than the 49ers, just in terms of their overall approach to some of the concepts they activate and personnel groupings. (Head coach) Zac Taylor does a great job, obviously Joe Burrow is a special player at the switch, I think Joe Mixon is one of the more complete players in this league at the running back spot. And then (Ja'Marr) Chase, Tee Higgin and Tyler Boyd present, arguably, as good an 11-personnel grouping at the receiver spot as there is in this league."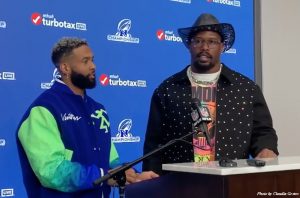 Rams linebacker Von Miller told Gestro what it could be like about facing Joe Burrow, the escape artist, about how he compares to Arizona QB Kyler Murray. Miller said, "He can do just about everything, just like Kyler. He's not as fast, he's not as shifty as Kyler, but he gets the job done. You watch film, he escapes out of sacks. It really just takes everybody, it takes all four guys. One guy just can't take him down. I don't like making comparisons to anybody else. Joe Burrow is his own guy, he's a special player. He's similar to other players; he's similar to Josh Allen (Buffalo Bills) when it comes to escapes; and Kyler Murray and all those guys — he's both of those guys (Murray and Allen) combines. He can throw the ball as good as anybody in the league; he's a special player.
Miller added, "If you look at the teams they beat to get here: the Tennessee Titans, the (Kansas City) Chiefs, the Las Vegas Raiders, those are all talented teams."
Miller, who had spent all those years with the Denver Broncos, made this salient point, "[they went] to the Kingdom and beat the Chiefs there … I already know how tough it is to play there and he (Burrow) went there and won a playoff game to go to the Super Bowl. He's a special player, he can escape from anything, he can throw any pass on the football field. I think the best quality he has is to influence his teammates to get them to play to a level they wouldn't normally play at. Some of these players were there before. When (Burrow) gets there they become super stars. I admire that."
Miller and the defense know they will have their hands full with the Bengals offense.
And the Rams offense will have their hands full with the Bengals defense, a group of guys who held Patrick Mahomes and that Kansas City offense to just three points in the second half of the AFC championship game — at Arrowhead Stadium in Kansas City MO. Von Miller called it the Kingdom.
Which means the Bengals can come into the Rams House, SoFi Stadium, and win. Super Bowl LVI could be one of the best in recent history.

Tim Forkes started as a writer on a small alternative newspaper in Milwaukee called the Crazy Shepherd. Writing about entertainment, he had the opportunity to speak with many people in show business, from the very famous to the people struggling to find an audience. In 1992 Tim moved to San Diego, CA and pursued other interests, but remained a freelance writer. Upon arrival in Southern California he was struck by how the elected government officials and business were so intertwined, far more so than he had witnessed in Wisconsin. His interest in entertainment began to wane and the business of politics took its place. He had always been interested in politics, his mother had been a Democratic Party official in Milwaukee, WI, so he sat down to dinner with many of Wisconsin's greatest political names of the 20th Century: William Proxmire and Clem Zablocki chief among them. As a Marine Corps veteran, Tim has a great interest in veteran affairs, primarily as they relate to the men and women serving and their families. As far as Tim is concerned, the military-industrial complex has enough support. How the men and women who serve are treated is reprehensible, while in the military and especially once they become veterans. Tim would like to help change that.