NFL Conference Championships Set the Table for Super Bowl LVI
Top photo by Claudia Gestro
Let's begin by congratulating both the Cincinnati Bengals and Los Angeles Rams for earning trips to the Super Bowl. Both teams found ways to come back and win games that appeared out of reach and in the process find themselves one game away from calling themselves world champions.
Bengals Are Fearless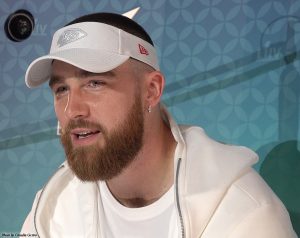 Cincinnati proved me wrong. They showed they were more than capable of taking the best of the Kansas City Chiefs and roared back to life after falling behind by eighteen points to dethrone the AFC champs in overtime.
Joe Burrow and company showed the world they are ready for the biggest stage of all while Andy Reid has the offseason to mull his play call at the end of the first half that cost the Chiefs at least three, and perhaps seven, points.
Worse, the Chiefs must wonder what happened to the entire team in the second half. If not for a last second field goal, the game never goes to overtime. Other than those three points, about the only other thing that went K.C. 's way was winning the overtime coin toss. Unfortunately, unlike last week, the Chiefs were unable to seal the deal.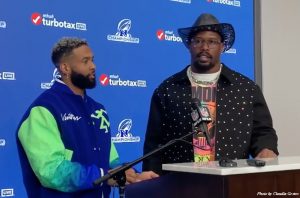 Cincinnati's win felt like a changing of the guard. While many predicted this would happen this year, most felt it would be at the hands of Buffalo. Now there is the emergence of what looks like a strong Bengals team. Along with the Bills, it appears the next few years the AFC has another great rivalry.
Meanwhile, do not be surprised if Sunday was Andy Reid's swan song. Eric Bieniemy seems ready to be Reid's handpicked successor and if Andy steps down, Bieniemy will finally get a much overdue chance to coach a team.
Rams Come Back Big
What do you call a wide receiver who can't catch a football? The answer is a defensive back. Unfortunately, for the 49ers, one of their defensive backs proved why this adage is true. A horrible pass by Matt Stafford seemed to be the end for the Rams until defensive back Jaquiski Tartt flat out dropped what should have been an interception. Up to that point, San Francisco was controlling the game despite their offensive struggles.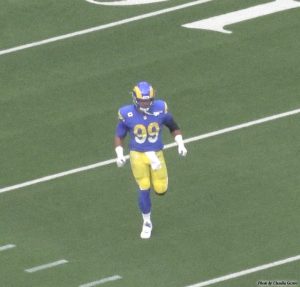 The Rams turned that mistake into three points, but the game's momentum made a huge swing. What followed was the worst three and out series I have seen in a big game followed by a game winning touchdown drive that sent the Rams to the Super Bowl.
Los Angeles came up with an excellent defensive game plan and kept San Francisco from running the ball. Simply put, they were hell bent on making Jimmy Garoppolo beat them and he failed. He missed big plays early and came up empty in the fourth quarter. Despite not getting sacked, the Rams found ways to pressure Garoppolo up the middle and throw off his timing.
In the end, the Rams showed why they invested heavily in Matt Stafford while the Niners saw the real limitations of Garoppolo. As much as Jimmy is liked, he is a statue in the pocket that lacks the arm strength of Stafford. Had he been able to move and keep plays alive, the Niners might well have found themselves returning to Los Angeles for one more game against the Bengals.
Instead, we are treated to what should be an excellent game. Sean McVay will be coaching against his former assistant, Zac Taylor. Both teams showed resilience last weekend, but it will be the Rams under the most pressure since they are hosting the game in their home stadium.
Chiefs HC Andy Reid (Claudia Gestro)

A Few Thoughts
The Rams home uniforms are hideous. They need to go back to their road whites. Blue and gold may be the state's colors, but I've never seen a big horn that color.
Cincy's uniforms are no better than they have been since wearing Bengal stripes.
Sean McVay is very lucky he won. Had the Rams lost, he would be getting hammered for how he squandered his three second half timeouts.
Jimmy Garoppolo will not be a Niner next year. This is not to say Trey Lance is the real deal. It just means that San Francisco can only do so much with a quarterback who lacks mobility and a rifle for an arm.
Andy Reid will be in the Hall of Fame. One hundred victories in the NFL is pretty good for any coach. He has done it with two different teams while winning a Super Bowl. He also has an impressive coaching tree.
I always wondered what might have become of San Francisco had they hired Reid when he was available after leaving Philadelphia. Instead, the Niners drifted, tolerated Jim Harbaugh, and drifted some more until they found Shanahan.
I actually watched the NFC title game. I have developed the ability to not listen to anything that was said by either Joe Buck or Troy Aikman while still having the volume on.
If I was handing out game balls, I would give one to Aaron Donald. He was a wrecking ball up front on defense.
On offense, my game ball would go to Kendall Blanton. The backup tight end was huge after he was called into full time duty when Tyler Higbee went down. Every time he touched the ball, he came up big for LA.

49ers fans in So Fi Stadium for
the NFC Championship Game
(Claudia Gestro)

Stan Kroenke has a big problem. A sea of red jerseys in his personal palace in their biggest game of the season to date shows just how little L.A. residents can be bothered with the home team. Why deal with L.A. traffic on an off day when you can watch them play in the comfort of your home on a 60-inch flat screen? Kroenke has mortgaged the future of this team, trading early draft picks for big names to win it all this year. However, those big names will carry huge price tags to keep, are not getting any younger, and are preventing the team from developing younger talent to keep the team strong. As soon as the Rams decline, SoFi will become an expensive graveyard.
Super Bowl Prediction
On paper, it should be a good match up pitting two coaches who know one another well. The Rams will be playing at home which means nothing. If you saw the NFC title game, you saw a lot of red Niner jerseys in the stands.
In the end, I see the Rams falling to what the Eagles would call the New Kid in Town. Joe Burrow, Ja' Mar Chase and the rest of the Bengals will show why L.A. loves what is new and up and coming. The Bengals will win, pulling away in the second half, 34-26.

Jim is a life long resident of California and retired school teacher with 30 years in public education. Jim earned his BA in History from CSU Chico in 1981 and his MA in Education from Azusa Pacific University in 1994. He is also the author of Teaching The Teacher: Lessons Learned From Teaching. Jim considers himself an equal opportunity pain in the ass to any political party, group, or individual who looks to profit off of hypocrisy. When he is not pointing out the conflicting words and actions of our leaders, the NFL commissioner, or humans in general, he can be found riding his bike for hours on end while pondering his next article. Jim recently moved to Camarillo, CA after being convinced to join the witness protection program.