Clippers announce the addition of Kawhi Leonard
The Los Angeles Clippers have made it official: former Toronto Raptors forward and recent NBA champion Kawhi Leonard has been signed. As part of the deal the Clippers traded with the Oklahoma City Thunder to get Paul George.
In return for George Oklahoma City received guard Shai Gilgeous-Alexander, forward Danilo Gallinari and first round draft picks in 2022, 2024 and 2026, plus two first-round choices via Miami in 2021 and 2023, along with the right to swap first-round picks in 2023 and 2025.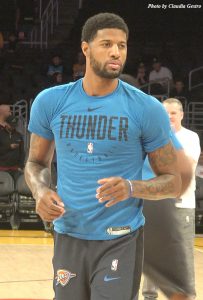 In the Raptors' championship season Leonard's stats were incredible: 26.6 points, 7.3 rebounds and 3.3 assists. In the playoffs he just got better, posting: 30.5 points, 9.1 rebounds and 3.9 assists.
Los Angeles fans remember the many seasons he spent with the San Antonio Spurs, when they won a championship in 2014.
Kawhi Leonard was a standout high school player in Riverside and spent two seasons playing for the San Diego State University Aztecs.
Paul George is another Southern California native, having been born in Palmdale. He attended college at California State University, Freson before getting drafted #10 in the 2010 draft by the Indiana Pacers.
Last season George average 28 points, 8.2 rebounds per game and 3.3 assists.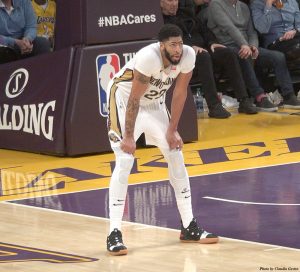 NBA fans in Los Angeles will have their plates full next season, not just with the Clippers, but also with the Lakers, who added forward/center Anthony Davis to the roster, along with guard/forward Danny Green and center DeMarcus Cousins. They recently signed guards Alex Caruso and Rajon Rondo. They, along with LeBron James, will make the Lakers serious contenders for the NBA Championship in 2020.
In the deal for Davis the Lakers traded away Lonzo Ball, Brandon Ingram and Josh Hart to the Pelicans, plus the #4 overall pick in this year's draft. In addition, the Lakers sent Mo Wagner, Isaac Bonga and Jemerrio Jones to the Washington Wizards.
The Lakers also have a new head coach, Frank Vogel.
Below is a report of the NBA Championship Gam6, and the NBA playoff series between the Golden State Warriors and L.A. Clippers, both by Claudia Gestro. Be sure to subscribe to our YouTube channel for more sports reporting.
Photos by Claudia Gestro

We are not the typical news website – nor do we wish to be. We will be offering more than news and blogs, but an opportunity for fiction writers, poets, comedians and musicians to showcase their talent and skills. Much like when the Beatles formed Apple Corps Ltd, they opened the door to all kinds of inspiring talent that never really got a shot. From that came the likes of James Taylor and others. We hope by providing a similar approach we can shine the light on some tremendous undiscovered talent and at the same time offer some familiar voices who live in Los Angeles and beyond.