Game 4 of the 2021 World Series Promises to be a Another Great Game
Top photo of Truist Park in Atlanta, GA by Claudia Gestro 
If you are a die-hard baseball fan watching the World Series — even though the Dodgers aren't in it (Don't get me started on my team, the Milwaukee Brewers) — then you might not know which team to cheer. The Atlanta Braves defeated the Dodgers in the NLCS, so that might sting for Dodger fans just a little. On the other hand, they are playing the [expletives deleted] Houston Astros, the team that cheated their way through the 2017 season and postseason. If you want to hang an *asterisk on a World Series win, look no further than 2017 when the Astros won it in seven games, the last game being played at Dodger Stadium.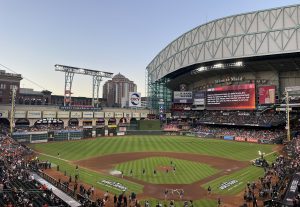 I mention that last little detail because despite the Astros' cheating, the Dodgers had the opportunity to close out the series for the trophy in their home park — where Houston was not cheating — but failed to do so. That mighty Dodger line up, that included some of the same sluggers we saw in 2021, only scored one run — one lousy run on six lousy hits — in Game 7. Beloved former Dodger Andre Ethier hit the single that drove in Joc Pederson for L.A.'s only run. They left eight men on base.
That is as big a reason the Astros won the 2017 World Series as Houston's cheating, which they only did at Minute Maid Park. Yep, hang an asterisk on that World Series, but Dodger fans, accept that fact that the highly touted Dodgers line up failed in Game 7. I still remember watching one of my favorite players in the game, Justin Turner, swinging at terrible pitches, chasing in baseball terms. When a team has runners in scoring position it has to take advantage of those opportunities and put runs on the board. The Dodgers did not.
Which is what we can say about how Los Angeles lost the 2021 NLCS: LACK OF HITTING.
They lost the first two games in Atlanta — by one run both games. Game 1 was a bullpen game for the Dodgers and the pitchers, starting with Corey Knebel, did what they were supposed to do: keep their team in the game. They gave up three runs, one run at a time. The Dodger bats only managed to score two. In Game 2 Max Scherzer had a great outing, giving up just two runs in 4.1 innings. But then manager Dave Roberts put Julio Urías in to pitch in the 8th inning and the young Mexican hero gave up two runs, which tied the game for Atlanta. Was using Urías out of the bullpen a smart move? Everyone will debate that forever, but it seemed unnecessary, even with the injuries in the pitching staff. Could Joe Kelly have gone for four outs, instead one inning? Could Blake Treinen have gone for five outs, instead of one inning?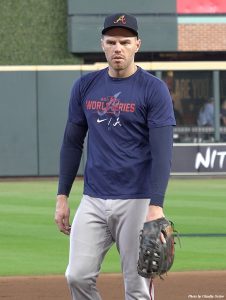 That's one of the beauties of baseball: we will be debating the decisions of the managers until the start of spring training 2022. But here's the big stat for Game 2 of the NLCS: 10 runners left on base. In other words, a lack of offense when the Dodgers needed it. We can look at the four games Los Angeles lost and ask, "Where's the offense?"
Well here we are, at Truist Park in Atlanta, figuratively. Watching the Fall Classic from the comfort of our couches and recliners, bowl of overly-buttered popcorn in our laps.
Atlanta leads this World Series, 2 games to 1, having scored a shutout in Game 3. Astros fans are no doubt asking, "Where's the offense?"
The Braves pitching staff, let by Ian Anderson who had a no-hitter for five innings, allowed only two hits … let that sink in. People are in a frenzy asking why manager Brian Snitker pulled his starter out after five innings, when he had a no-no going. As Snitker pointed out after the game, Anderson had thrown 79 pitches in those five innings and there was no way he was going to be able to throw nine innings, let alone nine no-hit innings. If Anderson was averaging roughly 16 pitches per inning, he would have been over 100 going into the 8th inning.
Still, the World Series is the time when fans want to see heroics. Catcher Travis d'Arnaud has been delivering for Braves fans in this postseason. One hit in Game 1, two hits and an RBI in Game 2 and then that towering 430-plus foot home run to seal the deal in Game 3.
The only knock on d'Arnaud as a catcher is his inability to throw out baserunners. He was tagged with a throwing error in the 8th when Jose Siri stole second. He advanced to third on the error. Really though, that error should have been on Dansby Swanson who took his eyes off the ball and misjudged the hop. Watch the replay in slo-mo — the error was Swanson's. Would Siri have stolen the base anyway? Well, he has the speed and ability and d'Arnaud isn't a great threat to base stealers. But it was close. Being the gentleman that he is d'Arnaud took responsibility for the error.
Didn't matter. The Astros couldn't get Siri home and then d'Arnaud hit that towering, blast.
Game 4 is tonight, with the Astros sending former Dodger Zack Greinke to the mound for the start and the Braves, for their first bullpen game of the series, sending Dylan Lee to open the game for them. Manager Brian Snitker has some cojones. Lee isn't even listed in their depth chart and his ERA is 9.00. But, in Game 2 Lee threw 13 pitches — 10 for strikes — in two-thirds of an inning.
As many baseball fans know, the Houston bats are not ones to stay silent for long. It would not be a surprise to anyone if the first four batters for the Astros — Jose Altuve, Michael Brantley, Alex Bregman and Yordan Alvarez — jump on the Atlanta opener. And they are followed by Carlos Correa and Kyle Tucker. That's a lot of potential offense. And they like to steal bases.
As much as I want the Braves to win, the Astros are looking very good, especially since Bregman ended his slump. If Altuve gets on base in the first inning, it could be big trouble for Atlanta. If Lee can keep the Astros to one run or less, he will have done a good job opening for the Braves.
Astros pitcher Phil Maton told our reporter Claudia Gestro the Houston pitching staff is very focused on that tough Atlanta line up, starting with Eddie Alvarez and Freddie Freeman. If they get hot and start scoring runs in bunches, Houston will be in trouble. You can watch it here.
Before Game 3 Astros manager Dusty Baker said he was concerned about his players not having the opportunity to take the field in pre-game warmups to get acquainted with Truist Park. As you may recall, it was raining all day Friday and through the game Friday night. Well, the Astros have played a game now in that open stadium and are very familiar with the outfield's corners and walls. We can expect to see their defense improved over Game 3.
Game time is 5 p.m. Pacific Time. Walk your dogs now. You don't want to miss one pitch of this game.
* I write "Hang an asterisk" on that World Series win because some people think there should be an asterisk on the Dodgers' 2020 World Series win because they didn't play a full season. Here's why that's a crock of [expetive deleted]. Every team played the same abbreviated season and every team had the same opportunity to make it to the Fall Classic. The Dodgers and Tampa Bay Rays earned their places in that series. The Dodgers prevailed, without tricks, without cheating, without excuses. Yes, it was different, played entirely at Globe Life Field in Arlington, TX, home of the Texas Rangers, but Los Angeles didn't have any chances the other National League teams didn't.

Tim Forkes started as a writer on a small alternative newspaper in Milwaukee called the Crazy Shepherd. Writing about entertainment, he had the opportunity to speak with many people in show business, from the very famous to the people struggling to find an audience. In 1992 Tim moved to San Diego, CA and pursued other interests, but remained a freelance writer. Upon arrival in Southern California he was struck by how the elected government officials and business were so intertwined, far more so than he had witnessed in Wisconsin. His interest in entertainment began to wane and the business of politics took its place. He had always been interested in politics, his mother had been a Democratic Party official in Milwaukee, WI, so he sat down to dinner with many of Wisconsin's greatest political names of the 20th Century: William Proxmire and Clem Zablocki chief among them. As a Marine Corps veteran, Tim has a great interest in veteran affairs, primarily as they relate to the men and women serving and their families. As far as Tim is concerned, the military-industrial complex has enough support. How the men and women who serve are treated is reprehensible, while in the military and especially once they become veterans. Tim would like to help change that.