Group Rep gives us "A Carol Christmas" for a Holiday treat
I remember getting the invite and I was excited. First of all it was being put on by The Group Rep at the Lonny Chapman Theatre where I always have a great time watching outstanding performances. And who doesn't like that wonderful classic, A Christmas Carolwhere once again I can watch the eventual transformation of that crotchety geezer Ebenezer Scrooge.
Then I got to the theatre and looked at the play bill. Wait a minute, this must be a misprint. It read A Carol Christmas and not A Christmas Carol. Nope, no misprint, just a vastly different show with basically a female Ebenezer by the name of Carol who like Ebenezer was a less than pleasant boss who unlike Ebenezer was not transformed by the spirits of Christmas past, present and future but rather by three more contemporary psychic gurus including one terrifying Tarot card reader who like the Spirit of Christmas future transformed Carol into an extremely pleasant, loving and giving woman.
So yeah in the end it was very much the same story but told in a different and compelling way with the famous Charles Dickens version having been tweaked by Doug Haverty. It is also a musical.
As the show begins five young carolers, Celine June Bautista, Ellie Birdwell, Andrew Grigorian, Chihiro Kato and Momoka Kato come on stage and perform "Christmas Time is Here Again" followed by the entire company staff with "Just Another Christmas" and then Carol renders a rather harsh version of "All I want for Christmas" and the tone is set. But then there is an outstanding and beautiful performance by a very young and very talented actress/vocalist Peyton Kirkner as Trina. Her performance of "Spelling Backwards" is truly emosewa.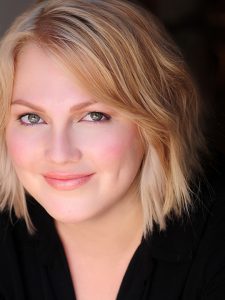 The show is only 90 minutes with no intermission but every one of those 90 minutes is packed with true entertainment value. Yes, this is a great show but does it mean that in the future we will be seeing more of A Carol Christmasand less of A Christmas Carol?
I don't think so, but I do believe that if you get yourself over to the Lonny Chapman Theatre to see this show you too will emerge happy and even more ready for a great holiday season.
The show runs from now through December 30th2018 with show times 8:00 p.m. Fridays and Saturdays and at 2:00 p.m. on Sundays at the Lonny Chapman Theatre, 10900 Burbank Boulevard, North Hollywood, California.  Reservations and ticketing available by calling:  818-763-5990 or online at: www.thegrouprep.com.
•••• •••• ••••• •••• ••••
Experience "The Dr. Ron Show" broadcast by the Universal Broadcasting Network out of the Sunset Gower Studios in Hollywood and you can hear every show here:  http://www.ronirwin.net/the-dr–ron-show.html.

Ron Irwin was born in Chicago, Illinois a long time ago. He served in the Marine Corps in Vietnam, became a trial lawyer, TV and radio host, CEO of a public company and once held an Emmy. He never won an Emmy he just held one. Ron has written and published twelve books. His most important book to date is "Live, Die, Live Again" in which Ron tells of his early life and his unexpected and very temporary death in 2012. That experience dramatically refocused his life and within the pages of that book Ron reveals how he achieved a much healthier life, ridding himself of Diabetes, Cancer and Heart Failure. Now Ron enjoys writing about many things including health topics, travel [he has circled the globe several times], adventure, culinary experiences and the world of performing art. Ron's motto is "Live better, live longer and live stronger because it feels great and annoys others." Contact the author.