Heavenly cruise day 4: Halloween at sea
Last night we eased our way out of the port of Ensenada and headed out to the vast blue Pacific Ocean. One of the many delights of every cruise is to enjoy the amazing display of abundant stars not seen in the populated areas on shore. It is true magic but soon it was time for my wife and I to head off to bed as our two daughters headed out for more fun. Kari did so well she won a dance contest and received a trophy to celebrate. But everyone was having fun and soon our final full day at sea would begin.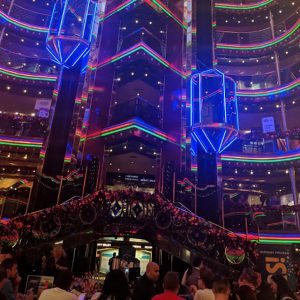 It was Halloween and the ship was ready. By 9 p.m. that night there would be a contest for best costume, but as the day progressed, slowly but surely folks started to show up wearing their Halloween costumes. By early afternoon I put on my pirate costume complete with thick fake eyebrows and mustache, a hook for my hand and a very fake saber.
I also created my own tee shirt that felt highly appropriate for a Halloween aboard a ship. It reads: "RMS Titanic Captain Howard John Smith." It did spark several giggles. To everyone's delight there were absolutely no icebergs within thousands of miles of our ship. I also received several "Arrrggs"  as I walked about and joined with others in various costumes for many selfies. Yes, it was fun and that is what Carnival stresses fun.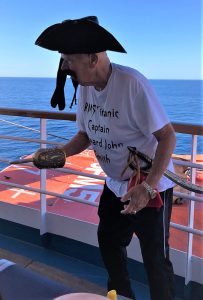 By evening I had removed my costume and our entire family headed back to the Mardi Gras Dining Room where we received a great and very happy surprise. Julio and Aldwin, who we had met on our first visit to the Mardi Gras Dining Room greeted us and took us to our table. We learned during our previous meeting that both of these gentlemen hailed from the Philippines where my beloved wife also came from.
Meal options were discussed and then came the great surprise when they arrived with two of my wife's favorite Filipino dishes that were not on the menu. Our final dinner aboard the amazing Carnival Inspiration was as perfect as it could possibly be.
Eventually we returned to our room where my beautiful bride and I reflected upon our cruise about to end and how it played such a key role in the celebration of our 35th wedding anniversary. Actually a few years earlier we took essentially the same cruise only aboard the Imagination. That was a lot of fun as well but this seemed to be far better somehow. Starting with the embarkation which went fast and flawless setting the tone for the days ahead.
Catalina hadn't really changed all that much but we discovered or perhaps rediscovered so many options from hiking to parasailing to exploring deep sea creatures without a SCUBA tank. Then, of course, the way we welcomed Ensenada with a brief but beautiful ceremony reconfirming our wedding vows on the 35th anniversary of our wedding — it just took the experience to a whole new level.
For this I thank the good people of Carnival Cruise Lines and especially our daughters Kimberly and Kari and our granddaughter Somaya as well as our good friend and neighbor Shirley for her role in our special moment. But ceremony done it was time to explore and again the options seemed almost limitless.
The daughters and granddaughter thoroughly enjoyed seeing the amazing geyser and then their visit to the zoo where Somaya could and did play with much smaller baby versions of the giant cats like leopards and tigers. You can't do that in Burbank, California. And I will never forget having the very best fish tacos on earth at Bullo's.
But, of course after Ensenada it was our full day at sea and Halloween. Now filled with great memories and joy we were coming to the end of the day and by the early morning of the next day, the end of our cruise.
As the sun began to shine we could plainly see that we were once again in Long Beach, California and very soon we would go down to deck 7 and then off of the ship. But with us we took a massive quantity of truly awesome memories that will remain in our happiness forever. So would we ever again take a Carnival Cruise? Well that has about the same odds as Tom Brady once again throwing a football.
••• •••• ••••• •••• ••••
For a great read visit here.
Photos by Ron Irwin unless otherwise noted

Ron Irwin was born in Chicago, Illinois a long time ago. He served in the Marine Corps in Vietnam, became a trial lawyer, TV and radio host, CEO of a public company and once held an Emmy. He never won an Emmy he just held one. Ron has written and published twelve books. His most important book to date is "Live, Die, Live Again" in which Ron tells of his early life and his unexpected and very temporary death in 2012. That experience dramatically refocused his life and within the pages of that book Ron reveals how he achieved a much healthier life, ridding himself of Diabetes, Cancer and Heart Failure. Now Ron enjoys writing about many things including health topics, travel [he has circled the globe several times], adventure, culinary experiences and the world of performing art. Ron's motto is "Live better, live longer and live stronger because it feels great and annoys others." Contact the author.