Inaugural Chairman's Party Takes Place Tonight
Top photo by Claudia Gestro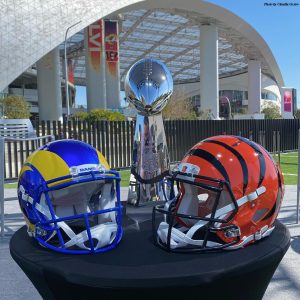 DirecTV will present the first Chairman's Party, the official after party that follows the NFL Honors show. It will take place at the open air The Canyons, inside SoFi Stadium in Inglewood.
Attendance is by invitation only and will feature Grammy Award-winning artist Usher.
The Los Angeles Sports & Entertainment Commission (LASEC) made the announcement that DirecTV will be the presenting sponsor of the event. In their press release Kathryn Schloessman, President and CEO of the Los Angeles Sports & Entertainment Commission, said, "Thanks to the support of DIRECTV, we are excited to host the official post-NFL Honors party at SoFi Stadium and give our guests an exclusive kickoff to Super Bowl weekend.
"The Chairman's Party presented by DIRECTV, will celebrate the return of Super Bowl to the Los Angeles region, for the first time in nearly 30 years, and shine a light on a deserving Super Bowl LVI Legacy organization with the DIRECTVxChampionLA Award."
The NFL Honors Show will announced the winners in seven categories: NFL MVP, Offensive Player of the Year, Defensive Player of the Year, Offensive Rookie of the Year, Defensive Rookie of the Year, Comeback Player of the Year, Coach of the Year and the Walter Payton Man of the Year. The Los Angeles Chargers have selected center Corey Linsley as their honoree and the Los Angeles Rams have selected Andrew Whitworth.
The 2022 MLB All-Star Game and the 2028 Summer Olympics, are among the many future events put on by LASEC.

We are not the typical news website – nor do we wish to be. We will be offering more than news and blogs, but an opportunity for fiction writers, poets, comedians and musicians to showcase their talent and skills. Much like when the Beatles formed Apple Corps Ltd, they opened the door to all kinds of inspiring talent that never really got a shot. From that came the likes of James Taylor and others. We hope by providing a similar approach we can shine the light on some tremendous undiscovered talent and at the same time offer some familiar voices who live in Los Angeles and beyond.