L.A. Derby: Round 2 at Banc of California Stadium tonight
Tonight Los Angeles soccer fans — football fans — will see round two of the L.A. Derby, this time at Banc of California Stadium. The L.A. Galaxy and Los Angeles Football Club have already played once this year, the first time the self-proclaimed world's best soccer player, striker Zlatan Ibrahimović put on a Galaxy uniform and took the field.
LAFC fans — and Galaxy fans for that matter — well remember how the new boys in town took it to the Galaxy at StubHub Center, putting the Galaxy on their heels with a score of 3-0.
Then, about 60 minutes into the match, Sebastian Leitget scored the first goal for the Galaxy. Then Zlatan, who had been in Los Angeles about 36 hours when the match started, went into the game. Immediately the atmosphere at StubHub changed. The fans who had been chanting "We Want Zlatan!" went wild. About 15 minutes later Chris Pontius scored and two minutes later Zlatan got his first goal as a member of the Galaxy, an arcing kick from 35 yards away that sailed over LAFC goalie Tyler Miller's hands and into the net.
Zlatan was shown the yellow card for excessive celebration, but what the hell, the Galaxy had just come from 3-0 to tie the match. Then with just minutes left to play Zlatan scored his second goal to give the Galaxy the win.
Soccer fans on Instagram can see plenty of Zlatan's posts because he is prolific. Since coming to the Galaxy Ibrahimović has made 15 appearances and scored 12 goals with two assists. It's safe to say he made an incredible impact on his team.
On the flipside though LAFC has some very good scorers as well. Recalling the line from the movie M*A*S*H when Radar O'Reilly informs Colonel Henry Blake, "Their ringer just spotted our ringer." In the case of the L.A. Football Club, that would be Dio — Adama Diomandé. Dio has nine goals in as many games. They also have Carlos Vela with seven goals, Diego Rossi with six and Latif Blessing with five.
LAFC has a lot of firepower and they are an organized, well-coached team. The one downside to their game is that they can sometimes lose their focus and then lose the game, as happened the first time these two teams met.
LAFC has never lost at home in Banc of California Stadium, although they have played to four draws. In a video posted by LAFC, Marc-Anthony Kaye said, "We're a different team, we've been going in the right direction; we have more players, better players and we've been playing better so I think this game comes at the perfect time for us."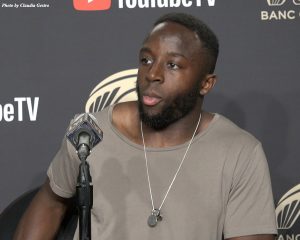 In the same video Diego Rossi said, "We're expecting something truly incredible for this game. It's a very special game and the fans know that too. Seeing our supporters chanting and cheering us at every game has been fundamental, but it will be even more important at a game like this."
Coach Bob Bradley, who has led his team to second place in the Western Conference, said, "Every time we step into Banc of California Stadium is the support. The 32-50, the field, the chance to play great football in front of our best and most loyal supporters; and to do it now, in our own stadium against the Galaxy is a day we're looking forward to."
BoC Stadium will be filled with fans of both teams so this will be a great, loud game.
Photos by Claudia Gestro unless otherwise noted.

We are not the typical news website – nor do we wish to be. We will be offering more than news and blogs, but an opportunity for fiction writers, poets, comedians and musicians to showcase their talent and skills. Much like when the Beatles formed Apple Corps Ltd, they opened the door to all kinds of inspiring talent that never really got a shot. From that came the likes of James Taylor and others. We hope by providing a similar approach we can shine the light on some tremendous undiscovered talent and at the same time offer some familiar voices who live in Los Angeles and beyond.