LAFC leads the league but has a tough night against Chicago
The Los Angeles Football Club has gotten off to a good start this season, in large part to the great improvement of striker Carlos Vela. He has 11 goals in as many games. Unfortunately for the L.A. Football Club Vela was unable to get a score Saturday night in their match against the Chicago Fire.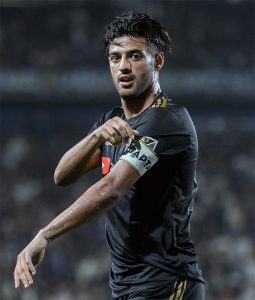 LAFC has a knack for controlling the ball for most of their matches, but in Saturday's game that wasn't enough to get a winning result. Chicago goalie David Ousted made four saves and their defense was able to frustrate the L.A. offense.
This is the second time in four matches The L.A. club was held scoreless. The last time was against the Seattle Whitecaps, a match won by Seattle. Like many of their games, the L.A. squad dominated the time of possession, but they had trouble closing out the game.
After Saturday's draw, LAFC head coach Bob Bradley told the media, "Overall in the night I don't think we had our best passing. With a lot of numbers back, finding the right pass, quality of the pass, that definitely hurt us. Then as the game goes on I think there's some chances there, maybe a little bit of frustration creeps in where breaking them down's not so easy." He added, "I thought we created a couple of good chances off of set pieces that we just didn't take advantage of."
Despite the one loss and three draws, LAFC still leads the league with 24 points, two ahead of their cross town rivals, the L.A. Galaxy.
The possibility that the city of Los Angeles could be home to a pair of powerhouse, league-leading teams, will give L.A. soccer fans a great season.
Photos by Claudia Gestro

We are not the typical news website – nor do we wish to be. We will be offering more than news and blogs, but an opportunity for fiction writers, poets, comedians and musicians to showcase their talent and skills. Much like when the Beatles formed Apple Corps Ltd, they opened the door to all kinds of inspiring talent that never really got a shot. From that came the likes of James Taylor and others. We hope by providing a similar approach we can shine the light on some tremendous undiscovered talent and at the same time offer some familiar voices who live in Los Angeles and beyond.