LAFC welcomes Real Salt Lake to BoC Stadium
After five straight games without a win, the Los Angeles Football Club finds itself at a point where they absolutely need a win. A draw won't do much to advance their standing in the tables. After a disappointing draw in Houston against the Dynamo and then their first loss at home in Banc of California Stadium to Sporting Kansas City, LAFC has dropped to fifth place behind FC Dallas, SKC, Portland Timbers and the LA Galaxy. Although they are tied in points with the Galaxy, LAFC had one draw and a loss to their crosstown rivals putting the Galaxy ahead in the table.
On Wednesday they will meet Real Salt Lake at Banc of California Stadium, a team that is just one point behind LAFC. The last time these two teams met, on March 10 in Salt Lake City, LAFC came out the winner 5-1. If Los Angeles can get the same result, that's three points. If the Galaxy lose at home against the Colorado Rapids, LAFC will move up in the standings.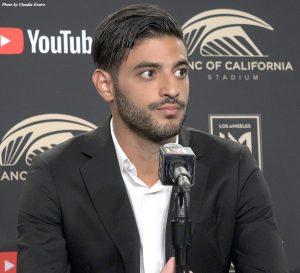 The Galaxy have two players who are doubtful for tonight's game so that may have an impact on the outcome.
Despite the lack of a win in this stretch, LAFC is not down. Coach Bob Bradley is an upbeat guy and won't let his team fall into morass. Christian Ramirez told the media, "I'm an upbeat guy. I'm always smiling and enjoying myself. That hopefully relieves some of the pressure, some of the stresses of going through a lull throughout the season. It's a long year though, teams always go through these lulls. It's about how you come out of them. Tomorrow night's a good opportunity for us to come out of that."
Due to the road trip and packed in fixtures, Bradley move players around. Luis López, Danilo Silva and André Horta started on Saturday and Ramirez made his first appearance since coming over from Minnesota United. LAFC fans can expect to see many of the regulars in Wednesday's match.
From now until the end of the season in October, we should expect to see a mix of the regulars and the subs. Bradley knows how to putting a winning team on the pitch and he already knows who works well together and who can score. We will see those players, Carlos Vela, Dio, Diego Rossi, Lee Nguyen, Benny Feilhaber and Laurent Ciman.
Midfielder Mark-Anthony Kaye is out as he recovers from a broken left ankle. But otherwise fans can expect to see their favorite players take to the pitch Wednesday.
Photos by Claudia Gestro

We are not the typical news website – nor do we wish to be. We will be offering more than news and blogs, but an opportunity for fiction writers, poets, comedians and musicians to showcase their talent and skills. Much like when the Beatles formed Apple Corps Ltd, they opened the door to all kinds of inspiring talent that never really got a shot. From that came the likes of James Taylor and others. We hope by providing a similar approach we can shine the light on some tremendous undiscovered talent and at the same time offer some familiar voices who live in Los Angeles and beyond.