Lonny Chapman presents "A Midsummer Night's Dream"
Absolutely one of — if not the most popular of — William Shakespeare's great comedic plays A Midsummer Night's Dream is currently at The Group Rep at the Lonny Chapman Theatre in North Hollywood. There are four interconnecting plots all brought together by a celebration of the wedding of Duke Theseus of Athens and Hippolyta the Amazon Queen which is set simultaneously in the woodland and in the realm of Fairyland. Okay so immediately a little confusing. But keep going because it just keeps getting wilder and funnier.
Hermia is passionately in love with Lysander but her father Egeus insists that she wed Demetrius. But Helena is very much in love with Demetrius who Hermia wants nothing to do with, but Egeus has already arranged the wedding of his daughter to Demetrius and thus an irrestible force meets an immoveable object causing Egeus to invoke an ancient Greek law under which Hermia must wed Demetrius or face death. Theseus offers her one other option: lifelong chastity as a nun, while worshipping Artemis. Clearly there are no good choices on the table but the game is far from over.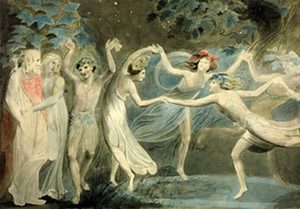 The interplay between the fairies, the royals and locals creates a steady stream of conflict and laughter. One of Shakespeare's best known and loved plays performed in thousands of theatres around the world before many millions of happy viewers. In some ways it is a 16th century version of the Kardashians only with actual beauty, talent, class and theatrical skill.
But now that I mention the 16th century I am also compelled to offer my opinion that it is about time that all those devoted admirers of the great bard William Shakespeare seriously consider converting the 16th century language into something more easily understood in the 21st century. Yes I know well that the true Shakespearean devotees will passionately argue that Shakespeare can and must be enjoyed in the language he used when he wrote it or accept the unacceptable risk of damaging or even destroying critical nuances. Perhaps, but then again by using more contemporary language you reach a far broader audience and extend even further the enormous reach of William Shakespeare.
Regardless A Midsummer Night's Dream in Elizabethan English and all and under the Direction of Marc Singer is now wowing audiences at The Group Rep at Lonny Chapman Theatre, 10900 Burbank Boulevard, North Hollywood, California 91601 every Friday and Saturday evening at 8:00 p.m. and Sundays at 2:00 p.m. now through December 31st, 2017.
If this is your first experience with the magical world of Shakespeare it will move you. If on the other hand you are a lifelong fan of the great bard you will be very pleased with this high caliber performance. Reservations may easily be made and tickets purchased by simply calling 818-763-5990.
•••• •••• ••••• •••• ••••
Check out this play in the making:  http://www.ronirwin.net/51-50RVN.html

Ron Irwin was born in Chicago, Illinois a long time ago. He served in the Marine Corps in Vietnam, became a trial lawyer, TV and radio host, CEO of a public company and once held an Emmy. He never won an Emmy he just held one. Ron has written and published twelve books. His most important book to date is "Live, Die, Live Again" in which Ron tells of his early life and his unexpected and very temporary death in 2012. That experience dramatically refocused his life and within the pages of that book Ron reveals how he achieved a much healthier life, ridding himself of Diabetes, Cancer and Heart Failure. Now Ron enjoys writing about many things including health topics, travel [he has circled the globe several times], adventure, culinary experiences and the world of performing art. Ron's motto is "Live better, live longer and live stronger because it feels great and annoys others." Contact the author.