Los Angeles Chargers Training Camp schedule posted
Fans can attend all 12 of the practices at both Jack Hammett Sports Complex in Costa Mesa, CA and there will be a night time practice at LeBard Stadium on the campus of Orange Coast College.
The training camp is free, but fans are encouraged to reserve free seating in the bleachers, which are available on a first come, first served basis. Click here for more information. The advance reservations begin July 1.
The Chargers will take the field for the first time  at 10:00 a.m. Sunday, July 30. Six days later, on August 5, the Chargers will open sections of the lower bowl for their practice at StubHub Center to Season Ticket Members, Premium Seat Clients, and members of the Chargers Wait List for the new L.A. Stadium at Hollywood Park. For more information on how to join the Chargers Wait List, fans can visit fightforla.com.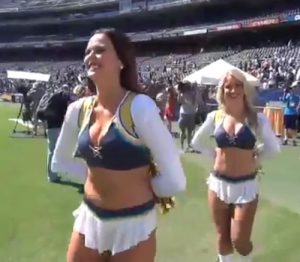 In the coming weeks the team will announce information on joint practices with the Los Angeles Rams and New Orleans Saints.
The training camp setting gives fans a chance to see their favorite players up close and offers ample opportunities to get autographs. The Chargers Girls will be there along with interactive games for all ages and a "Play 60" area for kids. The Chargers Team Store will be on site so fans can get their Chargers gear. Representatives from the ticket office will attend so fans can get information on all tickets, including ticket memberships and the wait list for the future home at the L.A. Stadium and Entertainment District at Hollywood Park.
the Chargers broadcast partners, ABC7, iHeartMedia Los Angeles ( KFWB FM 980, and KAZA-TV Azteca), will be broadcasting from training camp.
Chargers broadcast partners ABC7, iHeartMedia Los Angeles and its family of radio stations, will all broadcast from select Training Camp practices. ABC7 will originate live segments of its newscast from Jack Hammett Sports Complex on select days and give fans the opportunity to go behind-the-scenes of a broadcast with the channel's unique, on-site pop-up news bureau.
Below is a complete list of 2017 Training Camp practices open to the public.
All practices at Jack Hammett Sports Complex in Costa Mesa, CA unless otherwise indicated
All practice times are subject to change.
Sunday                 July 30                   10:00 a.m. – 12:00 p.m.
Monday               July 31                   10:00 a.m. – 12:00 p.m.
Tuesday               Aug. 1                   10:00 a.m. – 12:00 p.m.
Wednesday       Aug. 2                   6:00 – 8:00 p.m. – at LeBard Stadium (Orange Coast College)
Friday                    Aug. 4                   10:00 a.m. – 12:00 p.m.
Saturday              Aug. 5                   4:30 – 7:00 p.m. – at StubHub Center*
Monday               Aug. 7                   10:00 a.m. – 12:00 p.m.
Tuesday               Aug. 8                   10:00 a.m. – 12:00 p.m.
Friday                    Aug. 11                 10:00 a.m. – 12:00 p.m.
Tuesday               Aug. 15                 10:00 a.m. – 12:00 p.m.
Wednesday        Aug. 16                 10:00 a.m. – 12:00 p.m.
Thursday             Aug. 17                 10:00 a.m. – 12:00 p.m.
Friday                    Aug. 18                 10:00 a.m. – 12:00 p.m.
Tuesday               Aug. 22                 10:00 a.m. – 12:00 p.m.
* Chargers Season Ticket/Wait List Members Ticketed Practice
The gates to Jack Hammett Sports Complex open one hour before the start of each practice session. Parking is available at the OC Fair and Events Center parking lots off Arlington Drive for $10. Parking is valid for the entire day should fans want to attend the OC Fair following practice. There will also be a dedicated location for rideshare service drop-off and pick-up adjacent to Jack Hammett Sports Complex.
"Fans may bring their own food, water and soft drinks, however alcoholic beverages may not be brought into Jack Hammett Sports Complex at any time. Smoking is not allowed at Chargers Training Camp. For those wishing to purchase food or beverage, there will be food trucks serving concessions with various offerings.
"Fans are welcome to bring personal cameras and cell phones, but video cameras and telephoto lenses longer than six inches (detachable or non-detachable) are not allowed. Other items not permitted at Jack Hammett Sports Complex include: pets (other than service animals), weapons of any kind, water guns, fireworks, frisbees, sports balls, beach balls or other inflatable objects, laser pointers, flammable objects, musical instruments or noise-making devices."
Jack Hammett Sports Complex is located at 2750 Fairview Rd, Costa Mesa, CA 92626.
Fans can download the Chargers App to follow all the Los Angeles Chargers' social media platforms and Chargers.com.
Top photo of Chargers head coach Sean McCoy by Claudia Gestro

We are not the typical news website – nor do we wish to be. We will be offering more than news and blogs, but an opportunity for fiction writers, poets, comedians and musicians to showcase their talent and skills. Much like when the Beatles formed Apple Corps Ltd, they opened the door to all kinds of inspiring talent that never really got a shot. From that came the likes of James Taylor and others. We hope by providing a similar approach we can shine the light on some tremendous undiscovered talent and at the same time offer some familiar voices who live in Los Angeles and beyond.