New moms 'Cry It Out' with Echo Theatre Co
Absolutely anyone who has brought a child into this world knows well how deeply life changing that experience truly is in every way. But some people are more severely impacted than others because such is life. Careers change or get put on hold. Even at a tender age it can become necessary to have non-parental day care for a new born child and that experience alone can be traumatizing. In some cases, the birthing process can have profound physical and psychological effects on the mother. And so now we come to the play, Cry it Out.
Two neighbor ladies have given birth to their child at or very near to the same time. Jessie [Jackie Chung] is a bright young lawyer soon to become a full partner in her downtown law firm, but she now has a newborn child that has completely captivated her. Lina, [Megan Ketch] is Jessie's next door neighbor and she too has a brand new baby in her life, but Lina is a health care worker and less affluent than her neighbor. Together they have formed a friendship based largely on their new experience as mothers and every day they meet to chat and drink coffee.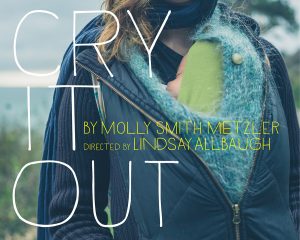 This bonding experience is seen from above, literally. by a much more affluent man Mitchell [Brian Henderson]. His wife Adrienne [Emily Swallow] is also a new mom and a very successful business woman, but according to her husband she has largely avoided bonding with her new child and so Mitchell approaches Jessie and Lina and asks if they would accept his wife Adrienne into their little group so that she, Adrienne, may become more like the other two woman, warmer with their newborn child. They agree and soon the three come together, however it is anything but a pleasant experience.
As their lives quickly evolve, changes not always wanted, nevertheless take place.  Lina for instance finds herself with no choice but to allow her mother-in-law to watch her baby while she, Lina, returns to work. Then Lina is devasted when she returns home and finds her mother-in-law passed out drunk.
Jessie is absolutely convinced that she would rather commit herself totally to her new child and to hell with her highly compensated career as a lawyer. She has done the math and they can get by on her husband's substantial income alone. But perhaps her math was a bit overly optimistic and eventually she accepts that she too must return to work.
And what of Adrienne? Is she really the cold-hearted uncaring mother she appears to be? Well sometimes things aren't always what the may at first seem to be. But to see exactly how that plays out, well you will just have to go and watch the show.
Watching Cry it Out is pleasant and enjoyable, largely thanks to the superb talent on stage. But in all truth I have to say that at the end I thought to myself: "Well yeah life is always full of ups and downs and not infrequently things don't work out the way we would like, so what is so special about these three women?"
It does however demonstrate very dramatically just how powerful is a new child in everyone's life along with the reality that life must still go on. And as for a drunk woman raising a child, well I know all too well just how devastating that can be.
You can watch a trailer here.
This is the West Coast premiere of Cry It Out and you can watch it now through August 19, 2018 at the Echo Theatre Company, Atwater Village Theatre, 3269 Casitas Avenue, Los Angeles, California 90039.  For reservations and ticketing call 310-307-3753 or visit their website.
•••• •••• ••••• •••• ••••
For even more fun visit: www.ronirwin.net
Top photo is a YouTube screenshot of Emily Swallow

Ron Irwin was born in Chicago, Illinois a long time ago. He served in the Marine Corps in Vietnam, became a trial lawyer, TV and radio host, CEO of a public company and once held an Emmy. He never won an Emmy he just held one. Ron has written and published twelve books. His most important book to date is "Live, Die, Live Again" in which Ron tells of his early life and his unexpected and very temporary death in 2012. That experience dramatically refocused his life and within the pages of that book Ron reveals how he achieved a much healthier life, ridding himself of Diabetes, Cancer and Heart Failure. Now Ron enjoys writing about many things including health topics, travel [he has circled the globe several times], adventure, culinary experiences and the world of performing art. Ron's motto is "Live better, live longer and live stronger because it feels great and annoys others." Contact the author.