Photo above: L.A. Live with the Staples Center and Nokia Theater.
They could build a football stadium as part of L.A. Live. (Wikipedia)
•••• •••• ••••• •••• ••••
LA's solution to NFL: Build a Stadium, but No Team
"We just want a team, we want a team in the worst way." — Magic Johnson
I couldn't agree more. Los Angeles's approach to bringing the NFL back has been bad. Really bad.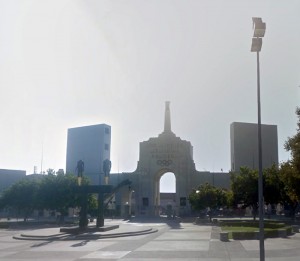 It's been twenty years without a team. That's a whole generation with no football, yet the sport is still strong here, with TV ratings being comparable to markets with teams.
We've had a long list of affairs to try to bring the NFL back, including Irwindale, Carson, LA Coliseum, the Rose Bowl, Dodger Stadium, City of Industry and the Convention Center. That's enough to make George Clooney jealous.
Bringing a team here is hard and building a stadium is even harder, yet real estate rivals AEG and Ed Roski keep pushing for the dream.
Like most Angelinos, I'm worn out. I'm not ready to invest my heart and soul into another team, let alone watch a bunch of billionaires claim they are bringing the sport back to the "people".
If we want to bring the NFL back to Los Angeles, the best solution is to build a stadium without the intention of putting a team there. Instead, the stadium would host a weekly game between a rotating set of teams, much like in London, somewhere between 6 to 10 times per season.
This is not an easily acceptable concept. It's thinking outside the box, but this is Los Angeles. Standard convention hasn't worked for us. There are number of reasons why this work would. We're different and this is an idea that embraces it.
(From this point on, I'm going to assume a new NFL stadium will be built next to Staples Center. The league wants to host Super Bowls in the pulse of LA, not in the heartbeat of office parks.)

Every week would be a bowl week
If you've ever been to a bowl, whether it be a college or super one, it's a fun experience. The fans are out en masse. They are not just there for the game, but also to vacation.
The largest problem with bowls is they are hard to plan around. You may only get two to four weeks to make your arrangements. You're paying a premium to travel under an urgent time frame.
Now you can amply plan a whole vacation. Make it the Thursday night game, not just to distinguish it like Monday night, but so travelers can make a long weekend out of it. Bring the family. Go to Disneyland, take them to Venice, or even get a back tattoo (they're out of fashion, but we'll take your money). On the collegiate level, there are rallies, tours, dinners and events linked with the team. Wouldn't it be great to give pro fans that same experience?
The game can also be a special showcase for the teams. Have a golf tournament of the franchise's greats to see who wins the coin flip. Pit the cheerleading squads against each other in a dance off. Hire improv actors to recreate game action instead of instant replays.
It's LA, so get creative. It's a neutral game for weeks to plan. It should stick out for both the viewers and the fans in attendance.
Getting our own team is near impossible
Just imagine how much money any team could make moving here. You could name your price on anything from luxury boxes to Ed Hardy foam fingers.
The problem is AEG has that same dream too. Any team that comes here is going to have to split some of that ownership pie. Teams get so much money from the big television contracts that none of them want to split a hair of that guaranteed revenue. It's a concept even the dumber owners understand.
Getting an expansion team is always a possibility, but with the Cowboys being valued at over $3 billion dollars, entry into the league is going to be above Donald Sterling's payout. That's the type of money that comes from people that don't know what to do with it. AEG does.
Under my senario, they could charge the highest ticket prices in the league, split the revenues with the owners and the league gets entry into Los Angeles.  In turn, AEG saves money on costs like salaries, training facilities, etc.  They may not make as much as owning a team, but they'll make up for it once the Super Bowl comes into rotation.
We're happy with the teams we have
If you're a native, it's very easy to be a Lakers, Clippers, Dodgers or Kings fan. They're local, have deep roots and have the name Los Angeles right there.
Not having the NFL has given sports fans the unique experience of picking their own team. You still have trouble convincing some people that the Raiders ever left or the Rams were actually ever here, but for the most part it's open season.
Every franchise has their own unique identity and picking one says something about you. You could be a Steelers fans because you favor the industrial work ethic. The Saints are an excellent choice to align with their fun, party-loving fans. You can even pick the Jaguars if you never want to be understood.
It's very easy to latch onto a team because of the influence by the large number of transplants.  Go to any sports bar in Los Angeles on football Sunday and you'll see most teams represented. It's fun to watch games with a community of fans instead of having to worry about getting the beatdown if you're wearing the wrong colors.
Besides, I've already invested twenty plus years supporting the Vikings. I'm ready to give up on them now. Purple face paint is expensive.
Or we could bring back the Rams … a group has a Facebook Page dedicated to the dream of bringing the Rams back to L.A.
Uggh! We'd have to come up with a name
Whether we get a new team or someone else's problem, it will open up the same stereotypical chatter on a locally themed name. The Los Angeles Drive-bys. The Facelifts, Tanners, Dudes, Kardashians and the like will all be thrown over airwaves like they're doing a public service.  Everyone will continuously mimic the Californian accent Fred Armisen style (which I get caught doing regularly).
These ideas are unimaginative, repetitive and a giant waste of my time. There's no way we can escape it if we get to that stage.  Let's just move on.
Isn't this stadium forgetting something?
If you're not familiar with downtown Los Angeles, its shape is changing fast. Staples Center is already fifteen years old, but the South Park neighborhood is starting to click.
When the adjacent Convention Center opened in 1971, entire blocks were bulldozed to make way for development that never happened. Now these parking lots are making way for sky-high condos so people can live luxuriously without ever seeing a blade of grass.
Eliminating open space in the name of  "progress" is robbing future football fans a key element of gameday: The Tailgate!
There's nothing more American. The grilling of food that would make Jamie Oliver's head explode. Drinking beer out of plastic cups.  Lounging around with other fans. Forgetting which is your plastic cup.  Trying to prove you can throw a football without hitting other cars. Most likely, I end up watching the first half in the parking lot!
When you force fans to show up in their limos, sardined together in public transit or get dropped off by their mommies, don't expect the fan experience to stick.  If you get your most ardent supporters from across the country, they most likely won't deal with the hassle of bringing their elaborate tailgate setups with them.
If they do, God bless them. We'll make space.
It's a new age of sports
Professional sports changes fast.  With revenue growing at an exponential rate and technology rapidly changing the way we view it, the game may be unrecognizable in another few years.
Cameramen may be replaced with robots.  Luxury boxes could remove the need for seats. I don't think Marty McFly could conceive what football would look like.
This is Los Angeles.  The league needs us more than we need them. Let's write our own rules. Hopefully, before Buffalo or San Antonio beats us to the punch.

Zachary Rynew has touched Los Angeles in many ways. For years he helped visualize many of the city's major projects (LA Live, Hollywood Blvd., Metro Rail, UCLA) and had his work featured at the Getty. He was a winner at the LA Improv Comedy Festival and ran in five LA Marathons. Now, he travels the city by bike and couples his local knowledge with his sports writing experience to bring you a different look at the blurs we normally pass by.