NFL Week 13: Takin' care of business
It's officially crunch time for the few teams remaining in the playoff hunt. This season has seen three teams get off to very hot starts and seem like they were "the team to beat." Kansas City, the Rams, and New Orleans have each looked like the greatest team to come along in years and each has shown just enough flaws to give hope to teams considered a notch below them.
Earlier in the season I wrote about how difficult it is to remain red hot all season and perhaps the teams that win the Super Bowl were yet to catch fire. If the above three teams are not in a class by themselves, then who are the next group to look out for?
First Down:When I am wrong, I am dead wrong and perhaps nothing shows this more than the turnaround of the Dallas Cowboys. I wrote them off a month and a half ago as a pretender and now they are one of the red hot teams who look like they can win it all.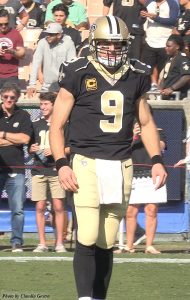 Instead of jumping on their bandwagon, I will do what any red blooded American does and double down on my belief they are not the real deal. I know, they just beat the Saints 13 to 10 and shut down Drew Brees and company.
I will give the Cowboys credit for holding the Saints to just ten points. However, this is not a team that is going to walk into the Superdome and do the same in January. Home field advantage makes a huge difference in the postseason and Dallas has blown their shot at it. It also won't help Dallas any having to play a first round playoff game before facing a rested New Orleans squad. The end result is, which of these two teams do you like in a shootout?
Now, let's look at Texas's other team, the Houston Texans. They began the season with three straight losses and are now firmly in control of the AFC South. Nine straight wins will make believers out of fans. Are they a legitimate threat to winning the AFC crown this year? Yes.
However, don't hold your breath. While I like a team who can weather an early season storm as the Texans did, I am not so sure they are the future of the AFC. They are good enough to make a deep playoff run in a weak conference, but in my eyes, they are last year's Jacksonville Jaguars; a great defense and an offense led by an unproven and inconsistent quarterback. This time next year, they could well be like this year's Jags.
If both Dallas and Houston can build on the teams they have, next year might result in an all Texas Super Bowl. Then again, history tells us the NFL is littered with teams that were one hit wonders.
Second Down:The NFL got some great news this past week when a report was released showing that youth participation in Flag Football has finally passed up participation in tackle leagues.
Why is this good news? It says parents are still okay with their kids playing football at an early age while the league's attempt to create a safer version moves forward.
Many of the participants in flag leagues are playing in programs run and sponsored by the NFL. This creates a very powerful brand recognition that can carry on through a lifetime. Even if a kid does not grow up to play tackle football, he will identify with the NFL and follow the sport for life, which keeps future viewership and purchasing of NFL products going for decades to come.
I use to laugh at the moms and dads who 30 years ago purchased tiny baby shoes with a Nike swoosh on them. However, it was marketing genius by Phil Knight. Today, babies can't leave their house unless they are decked out in name brand clothing with all the accessories in large part because Nike took the bold steps to expand their product base and in the process, created name recognition that carries well into old age.
The NFL will not allow itself to be left behind. They know they can always find enough desperate people with the skills to play on Sunday, but without an audience, the league has nothing. Through their running of flag football programs across the nation, the NFL is making sure they will be a force in our lives long after we are gone.
Third Down:On the uglier side, it took Reuben Foster about 12 seconds to land a new job. The Washington Redskins plucked him off of waivers after the 49ers released him because of his arrest for domestic violence. It seems fitting a player who has the checkered past of Foster lands in D.C. where our Groper-in-Chief hangs his hat.
The Redskins are just doing what any team in need of an infusion of talent does and signed him with the hope his latest legal troubles pass. If they do, Foster could be a beast. However, even the Redskins know Foster may never see the field again. They are out nothing considering the guy is in limbo and not allowed to play for the time being.
There is not a team in the league that can claim the moral high ground. Each has more than a few players with a questionable background at best. This is nothing more than another example of talent winning out. The Kansas City Chiefs released Kareem Hunt after they viewed a hotel video of him beating a woman and they realized he lied to them earlier about the incident.
Had Reuben Foster been a mid-round pick instead of a first rounder, he would have been cut by San Francisco long ago. If you do not believe me, then who is the fourth round defensive back they released after his first run in with the law this past off season? Don't worry, I forget his name too.
Back in the day, Bill Parcels had a different set of rules for Lawrence Taylor than he did for the clowns on the team dumb enough to run with him when off the field. More than once, Parcels cut players caught up in Taylor's off field antics only to look the other way on LT. Michael Irvin was another player whose talent allowed him to have a different set of rules than a sub.
Coaches value talent more than character. You do remember, "nice guys finish last," don't you? A player either has it or he doesn't. Foster has talent. Coaches also know a talented player like Foster is also not a player you can count on. Coaching guys like him is like playing Russian Roulette. You know sooner or later the gun is going to fire and when it does, the collateral damage is going to be ugly.
Most coaches will gamble with a talented player, thinking they can provide him with the structure needed to turn their life around. They won't with a lesser talent. What coaches fail to realize, the structure guys like Reuben Foster need who think nothing of beating women can only be found inside a prison.
If I was a betting man, I'd bet Foster ends up spending more of his adult life inside prison than he does out in the free world.
Fourth Down:  Let's take a short break from the NFL and look at college football. When the NCAA moved to a four team playoff format, it was viewed as a great move.  No more arguments over who is the best team because you place the four best into a playoff, right?  The problem was, and this is huge considering the people involved work in the highest end of academia, no one thought there might be more than four really good teams deserving of a playoff spot.
Why not the top eight teams? Top 16? Top 64?
No matter how many teams are placed in the NCAA playoff, there will be an argument over who got screwed out of a spot. When one of those teams is a conference champion from a major conference, there seems to be a legitimate complaint.  When one is the only team in two years to give Alabama a run for its money and they have done so twice, you scratch your head and wonder what else do they have to do to get in?
The NCAA regular season is far more compelling than the NFL's if you are a fan of a team with a shot at the playoffs because every week is a playoff game. One loss is enough to get you eliminated from the post season.
If the NCAA expanded their postseason to the top eight or sixteen, their regular season no longer means as much. A loss is not as big of a deal. In other words, it becomes like the NFL and you risk seeing a team that goes 7 and 4 grabbing the 16thseed and making a mockery of the postseason.
You can argue over how the NCAA selects their final four and have a good point, but to argue in favor of expanding the field just means teams like Michigan get in when we all know they don't deserve it. Instead, they are rewarded with a bowl game that pays their school a ton of money to play a game that no one but a fan of their school will ever remember.
Over Time:  Now, let's check out the game results.
Baltimore 26 Atlanta 16: Atlanta is just going through the motions while Baltimore is chasing the playoffs. The end result is about what you would expect, even with Baltimore being led by a rookie quarterback, Lamar Jackson.
Tampa Bay 24 Carolina 17:Explain to me how the Panthers were one of the most feared teams a month ago and now are so bad they can't beat the horrible Buccaneers. This is the kind of loss that can get a coach fired.
New York Giants 30 Chicago Bears 27:The Bears showed why they are not at the top level of the talented NFC. Meanwhile, the Giants, despite a horrible start to their season, have shown they are going to play hard even if they have no shot at the post season.
Miami 21 Buffalo 17:When was the last time these two division rivals faced off in December in a game that mattered?  I don't remember either.
Denver 24 Cincinnati 10:Don't look now, but the Broncos have come alive. Okay, maybe that's a stretch since a team of dead people plays with more energy than the Bengals. Still, the playoffs are not off the table for Denver.
LA Rams 30 Detroit 16:The Rams won on the road in Detroit and thanks to the Saints loss, they control home field advantage. They better hope they hang on to it because no one wants to play a post season game in New Orleans.
Arizona 20 Green Bay 17:The Packers are a disaster. There is no other way of being gentle in analyzing this team. They have a lot of holes to fill in the off season which has officially started for them by firing head coach Mike McCarthy. As for the Cardinals, the win now removes them from the number one draft pick. What were they thinking?
Houston 29 Cleveland 13:The Texans have won nine straight and have a death lock on the AFC South. How did they start off with three straight losses?  Their defense made Browns quarterback Baker Mayfield look like the rookie he is. All that remains is seeing whether or not Houston can steal the number two seed in the AFC.
Jacksonville 6 Indianapolis 0:  The Jaguars picked a funny time to show up and play defense. Indy has been red hot and were dealt a huge blow with this defeat. How were they shut out when they were averaging 33 points a game?  The Colts have to be sick over this result.
New England 24 Minnesota 10: The Patriots can smell home cooking in the playoffs and did not let it slip away against a solid Viking team. However, Minnesota might regret not showing up to play since they can ill afford to lose again.
Seattle 43 San Francisco 16:If Seattle played SF every week, they'd go undefeated. In fact, their offense would outscore SF by a two to one margin in the process. To put it more bluntly, the Niners are the Seahawks bitches.
Tennessee 26 New York Jets 22:The Titans managed to find a way to struggle against a team with nothing to play for. If Tennessee makes the playoffs, they may find out just how mediocre they really are.
Kansas City 40 Oakland 33:The Raiders could have laid down and died, but instead showed some fight and made the Chiefs work for the win. The victory not only keeps the Chiefs a game up on the Chargers, but it was a nice relief after the Kareem Hunt fiasco. I am no longer surprised when a player, in this case Hunt, beats a woman. I am also not surprised the Chiefs and the league claim they knew nothing of a videotape existing of the February beating or that the league never questioned Hunt about the incident. Not much seems to have changed since Ray Rice.
LA Chargers 33 Pittsburgh 30:How do you explain a Steeler team dropping a home game after leading 23-7 at the half?  Okay, they were playing a very good Chargers team, but to lose this game says there are problems in Pittsburgh that run deep enough they are no longer a sure thing to win their division or make the playoffs.
Meanwhile, the Chargers took full advantage of being on prime time and showed the rest of the nation why teams should fear facing them in the postseason.
Song Dedication: This is the time of year where teams in the hunt for playoff spots or home field advantage can ill afford to drop a game against a team they should beat.  This week, the Rams, Patriots, Chiefs, and the Texans took care of business rather than look ahead to January and in doing so, they were not just rewarded with wins, but with this week's song dedication.
••• •••• ••••• •••• ••••
MNF Update: The two teams in the MNF extravaganza are not the powerhouse teams that would inspire a nation to tune in: The Washington Redskins at the Super Bowl champion Philadelphia Eagles.
Because the NFC East is a weak division, both of these teams have a chance to win the division — they still have a chance — despite the poor records.
In this game, which wasn't a pretty win for the Super Bowl champs, both teams played with heart, knowing the chance of getting to the playoffs were getting thinner.
The Redskins had to play with two back up QB's: Colt McCoy, who left in the second quarter with a leg injury and then veteran QB Mark Sanchez who made an incredible recovery of a butt fumble. Despite this, at halftime, the Eagles were leading by just one point (14-13).
Adrian Peterson gave Washington a 90-yard TD in the second quarter, but then Darren Sproles came back with a 14-yard TD of hos own.
In the end Carson Wentz showed flashes of his past, tossing for two touchdowns with one nasty interception.
After this game the two teams are tied in the standings, with a chance to make the playoffs. The Final score was 13-28, Philadelphia Eagles.
Photos by Claudia Gestro
Top photo: The L.A. Chargers have become one of the red hot teams in the league

Jim is a life long resident of California and retired school teacher with 30 years in public education. Jim earned his BA in History from CSU Chico in 1981 and his MA in Education from Azusa Pacific University in 1994. He is also the author of Teaching The Teacher: Lessons Learned From Teaching. Jim considers himself an equal opportunity pain in the ass to any political party, group, or individual who looks to profit off of hypocrisy. When he is not pointing out the conflicting words and actions of our leaders, the NFL commissioner, or humans in general, he can be found riding his bike for hours on end while pondering his next article. Jim recently moved to Camarillo, CA after being convinced to join the witness protection program.