NLDS: The Diamondbacks and Dodgers begin five-game series
Tonight the National League Divisional Series between the Arizona Diamondbacks and the Los Angeles Dodgers begins at 7:30 Pacific Time. This will be a big series between the two teams. They met 19 times during the regular season and the D-Backs won 11 of those games. But, they used two of their best pitchers, Zack Greinke and Robbie Ray, in the NL Wild Card Game on Sunday, so they won't be pitching tonight.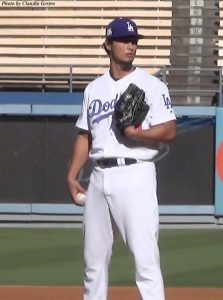 On the mound for the Dodgers will be their ace, Clayton Kershaw, who finished the season with a record of 18-4 and an ERA of 2.31. He had an injury in the second half of the season, but since coming back Kershaw looks to be ready for this Postseason.
Up for the Diamondbacks will be Taijuan Walker who had a good season finishing with a record of 9-9 and an ERA of 3.49. He had two wins against the Dodgers in the regular season, so Arizona manager Torey Lovullo is comfortable with him on the mound.
The one intangible for the D-Backs in this series is they believe they can win it all, especially after their monster game against the Colorado Rockies on Wednesday night. But, the first two games will be at Dodger Stadium and the fans will have the stadium rocking for the Dodgers.
Claudia Gestro attended the Dodgers practice on Wednesday and filed her video report, which is below.
Outfielder Enrique "Kike" Hernandez is from Puerto Rico and spoke about his family and the stress Hurricane Maria has put on his life and that of his fiancé. Dodgers manager Dave Roberts thanked Houston Astros owner Jim Crane for using his private jet to bring Kike's family to Los Angeles for the series.
We also hear from outfielder Andre Ethier and relief pitcher Brock Stewart. Claudia also spoke with outfielder Curtis Granderson, who came over from the New York Mets late in the season.
Photos by Claudia Gestro

We are not the typical news website – nor do we wish to be. We will be offering more than news and blogs, but an opportunity for fiction writers, poets, comedians and musicians to showcase their talent and skills. Much like when the Beatles formed Apple Corps Ltd, they opened the door to all kinds of inspiring talent that never really got a shot. From that came the likes of James Taylor and others. We hope by providing a similar approach we can shine the light on some tremendous undiscovered talent and at the same time offer some familiar voices who live in Los Angeles and beyond.