Packers lose and Tom Brady is the GOAT
Top photos courtesy of the NFL
Once again my favorite NFL team, the Green Bay Packers, ended their season in the NFC Championship Game. At home, in Green Bay, at Lambeau Field. That really stings. The first NFC Championship Game quarterback Aaron Rodgers has ever played on his home ice … err … grass. With the heat coils under the turf it wasn't quite frozen.
From the moment the Tampa Bay Buccaneers defeated the New Orleans Saints I knew, without any reservation, the Buccaneers, with Tom Brady as their starting QB, could beat the Packers at Lambeau Field. If you want to skip the time-eating task of reviewing all the data, reading all the stats and listening to the loud-mouthed TV prognosticators about who might win a particular game, look at what the Las Vegas (Nevada) odds makers have to say. They only gave the Packers a three point edge. They gave the Buccaneers better than 47% chance of winning the game. Pretty damn close to the game being a toss up.
Odds makers are in business with the casinos and sports betting companies because they rarely get it wrong. Did they get it wrong for the NFC Championship Game? A little, but not really. They knew the game would be close and Tampa Bay had a good chance of winning. 
The Packers should have won that game. They should have scored at least one more touchdown, maybe two. Rodgers threw for 346 yards (64 more than Tom Brady) with tree TD passes against one interception. They missed a two-point conversion, but in the end the Pack scored 26 points. Their trouble wasn't with the quarterback (obviously) or Coach Matt Lefluer's misguided decision to kick a field goal instead of going for the touch down on 4th and 3 yards to go. People will quibble about that until next season starts.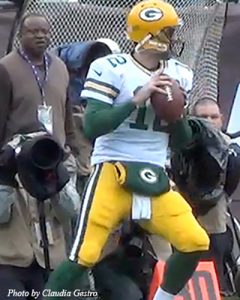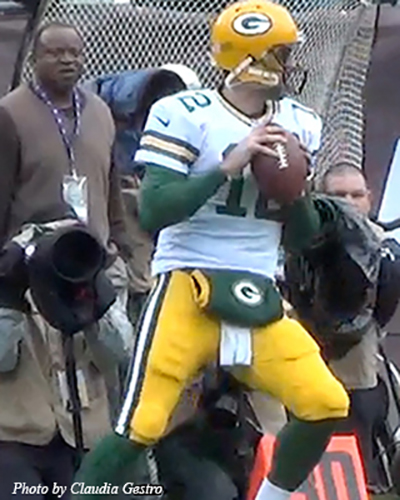 No, the real problem with the Packers was (is) their defense. They allowed an inferior offense (inferior to the Green Bay offense) to score 31 points. Why were receivers Scotty Miller and Cameron Brate allowed to be so open? How was running back Leonard Fournette able to run through the Packer defense for a 20-yard touch down? 
The answer, of course, is defense. Let's say it again: "DEFENSE WINS GAMES."
Let's say this here — and I'm a big Packer and Aaron Rodgers fan — Tom Brady is the GOAT, and the only NFL QB GOAT. It isn't just the six Super Bowl rings he owns, it's the process he and his teams have committed to in order for Brady to make his tenth Super Bowl appearance. His personal commitment to the process of being able to win playoff games on the road or at home, which he will now try to do against the Kansas City Chiefs February 7 in Tampa Bay, during Super Bowl LV. 
After a stellar career that spans 21 seasons, Tom Brady, 43 years of age, is the greatest quarterback to ever play the game. If you don't believe that is true then you are delusional.
Getting back to the point: Tom Brady and his Tampa Bay offense can be slowed down, even stopped at times. Put pressure on him, get past and through his offensive line to pressure Brady and his efficiency drops. Plus, take away his mid and deep threat receivers and force Brady to rely on his outlet passes. Maybe they move the ball a little, maybe the defense forces a three and out. But pressure Brady and take away his mid and deep threats.
Other teams have done it and the Packers should have done that Sunday. The week before the Saints held Brady under 200 yards of passing, but the Buccaneers held the Saints offense to just 20 points. Defense wins games.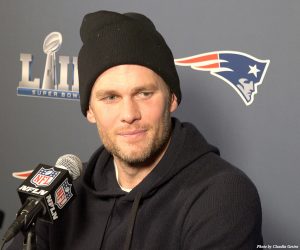 One of the TV prognosticators asked the question (paraphrasing): "What should the Packers do now? Give Rodgers a strong offense or give him a defense that will keep the other quarterback off the field?" Improve the defense. If that means a new defensive coordinator and coaches, start there. Then pay for a shut down secondary and a defensive front line — and linebackers — that will penetrate any offensive line and pressure every quarterback they face. That's what the Packers need for their 2021 season. Oh, and make sure Aaron Rodgers stays in Green Bay. Jordan Love may have some extraordinary skills, but he doesn't have the experience and game knowledge of Aaron Rodgers. Let him play behind Rodgers another season, or two.
Of course the offense can improve as well, but Rodgers has a (usually) good offensive line and some great receivers and (finally) running backs that can create a ground game. They made some mistakes, dropped a few passes and Rodgers had that one — one — interception, but they put 26 points on the board. Yep there should have been at least seven more, But Rodgers threw for 346 yards with three touchdown passes. Unfortunately the running game produced only 67 yards with no touchdowns. The running game needs to score points.
Plus, the front line, the people charged with protecting the quarterback, let Rodgers be sacked five times. The offensive line, plus the tight ends and running backs, have to improve their pass protection. 
But it's the defense that needs to improve. Now Tom Brady and the Buccaneers will be hosting the Kansas City Chiefs in Super Bowl LV. Congratulations to both teams. It isn't easy making it the final game of the season. My head tells me Patrick Mahomes and his crew will repeat, but the oddsmakers only give the Kansas City Chiefs a 52.1% chance of winning. So my gut tells me, "But that's Tom Brady on the other side of the ball. Don't bet against Tom Brady. He wins."

Tim Forkes started as a writer on a small alternative newspaper in Milwaukee called the Crazy Shepherd. Writing about entertainment, he had the opportunity to speak with many people in show business, from the very famous to the people struggling to find an audience. In 1992 Tim moved to San Diego, CA and pursued other interests, but remained a freelance writer. Upon arrival in Southern California he was struck by how the elected government officials and business were so intertwined, far more so than he had witnessed in Wisconsin. His interest in entertainment began to wane and the business of politics took its place. He had always been interested in politics, his mother had been a Democratic Party official in Milwaukee, WI, so he sat down to dinner with many of Wisconsin's greatest political names of the 20th Century: William Proxmire and Clem Zablocki chief among them. As a Marine Corps veteran, Tim has a great interest in veteran affairs, primarily as they relate to the men and women serving and their families. As far as Tim is concerned, the military-industrial complex has enough support. How the men and women who serve are treated is reprehensible, while in the military and especially once they become veterans. Tim would like to help change that.