Rams and Chargers faced each other Saturday
On Saturday the Los Angeles Rams and Los Angeles Chargers held a joint practice and scrimmage at the StubHub Center in Carson. It was open to fans of both teams and they arrived to see the action and to get photos and autographs.
The teams are little more than a week into training camp, so there were a lot of players on the field, but fans were treated to the veterans like Jared Goff, Alec Ogletree, Todd Gurley and Tavon Austin of the Rams, along with Keenan Allen, Melvin Gordon III and Philip Rivers of the Chargers.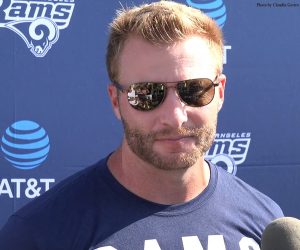 Noticeably absent were Aaron Donald of the Rams, who is holding out for contract reasons, and Antonio Gates, who was in Ohio for the induction of his former teammate, LaDanian Tomlinson into the Pro Football Hall of Fame.
Fans weren't disappointed with the scrimmage though and neither were the coaches. Chargers head coach Anthony Lynn told the media, "I thought we started out a little slow, but I liked the way we finished. The guys competed hard." He added, "It's nice to get new bodies out there. They're tired of competing against one another, so I thought it was good."
Sean McVay, head coach of the Rams, said, "I think there was some good stuff that we saw and until you really get the chance to go back and look at the tape – especially because we were doing some two-spot stuff and I was a little bit more involved in the offense. I can't wait to go back and see how the defense did. There was some good, some bad, some things we need to clean up, but I thought it was great work that we got today."
McVay also took a moment to congratulate former Rams QB on his Hall-of-Fame induction. "I also wanted to just congratulate Kurt Warner on his induction last night. What an important part of this organization he's been. I reached out and connected with him a little bit, but what a great player, what a great person and a great representation of this organization."
As always quarterbacks were a hot topic. Of his second year starter, Jared Goff, McVay said, "I thought he settled in, I thought he did a nice job in the two-minute drill taking completions, being smart with the football and then at the end where we did a little bit of move the ball, he made some good third down throws. It will be a great opportunity for us to go back and look at the tape."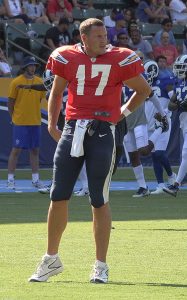 Having a different defense to compete against was also helpful for the Rams quarterbacks, according to McVay. "The Chargers have some great players – Melvin Ingram (outside linebacker), (Joey) Bosa (defensive end), Casey) Hayward (cornerback) on the corner, so I thought it was great work where it's a little bit different structure than what we're typically accustomed to seeing from our defense every single day. This work is invaluable for us."
LAPX reporter Claudia Gestro asked Anthony about his top QB, Philip Rivers. "He did his thing. He practices well all the time and he gets the guys going; he's a good communicator, he's a good leader for the players. Philip is Philip. He shows up every day to do his job."
Rivers had a good assessment of his team's performance on Saturday. "We're all right. I think if we were perfect today there would be a little bit of concern, honestly. There was nothing alarming, like 'Uh-oh, we're in trouble,' but there was also 'Hey, we got a lot of work left to do.' Our guys know that and have a realistic feel for what we need to do."
Rivers is a 17-year veteran and Jared Goff is just in his second year. But he had similar sentiments as Rivers. "I felt good. [There were] a lot of things I thought we did good and a lot of things that I thought we can work on. Off the top of my head, I can point to a couple. But I thought for the most part, we moved the ball pretty well, especially in that two-minute drill there. I was really happy with what we were doing up front … really good and I thought (running back) Todd (Gurley) looked really good."
Gurley told the media, "It went pretty well. I wasn't able to finish at the end. I feel like there was some good work out there today. It's good to go against some other competition during camp."
The coaches pulled Gurley out at the end to preserve their star running back
The StubHub Center in Carson is the new home of the Chargers. From the coach to the players, the facility got high praise. Chargers linebacker Melvin Ingram told the media, "I like it. The atmosphere is amazing. It feels like everybody's close, like, it's just a warm feeling. It's back to the basics. I love this atmosphere." He added, "It's a new coach — I feel like everything is new. I feel like the fans are more stoked than we are. So when you come out here and see them so hyped, I have no choice but to lay it on the line for them."
Coach Lynn said, " It's an awesome environment. They players loved it. can't wait to play here."
The Chargers first pre-season game at the StubHub Center will be August 13 against the Seattle Seahawks. The Rams will have their first pre-season game August 12 at the Los Angeles Memorial Coliseum against the Dallas Cowboys.
Below is Claudia Gestro's report from the scrimmage.
Photos by Claudia Gestro

We are not the typical news website – nor do we wish to be. We will be offering more than news and blogs, but an opportunity for fiction writers, poets, comedians and musicians to showcase their talent and skills. Much like when the Beatles formed Apple Corps Ltd, they opened the door to all kinds of inspiring talent that never really got a shot. From that came the likes of James Taylor and others. We hope by providing a similar approach we can shine the light on some tremendous undiscovered talent and at the same time offer some familiar voices who live in Los Angeles and beyond.