Stacey Newton answers the questions
It's uncommon for actresses to also have success as screen writers. It's even more uncommon for them to be successful novelists. Such is the case of Stacey Newton, a native Houstonian whose career has also included a stint as preschool teacher. These rich and varied experiences have given her a creative approach to writing.
Newton's published books include novels like Angels Survive and Creatures of The Night which contain a supernatural element. She has also written self-help books like God's People Become Role Models For Contemporary Professionals which was co-written with her mother, Kitty Newton. She has multiple independent screenplays under development. She was the story editor of Fate's Shadow and co-wrote Rings both of which were released last year.
Her most recent book is Echoes in the Night.
Newton travels back and forth between West Hollywood and Texas balancing twice between the two. Indeed, such contrasts in lifestyle make up a big part of who she is — being both a fan of both practicing Yoga and watching horror films.
You currently live in Hollywood and originally from Texas. How did you come to choose Boston for the setting of this book?
I chose Boston, because of the history of witches in the Salem area. I went to college in Boston and heard so many stories about witches. I have always been fascinated with that part of history in New England about the witch trials and burning.
Maybe it's just the 1970s setting but, I am getting a bit of an Exorcist vibe? What works or writers have inspired you?
Yes, one of my favorite horror films, The Exorcist. My main character Molly definitely has some possessed characteristics. The Anne Rice, Interview With the Vampire definitely had an influence on me as a writer. The book has an emotional and human touch about vampires, but also about our demons.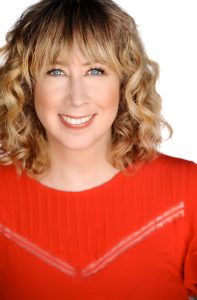 This book has a great plot with supernatural elements and a real twist at the end. What were some of your inspirations in writing this book which has a different theme than some of your previous writing?
Thank you so much. I was approached by a writer and director to write a book based on his character Jezebeth. I was told to be creative and to change her, and so I made her a defiant, evil teenager with actual witch in her bloodline, created by true evil.
It's Oscar season, I was a big fan of Knives Out. Were there any movies this year that you felt had a great script and story? 
That was a great movie. But my favorite film and script was Once Upon A Time In Hollywood. Quentin Tarantino's script was excellent. And he just won a Golden Globe. I am hopeful for the Oscars.
You're a big fan of horror movies. Do you think the genre gets enough respect in Hollywood? 
Not as much as it should. But I believe with Jordan Peele who won best original screenplay for Get Out and he is really dominating some horror films of our times, it has brought a new meaning for our genre.
How is writing for screen different than writing a novel?
A screenplay is a different format. You are setting up the scenes and the dialogue. It's mostly for the director- I like to think of it as bullet points for them. And of course it's much shorter. A typical script is no more than 120 pages.
You're also working on a number of film projects at the moment. What can you tell us about some of the screen-writing your working on?
I can say I have co-written one, co-writing on one now, as we speak, and I have scripts based on my books I am in the process of writing.
Can you tell us more about the project involving Jezebeth? It's my last book I wrote, Echoes in the Night. My character Molly is based on the creator's character Jezebeth.
How do you balance splitting time between Hollywood and Texas? Does the difference between the two places help fuel your creativity?
Yes, very much so. When I'm in Los Angeles, I'm usually off to meetings and filming. When I'm in Texas, it's a much slower pace. I do a lot of writing at the lake house. The wonderful thing about writing is that you can do it anywhere.
What are your main goals for 2020 as a professional?
I am working on doing more acting and script writing. I have several film projects and I am working on getting two of my books, Angels Survive and Creatures of the Night into scripts and made into movies. Part of my main goal is to share my story more and help others share their story through writing.
Joseph Hammond is a freelance reporter and researcher. He is a former Cairo correspondent for Radio Free Europe during the 2011 Arab uprisings, he has also reported from four continents on issues ranging from stability in Somalia to the M23 rebellion in the Eastern Congo.
Hammond's work on international issues have been published by Forbes, Christian Science Monitor, International Business Times, Monocle, Anthony Bourdain's Parts Unknown (CNN), U.S. News and World Report, Deutsche Welle (Qantara), The Diplomat, Naval War College Review, Africa Defense Review, and other publications.