All-Star Game: Three days of media exposure
Looking back on it, covering the 2016 MLB All-Star Week was pretty cool. In reality my colleague Claudia Gestro and I only covered three days on site, but in the weeks leading up to the event the media is peppered with press releases from the league and, in this case, the San Diego Padres, the hosts of this year's Midsummer Classic. Let me tell you, three days of covering a sporting event, for 12-14 hours a day is no picnic.
We see astronauts return to Earth and get a hero's welcome, thinking to ourselves, "it would be cool to be an astronaut!" Until you see what a person goes through to become an astronaut and then it's like, "I gotta take all that math?"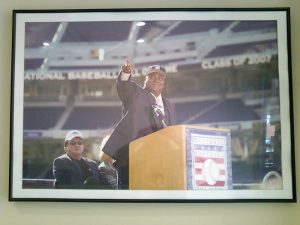 Same feeling with being a sports reporter. But in reality the men and women that cover sports, in this case baseball, love their jobs. It's hacks like me who balk at the hard work and long hours.
Petco Park is one of the newer ballparks in the league. It is the House That Tony Gwynn built, a fact that appeared to be overlooked until I asked Ned Yost the question at the Media Day press conference on Monday.
Tony Gwynn, for the uninitiated, is also called "Mr. Padre" and played 20 years with the franchise. He was actually from the area (Long Beach) and turned down bigger paychecks to play elsewhere. Tony Gwynn is without much debate, the second best hitter in the history of Major League Baseball. Second only to another San Diegan, Ted Williams.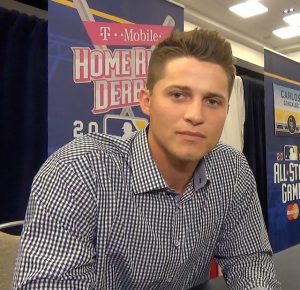 As Corey Seager of the Los Angeles Dodgers put it, Tony Gwynn was, "a great ambassador for the game. That's what you look for out of a player like him. To give back to the game, give back to the community, to give back to the team." Seager added, "It's exciting to play here, it's exciting to honor him that way. It's going to be a lot of fun."
Veteran first baseman of the Washington Nationals, Daniel Murphy lit up when asked about Tony Gwynn. "He was such a treat to watch, growing up. He was my favorite player." He added what made Gwynn such a great player: "He understood his game. Not only could he get a hit to any part of the field, it's like when he wanted to do damage, he could do damage. So he was my favorite player growing up."
Someone could certainly argue this point: if Tony Gwynn hadn't played for the Padres for 20 years, putting up the numbers that he did — .338 BA, 3,141 hits, 1,138 RBI, 8 times NL batting champion, 15 time All Star, 5 time Gold Glove Award, 7 time Silver Slugger Award, Hall-of-Fame inductee in 2007 — there would be no Petco Park, at least not on prime downtown real estate within walking distance of the Convention Center and harbor. Tony Gwynn meant that much to the Padres, the City of San Diego and more importantly, its residents.
The game isn't much about the past though, it's mostly about the present: the baseball heroes of today and on Sunday, the possible heroes of the future. The league does pay homage to some of the legends of the past with a softball game among other things and we were reminded Ted Williams was once an All-Star Game MVP.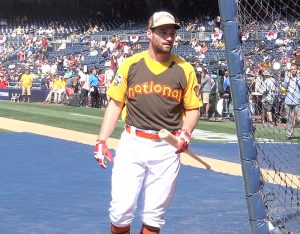 But for the most part the game and the week is about the All Stars of today: Daniel Murphy, Johnny Cueto, Mike Trout, Mark Trumbo, Chris Sale, Salvador Perez (leading vote getter), Eric Hosmer (game MVP), Miguel Cabrerra, Robinson Cano, Cole Hamels — who pitched with eight fresh stitches in his chin — Addison Russell, Kris Bryant, Jonathan Lucroy, Paul Goldschmidt, Will Myers, Corey Seager, and David "Big Papi" Ortiz. He made his last All-Star appearance as a player and he wasn't even the oldest player to suit up for the game.
That honor belonged to Bartolo Colon of the Mets. He took the place of Madison Bumgarner who didn't play because he pitched a 9-inning shutout on Sunday and either opted out or was declared ineligible to play by the league, depending on who you ask. Anyway, Bartolo Colon is a sprightly 43 years old. His first All-Star appearance was in 1998 and this was his fourth time in the Midsummer Classic.
Think about that for a moment: when Colon made it to his first All-Star Game, a number of this year's All Stars, like Corey Seager, were just four years old.
Our coverage of the MLB ASG began on Sunday with the Futures Game, when minor leaguers from around the world played a full game: The U.S. against the world. Isn't that the way it always is with us Americans? Us against them and in this case the "them" are mostly from Central and South America and the Caribbean.
To cover Major League Baseball properly these days a reporter should know both English and Spanish. Most of us don't, but luckily we have Claudia Gestro who speaks both languages. She does video reports in both and doesn't need a translator when speaking to Johnny Cueto or Yoan Moncada, a young "Futures" player who impacted the Futures Game in a big way on Sunday. He's in the Boston Red Sox organization and will be an impact player when he gets to the Big Show.
Surprisingly, Giancarlo Stanton of the Miami Marlins wasn't selected for the All-Star Game, but he did compete in the Home Run Derby. Did he ever — he won it. He hit a total of 61 home runs a total of 5.1 miles — or to put it precisely: 27,187 feet. Okay, let's do the math … this can't be right. That's an average of 445.68 feet per homer. Over 50 percent of his swings connected for homers, making him the most efficient Home Run Derby winner in history. His longest was a 497 feet and he hit 18 of the 19 longest. Five went at least 490 feet.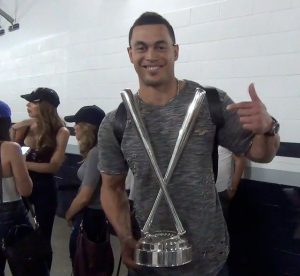 Stanton is being compared to Ken Griffey, Jr., but with all due respect to the legend: Ken Griffey, Jr. never did what Stanton did in Monday's Home Run Derby. And remember: this year, like last year, the sluggers were timed.
Giancarlo Stanton: only the second Home Run Derby winner not to be in the All-Star Game of the same year. Go figure.
Last year's Home Run Derby winner, Todd Frazier of the White Sox, finished second … but like, it was second …
The All-Star Game itself was held Tuesday. A parade was held from the Hyatt on the Bay to Petco Park with the players getting carted to the stadium in cars. We missed that and the Red Carpet event. By Tuesday morning you're so worn out from two 12-13 hour days you make choices about how to cover the big game.
We got to the ballpark early, about 9 a.m. and began preparations for the game. There's bating practice where all the players — including the pitchers if they're so inclined — take a few swings in the batting cage. This being an American League year, we were treated to designated hitters, Big Papi's bailiwick.
It's an American League year because the ASG has been played in a National League park for the third straight year, so for a few days Petco Park switches leagues.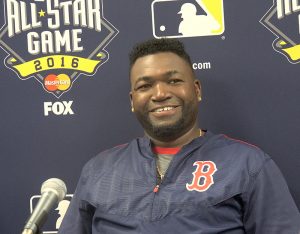 When Ortiz took to the batting cage the conversations around home plate quieted a little and all eyes turned to watch the big man swing. What Tony Gwynn was to his era, Big Papi (pronounced Poppy) is to this era: the most influential player on the field. Some players got choked up when asked about playing in Papi's last All-Star Game. Players like Kris Bryant — from the opposing National League — made a point of searching out Ortiz to say hello and tell the Boston Red Sox slugger how much Papi meant to him and the game of baseball.
It is a game of great emotion, as evidenced by the long and thunderous standing ovation David Ortiz received when the stadium announcer called his name as he was pulled out of the game in the third inning after getting a walk off José Fernández. As Edwin Encarnacion walked to first and Big Papi walked back to the dugout Petco Park rose to its collective feet. The end of an era, the David Ortiz era. He will be in the Hall-of-Fame sooner, rather than later.
We can't say the outcome of the game doesn't matter — it does. The winning league gets homefield advantage in the World Series. But for the most part the All-Star Game is an exhibition, started in 1933 as a way to entertain baseball fans during the Chicago World's Fair.
American League starter Chris Sale gave up the first homerun of the game, to Kris Bryant. After the game Bryant told reporters, "I just wanted to get a hit in an All-Star Game." He heard All-Star teammate Bryce Harper talk about wanting to get a hit in an All-Star Game and knew he did too. He added, "To start off my first All-Star Game hit with a homerun is special."
National League starter Johnny Cueto gave up two homeruns in the second — to his former Royals teammates Eric Hosmer and Salvador Perez. They were the difference in the game and why Hosmer was selected to be the MVP. Once again the American League will have homefield advantage in the Fall Classic.
As we left Petco Park at about 10:30 p.m. Tuesday Night we took stock of what we had covered over the three days — almost 100 gigs of video footage alone. The press box had been packed all three days as media from around the world descended on San Diego. Over 40,000 people attended the game. I was just one of them, a small cog in a giant wheel.
Below are three of Claudia's video reports from All-Star week. Hear from the players and managers, including Claudia's exclusive interview with All-Star Game MVP Eric Hosmer.
Claudia Gestro contributed to this article.
Top photo of Petco Park by Tim Forkes

Tim Forkes started as a writer on a small alternative newspaper in Milwaukee called the Crazy Shepherd. Writing about entertainment, he had the opportunity to speak with many people in show business, from the very famous to the people struggling to find an audience. In 1992 Tim moved to San Diego, CA and pursued other interests, but remained a freelance writer. Upon arrival in Southern California he was struck by how the elected government officials and business were so intertwined, far more so than he had witnessed in Wisconsin. His interest in entertainment began to wane and the business of politics took its place. He had always been interested in politics, his mother had been a Democratic Party official in Milwaukee, WI, so he sat down to dinner with many of Wisconsin's greatest political names of the 20th Century: William Proxmire and Clem Zablocki chief among them. As a Marine Corps veteran, Tim has a great interest in veteran affairs, primarily as they relate to the men and women serving and their families. As far as Tim is concerned, the military-industrial complex has enough support. How the men and women who serve are treated is reprehensible, while in the military and especially once they become veterans. Tim would like to help change that.