Super Bowl 50 kicks off with Opening Night
Super Bowl Week got a big flashy start with Opening Night and Media Day on Monday. Players and coaches from both teams in Super Bowl 50, the Denver Broncos and the Carolina Panthers, met the press and fans in the Shark Tank, SAP Center, in San Jose, CA, home of the San Jose Sharks.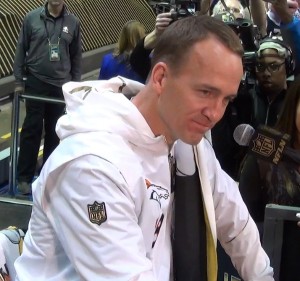 Denver quarterback Peyton Manning, who is making his fourth Super Bowl appearance, was asked several times whether this would be his last game as a player. He consistently answered that he wasn't thinking about it, that he was staying in the moment, enjoying the experience watching some of his teammates enjoy the Super Bowl experience for the first time.
Former St. Louis Rams great Marshall Faulk asked Manning to compare his first Super Bowl (XLI) with this one and once again, he was focused more on this year and Sunday's game.
Cam Newton, quarterback for the Carolina Panthers, was asked about facing the best defense in the league and about facing a team that has been here before (XLVIII) and his thoughts on Peyton Manning. Newton said, "It's just another game. The only difference is the media coverage we are getting; we know that. And Peyton Manning will always be an all-time great."
Newton said playing against Peyton Manning is a pleasure, but he hoped to get the better end of the stick on Sunday.
Many other players were available for questions, as well as the two head coaches, Ron Rivera of the Panthers and Gary Kubiak of the Broncos. Both were asked to compare their experiences as players and coaches at the Super Bowls.
Our reporter Claudia Gestro is in the San Francisco Bay Area covering Super Bowl Week and filed this video report.
Claudia Gestro contributed to this article,
including the photos.

We are not the typical news website – nor do we wish to be. We will be offering more than news and blogs, but an opportunity for fiction writers, poets, comedians and musicians to showcase their talent and skills. Much like when the Beatles formed Apple Corps Ltd, they opened the door to all kinds of inspiring talent that never really got a shot. From that came the likes of James Taylor and others. We hope by providing a similar approach we can shine the light on some tremendous undiscovered talent and at the same time offer some familiar voices who live in Los Angeles and beyond.