The Best of Baltimore's Monuments & Iconic Aspects
We are so darn lucky in Baltimore. They don't call us the "Monumental City" for nothing. We earned that title the hard way with fabulous memorials and statues that are a tribute to our talented citizens, to our rich heritage, and to the designing artists, whose works we so joyfully celebrate.
The "Washington Monument," the centerpiece of picturesque Mt. Vernon Place, was our first statue that gained national recognition. It speaks volumes about how we earned that title. It sits on land dedicated to the city by the Revolutionary War patriot, John Eager Howard. His equestrian monument also can be seen in Mt. Vernon Place. It was designed, in 1904, by Emmanuel Fremiet.
Our Washington Monument was completed in 1829. It was designed by the same brilliant architect, Robert Mills, who would go on to design the famous memorial to General George Washington in the nation's capital.
Further south, in the middle of Calvert Street, at its intersection with Fayette, (dividing Court House East from Court House West), you will find the "Battle Monument." It was completed in 1815 and is dedicated, not to any famous individual, but to the soldiers and sailors – the unsung heroes – who died in the War of 1812-14 This included the Battle at North Point and the courageous defense of Fort McHenry against the forces of Imperial Britain.
Architect Maximillian M. Godefroy, gets credit for the Battle Monument. It was considered "very democratic" for its time," since it records "the names of all who died, regardless of rank."
Two recent statues deserve mention. One, located in front of the War Memorial, facing our City Hall, is the Black Soldier Memorial. It is dedicated to African-Americans who fought in America's wars.
Another statue, located in the Inner Harbor, is to honor the memory of our former mayor and governor, William Donald Schaefer. (I am pleased to note that I worked in his administration, in the City Solicitor's Office, in the 1970s, under City Solicitor George L. Russell, Jr. and now deceased, Benjamin Brown. Both Russell and Brown were exemplary public servants.)
Now, let's discuss an iconic aspect of Baltimore – its Port. The noted maritime editor, and journalist, for the "Sun," the late Helen Delich Bentley, created a television show from 1955 to 1965. It extolled the importance of our port to both our city and to our state. In it, she gave credit to both the businesses who worked it, but also to the hard-working members of the International Longshoremen's Association (ILA), who labored on its docks. (1)
The ILA has a special place in my heart. My first job was on the waterfront, in the late 1950s, as a cargo facilitator for the Alcoa S/S Co, at pier 9, n/s, Locust Point. I was then a member of two ILA Locals – 829 and 1429. Local 829 was later succeeded by Local 333.
My late father, Richard P. Hughes, Sr., was the boss at pier 9. His oldest son, and my brother, the late Richard P. Hughes, Jr., also worked on the docks. He rose up to become the ILA President from 2007 – 2011. He was so highly-regarded that, he was honored by its members at its convention in 2011, with the title of "President Emeritus."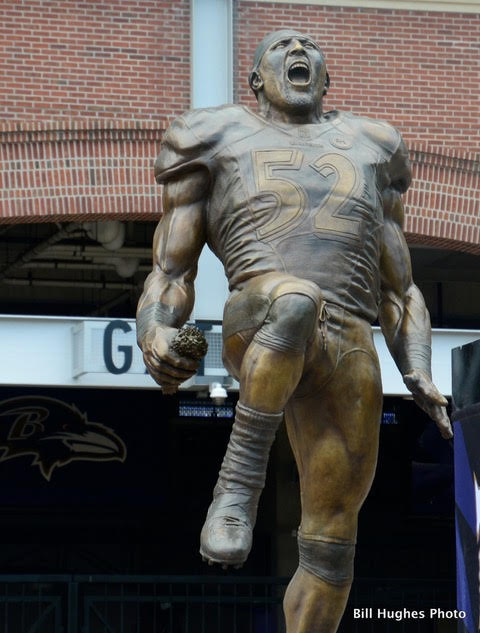 In the attached poster, "Best of Baltimore," I have spotlighted some of its monuments and aspects that I feel are most noteworthy. They are not intended to be a complete list, but simply representative of our bountiful heritage.
You will find there: A view of our city from Federal Hill; various waterfront images; our splendid City Hall; Johns Hopkins Hospital; the Museum of Art; the War Memorial; Fells Point; Locust Point; Penn Station; the vessel, "Port of Baltimore, II;" the World Trade Center; the Jones Falls; Silo Point, and the facade of Memorial Stadium which once stood for so long and so proudly, on 33rd Street.
Some of the sports heroes, whose extraordinary achievements with the Baltimore Colts and the Baltimore Orioles were made at that stadium, have recently been memorialized. They are the Hall of Fame legends: Brooks "No. 5" Robinson, (Third Baseman for the Orioles); John "No. 19" Unitas, (Quarterback for the Colts); and Ray (No. 52" Lewis, (Linebacker for the Ravens). Lewis' football heroics were all at the M&T Bank Stadium.
Lewis' statue, as well as the one to Unitas, are found directly in front of the M&T Bank Stadium. They both look fabulous! They were designed by Fred Kail.
The Brooks Robinson monument, on the other hand, is located across the street and just west of the M&T Bank Stadium. The distinguished sculptor, Joseph Sheppard, gets credit for that one. It, too, is simply beautiful. (In his salad days, Sheppard taught at the Maryland School for the Arts.)
And let's not forget the museum, at 216 Emory Street, to one of our cities' greatest sons – the professional baseball legend – George Herman "Babe" Ruth. Visit https://baberuthmuseum.org/ to get started on that exciting journey. There is also a bronze sculpture to Ruth found at Camden Yards. It was designed in 1996, by Susan Luery and is entitled, "Babe's Dream."
I would be remiss if I didn't say a word about the Christopher Columbus monument controversy. It was recently brought down, in the Inner Harbor East area, by so-called "protesters" and dumped into the Inner Harbor.
I believe in and support the right to protest. However, in my opinion, vandalism and the destruction of public or private property do not fit that description. That kind of conduct is counterproductive and can't be condoned.
Finally, if you are interested in learning more about Baltimore, its monuments, iconic sites, and rich heritage, then visit the website of the "Maryland Historical Society." It can be found at https://www.mdhs.org/ and contains literally a treasure chest of information.
1. Bentley later served in the House of Representatives from 1985 to 1995. She was a Republican.

Bill Hughes is a native of Baltimore. He's an attorney, author, professional actor and hobbyist photographer. In his salad days, he worked on the docks as a longshoreman. Bill also played on three championship soccer teams: sandlot with Jules Morstein; high school at Calvert Hall; and college at the University of Baltimore.