Amazon has become the number one retailer in the country even before the COVID-19 crisis and a leading cause of accidents nationwide. Its trucks are a common sight as they deliver packages to commercial establishments and homes. Customers are generally delighted with the ability to order what they need online, and Prime members enjoy free delivery on most orders.
However, there is a downside to Amazon's obsession with speedy deliveries. To ensure that packages arrive on time, the company has been accused of pressuring its drivers and contractors who report they take traffic risks to deliver items quickly. Many drivers report a lack of training for which Amazon is responsible, and during a pandemic, lack of resources to stay safe.
Training
Amazon is responsible for training drivers, and in 2018, the company decided to provide a week-long safety course to new drivers. The course was even supposed to have independent evaluators to judge the drivers on the road. Unfortunately, the safety course was never built out. Reports say that Amazon did not want to take the time away from deliveries. Company documents, according to a logistics manager, indicated that Amazon believed the course would cause a huge delay during the holiday season.
How Driving for Amazon Works
There are several tiers of drivers. Some are Amazon employees, and others are Flex drivers. The latter group consists of people who sign on to deliver for Amazon, using their vehicle and Smart Phone. They log on an app and request a three- to a six-hour parcel of time. Once that is done, the drivers go to the closest Amazon Fulfillment Center to receive the packages assigned to them. Contract drivers work for Delivery Service Partners. They are trained by Amazon, and Amazon provides the products they deliver and their destinations. DSPs provide wages and benefits.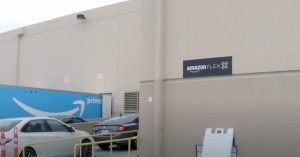 Rabbits, Control and Traffic Risks
Drivers are given devices called rabbits that Amazon uses to track the driver's movements and assist with navigation. The rabbits are a way that Amazon keeps tabs on drivers to eliminate those delivery persons who are not quick enough. Some drivers say the traffic risks they ordinarily would not take such as speeding or passing through an intersection without stopping are done to meet their quota and keep their job. Some go so far as to say that they are reprimanded when their quota is not met in a variety of ways.
As an experienced personal injury lawyer, this behavior sets the stage for car, pedestrian and bicycle accident injuries. Because Amazon is a powerful company, many attorneys are reluctant to take this type of case. Our firm believes that we must ensure that the client's rights are protected no matter who the at-fault party is. We have the resources to execute this type of case and get the job done.
Accidents
So, where does the focus on speedy deliveries without the benefit of training lead? The obvious answer is accidents. Respected news agencies have reported that over 60 Amazon vehicles have been in crashes, causing 13 deaths, in the four years between 2015 and 2019. This number is expected to rise due to increased deliveries in 2020 as a result of COVID-19.
The Numbers Are Deceiving
Since Amazon does not own vehicles used by Flex drivers or contractors, the absolute number of accidents is misleading. Amazon only counts its trucks and is reluctant to give out information about accidents. DSPs are used as another buffer when Amazon calculates the number of crashes, injuries and deaths.
Fault in Amazon Accidents
Other than its own employed drivers, Amazon does not believe it is responsible for accidents. Numerous lawsuits have been filed to challenge this belief. Instead, the company points the finger at DPS providers. Although the DSPs pay the drivers, Amazon controls the route and number of packages the drivers deliver. Drivers who use their vehicles are responsible for damages. Amazon offers these drivers its Amazon Flex Auto Policy. The Flex driver carries this for the time he or she is making deliveries as well as their car accident insurance for personal use.
Dealing With an Amazon Delivery Accident
It is important to obtain legal advice after an accident with an Amazon delivery driver. As I said above, Amazon turns away from its responsibility in many such accidents. When I have a case involving an Amazon truck or Amazon delivery driver, I investigate the accident fully to establish fault. Without proving negligence on the part of the at-fault driver, the case will not move forward.
To do this, I examine the accident site for clues as to how it happened. I use a variety of techniques to do this and also obtain video from stoplights and local business security cameras. I speak to witnesses and check to see if the driver has ever been involved in a similar incident. This information is included in the case I build for my client.
I am always available to speak with individuals injured in an Amazon accident. You can reach out to me at (800) 991-5292 or contact me online. I have been helping numerous Los Angeles residents obtain the compensation they deserve. I'll do the same for you. Remember, there is no charge or obligation for a telephone, virtual or in-person consultation. You will never owe me anything until your case is won if you desire to retain me.
Readers are encouraged to ask general questions about this topic and others by writing to me via the Los Angeles Post Examiner. I'll be glad to email you back with an answer.
•••• •••• ••••• •••• ••••
Born and raised in Southern California, David Azizi has never left his roots far behind. After attending the U of C and Southwestern University School of Law, he graduated with a J.D. in 1998. At the start of his career, he worked for the Central and Southern U.S. District Courts and the California Supreme Court. Afterward, he established his personal injury practice in Los Angeles. Despite accolades from firms such as Super Lawyers who call him one of the top personal injury lawyers in the city and surrounding area, David values the closeness he has with his clients most of all. One of his biggest goals is to make the law understandable for those he represents. That is the reason behind this series of articles and the question and answer forum you'll find here. David believes fancy terms don't make people feel at ease after an accident, availability and answers do. Contact the author here on the Los Angeles Post Examiner or call him at (800) 991-5292.
Photos are YouTube screenshots