Clippers are back in town looking to extend this series once again
Tonight the Los Angeles Clippers will play Game 6 of their NBA Playoff series with the Golden State Warriors. This is a game that wasn't supposed to happen, in a series that wasn't supposed to include Los Angeles.  
At the start of the season the Clippers were not picked to make the playoffs. Then, when they traded away key players like Tobias Harris and Boban Marjanovic — both of whom are doing well with the Philadelphia 76ers — it looked like the Clippers were going into a rebuild mode.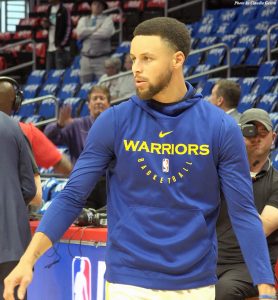 What L.A. got in return for Harris, Marjanovic and Mike Scott, were Wilson Chandler, Mike Muscala and Landry Shamet. Chandler and Muscala had some key court time in the ;east weeks of the season, but Shamet has proven his worth down the stretch and now in this playoff series. He did in fact start in this series. In their Game 2 win over Golden State, Landry had 12 points, four rebounds and three assists.
Shamet and his fellow rookie point guard Shai Gilgeous-Alexander are learning how to perform in the playoffs, and doing so quickly and effectively.
The big stars of this team are Danilo Gallinari, who has had a slow start in the series, Patrick Beverley, who is the emotional trigger of the team, and the A-team duo of Montrezl Harrell and Lou Williams — and they do their considerable damager off the bench. Williams is the team's go-to clutch player. After game 5 Williams told the media, "I'm blessed to have teammates that believe in me coming down the stretch, they make sure I have the ball in my hands. They have that confidence in me to go out there and make those plays." He added, "And when you have a locker room full of guys who are going to live and die with the decisions you make in the fourth quarter, it makes your job tremendously easy. So I go out there, top of the fourth, knowing that it is my time to go. My teammates know it's my time to go, and I go out there to do the best I can to help get us a win."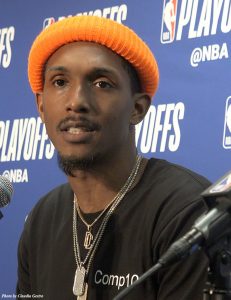 The Warriors' All-Star forward Kevin Durant said of Williams, "You can't just say 'I'm going to stop Lou Williams. You just have to hope you're locked in enough to stop him or things go well."
Patrick Beverley, no shrinking violet in this series, said of his teammate, "Lou is one of the best players in the league. He's a killer, man. I guard the best of them. I see him every day in practice, man. He's a real killer. He goes up with some of the best scorers in the NBA."
When Williams is on the floor, Clippers coach Doc Rivers makes sure Montrezl Harrell joins him. Off the bench Harrell and Williams are a big, almost unstoppable threat. In Game 5 they scored 57 points between them, 24 for Harrell and 33 for Williams.
Danilo Gallinari had 26 points and 7 rebounds. He was 3 for 11 from beyond the three-point arc and for the Clippers to even up the series Gallinari will have to have another great game and do better from three-point range. When he does that it takes defensive pressure off Williams, Harrell and Beverley, who have had great success penetrating and getting to the basket.
Several times during this series Williams has reminded the media the Clippers know who they are up against: the reigning NBA Champions. Golden State has many players that can score any time from any where. Kevin Durant — who had 45 points in Game 5 — Steph Curry, Klay Thompson, they scored 91 of the Warriors' 121 points. If they do that again and then have Andre Iguodala and Draymond Green heat up, They can close out the series tonight. 
Defense will win this game and right now the Clippers are very confident with theirs. Can they force a game 7 against a team that was supposed to sweep them? Fans at Staples Center will do what they can to help their team send this series back to Oakland.
Photos by Claudia Gestro

We are not the typical news website – nor do we wish to be. We will be offering more than news and blogs, but an opportunity for fiction writers, poets, comedians and musicians to showcase their talent and skills. Much like when the Beatles formed Apple Corps Ltd, they opened the door to all kinds of inspiring talent that never really got a shot. From that came the likes of James Taylor and others. We hope by providing a similar approach we can shine the light on some tremendous undiscovered talent and at the same time offer some familiar voices who live in Los Angeles and beyond.