Top photo by Claudia Gestro
Okay, fans of the Los Angeles Clippers are trying their best to turn this situation into a positive. "We've been here before!" is the rallying cry. In the first round against the Dallas Mavericks (so long ago) the Clippers lost the first two games of that series — and then won. Obviously. In the second round the Clippers lost the first two games — on the road — to the Utah Jazz, the number one team in the NBA this past season. The Clippers won that series as well. Obviously.
Now they find themselves behind in the series, 0-2 — again — against the Phoenix Suns. What made the game 2 loss sting so painfully is that the Clippers had it won … until Deandre Ayton broke free of Los Angeles center Ivica Zubac to catch an ally-oop for the dunk to give Phoenix the win. In the final two seconds. If you watch the video Ayton held Zubac's jersey, pulling the Clipper into Booker's screen. Offensive foul?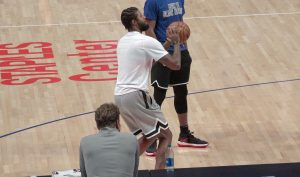 The looks on the faces of the Clippers was, "Are you f*****g kidding me?" The collective scream coming from the Los Angeles area just minutes earlier when super star Paul George missed both of his free throws was, "Are you f*****g kidding me? The game is on the line! The series is on the line!"
As of the last official estimate the average yearly income in America is $35,977. Paul George is paid $35.45 million per year He's actually the highest paid player on the team. Paul George needs to come though in the clutch.
Let me just make this statement here: I support players making as much money as they can get from a league that makes billions in profits every year so good on your P.G. But now the fans really want you to earn that salary — you have to make those free throws.
But let's not put this all on his shoulders. Marcus Morris, Sr. had only seven points and five rebounds in 25 minutes of play. Not even his season scoring average, Patrick Beverley had just six points, one assist and four rebounds in 26 minutes. Nicolas Batum only played 16 minutes, scoring three points and grabbing two rebounds … only two rebounds?
DeMarcus Cousins only played four minutes, but he had two points and … zero rebounds. Rajon Rondo played 17 minutes and had eight points with four assists and three rebounds. Most disappointing was the young guard Terrance Mann who only scored eight points. Remember his heroics from game 6 of the last series against the Utah jazz? What's up, Mann?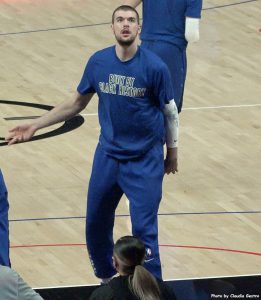 Ivica Zubac played 34 minutes finishing with 14 points and 11 rebounds. He did well, on paper, but there were rebounds he missed and scoring opportunities he chose to pass off instead of attack the rim. He should have been more aggressive, own that rim, especially on the offensive end. I know it's easier said than done — said from a computer keyboard hundreds of miles from Downtown Phoenix, Arizona — But more than a few times I yelled at the TV some version of this message, "Force Ayton to either block a dunk or foul you!" Zubac is one of my favorite players in the NBA, due to his unrelenting energy and unending good demeanor so I want him to be a standout player in these playoffs. C'mon Zubac, pick it up.
Reggie Jackson was on fire for 39 minutes. His cutline: 19 points, five rebounds, three assists and two steals. Paul George played 41 minutes, scoring 26 points, grabbing six rebounds and dishing out six assists. But he could have done so much better, especially at the mercy stripe. He was only 5-10 at free throws. Just think: two more free throws would have made the difference in game 2. You know P.G., you are the $35 million man so winning these games does fall largely on your shoulders. With Kawhi Leonard out for this game you must lead the team with 30-plus points and at least 10 rebounds and possibly 10 assists. Get at least a double-double.
The Suns great point guard — former Clippers point guard — Chris Paul is expected to play tonight so the Clippers have a big challenge tonight. They need to come out strong and play all 48 minutes. Don't let Phoenix claw back into the game during the third quarter.
Make Clippers fans happy tonight and win.
Don't get me started on those effin' Milwaukee Bucks … Seriously? I don't even want to write (or talk) about it.

Tim Forkes started as a writer on a small alternative newspaper in Milwaukee called the Crazy Shepherd. Writing about entertainment, he had the opportunity to speak with many people in show business, from the very famous to the people struggling to find an audience. In 1992 Tim moved to San Diego, CA and pursued other interests, but remained a freelance writer. Upon arrival in Southern California he was struck by how the elected government officials and business were so intertwined, far more so than he had witnessed in Wisconsin. His interest in entertainment began to wane and the business of politics took its place. He had always been interested in politics, his mother had been a Democratic Party official in Milwaukee, WI, so he sat down to dinner with many of Wisconsin's greatest political names of the 20th Century: William Proxmire and Clem Zablocki chief among them. As a Marine Corps veteran, Tim has a great interest in veteran affairs, primarily as they relate to the men and women serving and their families. As far as Tim is concerned, the military-industrial complex has enough support. How the men and women who serve are treated is reprehensible, while in the military and especially once they become veterans. Tim would like to help change that.