Dodgers Set Themselves Up for Game 4 of NLCS
Top photo of Cody Bellinger by Claudia Gestro
Game 3 of the National League Championship Series was the make or break game for the Los Angeles Dodgers. Going into the game they trailed the Atlanta Braves two games to zero and for most of Game 3 it looked like the Braves were going to have a commanding 3-0 lead in the series.
It was so bad the broadcasting network, TBS, was showing large groups of fans heading to the stadium exits and then worse yet, a steady stream of cars exiting the Dodger Stadium parking lot. The Dodger Faithful had lost faith.
The game started out great. Mookie Betts got on base to lead off the first inning and then Corey Seager belted a 2-run home run and voila! The Dodgers were leading 2-0. But then, reality struck. Braves starter Charlie Morton settled in and didn't give up another run.
The game began to unravel for the Dodgers and starting pitcher Walker Buehler in the top of the 4th. Freddie Freeman broke out of his slump in Game 3, getting a lead-off single in the inning. Ozzie Albeis flied out and then Austin Riley, who has been pummeling the Dodgers this entire series, hit a fly ball to the center field wall where Gavin Lux, an inexperienced center fielder, closed on the ball … and it bounced off his glove and hit the ground.
As a result the floodgates opened for the Braves' scoring. They put four runs on the board, including one that was the result of a bases loaded walk.
After the game LAPX reporter Claudia Gestro asked Buehler if Lux's error had been a distraction, because, as she said, "Everything changed after that." Buehler replied, "No. At the end of the day I have the ball in my hand and me and Will kind of control the game and control what we want to do, and I didn't execute a lot of pitches after that, so it is what it is."
Although it was probably not Buehler's intention, it sounded to some like the pitcher was throwing Lux under the bus. Buehler continued, "Gavin is extremely talented and has been put in a position that's extremely difficult in that he's playing a position he's never played before for September and now in the playoffs. And in talking to him after the game I think he's going to learn a lot just on how to make that specific play from that one, it just so happens that it happens at this time of year and everyone's going to be watching it. Gavin's confident enough and talented enough to handle that kind of stuff."
To make it clear the poor pitching after the error was not the fault of anyone else, Buehler added, "So that inning is on me, not on him, not on the umpire, not on anything like that. I think the other thing is he made a huge play in the first inning that kind of changed the whole complexion of the game right from the jump. So we have no issue and no lack of confidence in Gavin."
Adam Duvall hit an RBI single in the 5th to give Atlanta a three-run lead in the game.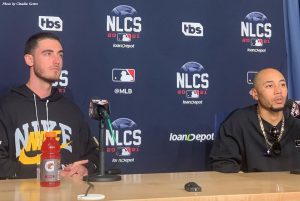 The Dodgers have a lot of high priced batting talent and for the most part they have not been living up to the hype in this series. The two Turners, Justin and Trea, have not been adding much (if any) offense. Mookie Betts has been getting steady hits. He had two hits and one RBI in Game 3 and one hit and two walks in Game 2. He didn't get a hit or any walks in Game 1. Justin Turner did get a hit in that first game in Atlanta. Catcher Will Smith has been a postseason wonder for the Dodgers.
And so it went in Game 3, the Braves leading 5-2. Until the 8th inning, with just five outs left for the Dodgers to get something going. A couple home runs, or maybe a lot of small ball to make up the three-run difference. Catcher Will Smith got on base with a single, Justin Turner popped out then A.J. Pollock singled, sending Smith to second. And then Cody Bellinger, one-time NL MVP, stepped in and whiffed at two strikes. He widened his stance, straightened out his swing and a pitch that Braves reliever Luke Jackson said he would throw the same way if he had to do it again, came across the plate high and outside … and Bellinger put it into the left-center bleachers.
After the game Gestro asked Bellinger if first baseman and first ballot Hall-of-Famer Albert Pujols was saying anything to pump up the team when things didn't look very good and how it felt to get a hug from the man the Dodgers call "Tio Albert." Bellinger said, "Yeah, I mean, it always feels good when you get a hug because that means you hit a homer. So, no, I think that in between each inning he came in after defense and said, let's go, keep going, keep going, and that's the only thing you can do is just keep on going and try to get some hits together. And Will and AJ had really good at-bats before me and so credit to them as well to let me have that opportunity."
When asked about whether he was aware of the gravity of the moment in the 8thinning, Mookie Betts answered, "I think everybody's super aware of it. It's impossible not to be aware of it. But I think that's a weak way to think of things. I think our mindset has been why are we going to focus on that when we are here now, we can win the game now, and all it takes is a hit or two, and then you get some energy, and then you forget, you forget that you're down 0-2 and whatnot." Betts added, "So I think that's one of our strong suits is not worrying about what happened yesterday, focusing on right now."
Manager Dave Roberts was asked what his reaction was when Bellinger hit that towering 3-run homer. He said, "Man, pure elation, joy. I mean, it's just hard to imagine a bigger hit that I can remember really, just kind of what was at stake. And couldn't be happier for him (Bellinger)."
Bellinger has had his struggles this season, well documented and discussed. Some people wondered if he would ever come back from his recent injuries. Roberts spoke about that, saying, "like I've said for quite some time, I think that this is going to make him a much better, it's showing his character and testing his character. He's going to be a better baseball player for these struggles.
"Right there Luke Jackson's throwing 97 miles an hour with plus, top of the zone, curve ball, slider down below, and he gets above a ball and stays on plane and squares it up. And you can see he swung through the one earlier, that at-bat, and he shortened up and I can be certain that the last thing he was thinking about was hitting a homer. He widened his stance out and tried to square it up and move the baseball forward. Good things happen when you do that."
That wasn't always the Bellinger way, as Dodger fans remember. Roberts said, "I can, probably in years past with not having gone through the struggles he might not have made that adjustment. So like I said, just a huge hit and he's continuing to kind of evolve and grow."
Today we will see Game 4 at Dodger Stadium. Twenty-game winner Julio Urías will start for the Dodgers and the Braves will have a bullpen game with Huascar Ynoa to open for Atlanta. Game time is 5:08 p.m. Pacific Time.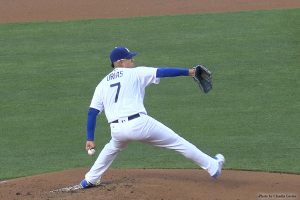 We are not the typical news website – nor do we wish to be. We will be offering more than news and blogs, but an opportunity for fiction writers, poets, comedians and musicians to showcase their talent and skills. Much like when the Beatles formed Apple Corps Ltd, they opened the door to all kinds of inspiring talent that never really got a shot. From that came the likes of James Taylor and others. We hope by providing a similar approach we can shine the light on some tremendous undiscovered talent and at the same time offer some familiar voices who live in Los Angeles and beyond.