Jared Kushner leading the COVID-19 response has been a disaster
One thing that has slipped my mind the past two weeks, when writing about the novel coronavirus is the decision by Trump to put his son-in-law Jared Kushner in charge of the coronavirus task force. A guy with absolutely no experience with diseases, or with disaster relief, no experience in government of any kind — unless you could his three-plus years of grifting during this administration.
in fact his only experience has been as a real estate developer, in which he nearly bankrupted his company when he purchased an over-valued property at 666 Fifth Avenue in Mid-town Manhattan. When the stock and real estate markets crashed in 2008 Kushner had to use his father-in-law's connections to crawl around to various Arab countries looking for someone to bail out him and his company. The property was finally sold in 2018.
The first time I read about this fabled address, my first instinct was to fantasize about buying the place. As an irreverent SOB I thought it would be funny to have a Satanic address and sell office space and apartments to every Satanic or pagan group that was interested. In other words, make good use of my devout Catholic upbringing.
At any rate, the fool that bought this building, nearly collapsing his daddy's business in the process, is now running the COVID-19 response team. Jared's team consists of other people that have no experience in anything other than being … rich kids with portfolios. They didn't know how to procure equipment, who to call, how to make bulk purchases for the government — they didn't know shit. My bad, they knew one shit — the president's son-in-law. Things work out right if you go to the right Manhattan cocktail parties.
So, after four-plus months of this pandemic decimating the U.S. we wonder why we are leading the world in number of infections and deaths, and one of the worst nations when it comes to deaths per 100,000. It's a great question because on May 11, in one of his outdoor press rallies Trump said we were tied with Germany as the best countries in the world when it came to deaths per 100,000 people. Turns out the president was reading the graph backwards.
In this same press rally Trump was scared off his dais by two reporters who pressured him to answer questions about his comments. Trump told several lies in that press rally and these two reporters, Weijia Jiang of ABC News and Kaitlan Collins of CNN tried to press him to explain what he was saying. Trump told Jiang, who immigrated from China when she was two, to ask China her question. It was clearly racist. When Collins was called on, she paused to let her colleague try to follow up. Neither woman would let Trump go without answering the question … so being the coward he is Trump walked away from his press rally.
Another disgraceful, racist, temper tantrum by Trump b/c he was asked a pointed question by @weijia

Classy move by @kaitlancollins to allow her to follow up to challenge Trump's obnoxious "ask China" comment.

Trump can't handle smart, assertive women. @Honestly_Tara https://t.co/kOshBWFh2G

— Tara Setmayer (@TaraSetmayer) May 11, 2020
In a telephone townhall with his former staffers former President Barack Obama said the current response to the pandemic was a "chaotic disaster." Senate Majority Leader Mitch McConnell (R-KY) said Obama was "classless." Quite ironic when we consider McConnell's legislative record.
We've been waiting for sports to get started and the bandied about, and nearly confirmed by some players, rumor from Major League Baseball that the season will get started in Mid-July has some of us excited. Some of us.
One player, relief pitcher for the Washington Nationals, Sean Doolittle, tweeted this: "Bear with me, but it feels like we've zoomed past the most important aspect of any MLB restart plan: health protections for players, families, staff, stadium workers and the workforce it would require to resume a season. Here are some things I'll be looking for in the proposal…"
Bear with me, but it feels like we've zoomed past the most important aspect of any MLB restart plan: health protections for players, families, staff, stadium workers and the workforce it would require to resume a season. Here are some things I'll be looking for in the proposal…

— Obi-Sean Kenobi Doolittle (@whatwouldDOOdo) May 11, 2020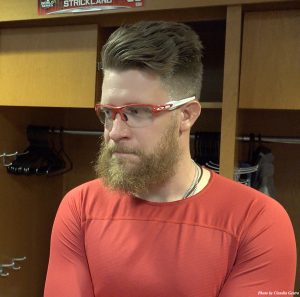 He followed that with this tweet: "Because this is a novel virus, there is still so much we don't know – including the long-term effects. On top of respiratory issues, there's been evidence of kidney, intestinal, and liver damage, as well as neurological malfunctions, blood clots & strokes."
In another tweet Doolittle said, "We don't have a vaccine yet, and we don't really have any effective anti-viral treatments. What happens if there is a second wave? Hopefully we can come up with BOTH a proactive health plan focused on prevention AND a reactive plan aimed at containment."
And this: "Hopefully these concerns will be addressed in MLB's proposal, first and foremost: 1) what's the plan to ethically acquire enough tests? 2) what's the protocol if a player, staff member, or worker contracts the virus? We want to play. And we want everyone to stay safe."
Besides being one of the best relief pitchers in baseball, Obi-Sean-Kenobi Doolittle is one of the smartest people in sports. Our sports reporter, Claudia Gestro, interviewed him during the 2019 World Series, which his team won — winning all five road games to do it. He's very measured with his words and usually doesn't give the cookie-cutter answers that tend to populate postgame pressers in sports.
And he's a Star Wars fan.
Doolittle's questions go beyond baseball, go beyond sports. When he asks, ""We don't have a vaccine yet, and we don't really have any effective anti-viral treatments. What happens if there is a second wave? Hopefully we can come up with BOTH a proactive health plan focused on prevention AND a reactive plan aimed at containment." Those are issues that need to be addressed before we send people back to work, back to the stores, back to the drudgery as usual.
Yeah, athletes want to play again, do what they get paid millions to do — in front of fans. Whether it's at Dodger Stadium. Angel Stadium, Staples Center or any one of a roughly 60 venues for professional sports. Plus the minor leagues, G League in the NBA and the various semi-pro hockey arenas around North America.
But nobody wants to die and they do not want to see anyone else become infected, suffer and die just for the sake of putting on sporting events. Think about this: We are not going to see the 2020 Summer Olympics this year. The games have been postponed until next year. People have trained for years, decades for this one moment, this one shot at winning Olympic Gold. Putting the games off for one year changes things for every athlete and for some of them the postponement could mean they miss their chance.
That's a helluva sacrifice, as it is for NBA teams like the Los Angeles Lakers and Clippers, and the Milwaukee Bucks, three teams that arguably have the best chances to win the 2020 NBA championship. They are all right there, getting close to the end of the season and then the playoffs … only to have their season paused for the coronavirus.
Ask players like LeBron James and Kawhi Leonard how hard it is to get to the NBA Finals and then win the trophy. Both have won multiple trophies with different teams. This pandemic has forced them to sacrifice their best shots to hoist that trophy once again. The frustration was very apparent with James's tweets. He, like all the Lakers fans — and every other team with their fans looking forward to the playoffs – were excited about the prospects for their chances at the title.
Players from the NBA have expressed their desire to finish this season and Commissioner Adam Silver is expected to make a decision in the next two weeks.
Nobody wants to extend the lockdown of society, the shutdown of the economy. We are missing a lot, but everyone in sports, along with nearly 80% of the rest of society, thinks we need to stay a part from one another until this pandemic is under control. And clearly it is not.
California Governor Gavin Newsom announced some new rules for reopening the economy. That would include restaurants with dine-in service, pet groomers, car washes and shopping malls, but all the businesses that open have to configure their spaces to avoid the spread of COVID-19. The openings can only occur in counties where state benchmarks have been met.
Newsom said, "As we begin these modifications — and we already have reopened 70-plus percent of the economy — as we begin to modify with these dine-in opportunities, let's make sure we do so cognizant not only of our own health but the health of our most vulnerable and those are our seniors." He added, "None of this means anything if customers don't feel safe."
It's mostly rural counties that have met the state benchmarks for opening, but counties like San Francisco and Los Angeles are still coronavirus hotspots and will not be able to open up. As of Wednesday morning, May 13, Los Angeles County has over 32,000 confirmed cases and 1,569 fatalities. As a result L.A. County is extending the Stay-At-Home orders another three months, although the beaches in the county have been opened, with restrictions. There's legal surfing in L.A. County again.
Sad news: For the first time in 98 years the Hollywood Bowl will not have a season. The Bowl is an icon and the season is a premier concert series.
You can view all of the state's statistics and other information here. You will also find the latest information on the reopening guidelines. I urge every Californian to read it so you know where your community stands. Click here to find a testing site near you; an appointment is required. It's an easy function to use. This is important because there have been just over one million tests conducted. That's not much for a state of 40 million.
As of this morning the United States has over 1.4 million confirmed cases and more than 83,000 fatalities. The worst hot spots are now in rural America, with Trousdale, Tennessee leading. They are averaging over 14 new cases per 100,000 people. If there are meat packing plants in your area then you are living in a hot spot.
••• •••• ••••• •••• ••••
This is a little off the topics of White House ineptitude and the coronavirus, although we can safely say White House corruption is having an effect on the environment. But the NASA climate change department provided this information, which I found on Leonardo DiCaprio's Instagram account:
"From @nasaclimatechange: Greenland and Antarctica have lost 318 gigatons of ice per year since 2003, according to new ICESat-2 research. One gigaton of ice is enough to fill 400,000 Olympic-sized swimming pools or cover New York's Central Park in ice more than 1,000 feet (300 meters) thick.
"The Kangerdlugssup and Jakobshavn glaciers in Greenland have lost roughly 14 to 20 feet (4 to 6 meters) of elevation per year over the past 16 years. Credit: NASA/Jim Yungel."
Or, as Stephen Colbert put it a few nights ago, when talking about the Space Force recruitment video, "There's just something about this administration that inspires people to flee the planet."
Take care and stay at home.
You can read all my previous posts here and by all means, subscribe to our YouTube channel so that when sports start again you can follow all the coverage by Claudia Gestro.
Top photo is a YouTube screenshot of Jared Kushner at and April White House press rally
Click on all the photos to enlarge

Tim Forkes started as a writer on a small alternative newspaper in Milwaukee called the Crazy Shepherd. Writing about entertainment, he had the opportunity to speak with many people in show business, from the very famous to the people struggling to find an audience. In 1992 Tim moved to San Diego, CA and pursued other interests, but remained a freelance writer. Upon arrival in Southern California he was struck by how the elected government officials and business were so intertwined, far more so than he had witnessed in Wisconsin. His interest in entertainment began to wane and the business of politics took its place. He had always been interested in politics, his mother had been a Democratic Party official in Milwaukee, WI, so he sat down to dinner with many of Wisconsin's greatest political names of the 20th Century: William Proxmire and Clem Zablocki chief among them. As a Marine Corps veteran, Tim has a great interest in veteran affairs, primarily as they relate to the men and women serving and their families. As far as Tim is concerned, the military-industrial complex has enough support. How the men and women who serve are treated is reprehensible, while in the military and especially once they become veterans. Tim would like to help change that.