LAFC extends its lead in the MLS west with win over FC Dallas
The Los Angeles Football Club is stayng at the top of Major League Soccer after earning their ninth win of the season, a shutout against the FC Dallas. The win at the Banc of California Stadium was the club's third consecutive shut out
It took 39 minutes for LAFC to get on the board, with the 13th goal of the season by forward Carlos Vela.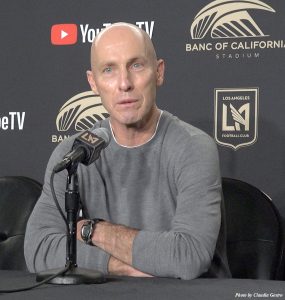 Vela leads the league in goals and assists and decided to skip playing for Mexico in the Gold Cup playoffs. Staying with LAFC for the season will help keep Vela in the running for the MLS MVP.
Diego Rossi scored LAFC's second goal just seven minutes from time, with assists from Vela and Adama Diomandé.
After the match coach Bob Bradley talked about his star forward with the media, ""He's been playing great for us and his mentality for every game, his willingness to take the ball, try to create, get chances, score goals, but still in right moments he's unselfish." He added, "… he's set the standard and I think everybody else sees it. We also, as a team, feel good about the kind of football we try to play and the idea is to keep seeing if we can get better."
When asked about creating chances Vela replied, "I think the first half was really good. We pressed in a high intensity but the second half was difficult to continue in the same pace. We tried but sometimes the legs were not in the same direction. But after that, we talked about being smart and waiting for more chances because we're winning so they have to take more risks and we'll have more chances to score goals so that's the way to win games. Being clever in your moments and then, when you have chances you have to score."
Mid fielder Eduard Atuesta likes the challenge of playing teams at home in Banc of California Stadium. He told the media, "The majority of teams are coming to the Banc to play with five defenders. It's complicated to be able to penetrate that pressure. I believe we have the talent, especially in the last fourth of the field to be able to create danger. I thank God I was able to find Carlos Vela on a play and he's good on that side of the field."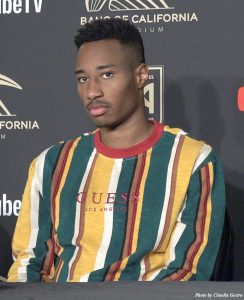 On Sunday LAFC will be in Dallas for the second and final match between these two clubs this season. The coaches and players expect the play to be rough, but a especially tough foul against Vela got his teammates pumped up.
Mark-Anthony Kaye said, "It's hard because sometimes I feel like Carlos [Vela] has a target on his back because he's so Good. I'm the type of guy that's going to defend any one of my teammates on the field, but obviously I need to be smart about it and do it in the laws of the game. It's tough and I think we're more accustomed to it now so I'm not surprised when it happens, but I don't stand for that kind of play. I feel like there's a bit of malice in it but again, we can't control it and hopefully the refs and the league do the right thing when they see it.
LAFC's next match will be Sunday against FC Dallas, in Texas. Start time is 4:30 Pacific Time.
Photos by Claudia Gestro
Top photo: LAFC F Carlos Vela

We are not the typical news website – nor do we wish to be. We will be offering more than news and blogs, but an opportunity for fiction writers, poets, comedians and musicians to showcase their talent and skills. Much like when the Beatles formed Apple Corps Ltd, they opened the door to all kinds of inspiring talent that never really got a shot. From that came the likes of James Taylor and others. We hope by providing a similar approach we can shine the light on some tremendous undiscovered talent and at the same time offer some familiar voices who live in Los Angeles and beyond.