LAFC gets another win at home
On Sunday Night the Los Angeles Football Club got its ninth win at Banc of California Stadium, defeating the Colorado Rapids, 2-0. LAFC coach Bob Bradley said he liked the game over all and told the media, "Two-oh wins in this time of year are important, because 2-0 wins usually mean that there's a solid way from start to finish."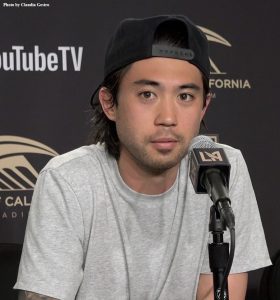 It was a scoreless first half, but both coaches thought Colorado played well. Rapids coach Anthony Hudson said, "Overall, I was very pleased with the performance. I think aside from a 15-20-minute period in the first half, it was a very strong away performance. I think we played some very good football at times, and the players give absolutely everything." He added, "When you come to a place like this, and you play against a top-quality team, and you see the players they have — not just in the starting 11, but on the bench. When we get the chances we had, we have to finish them. It's been the story of the season."
LAFC midfielder Lee Nguyen scored first at the 49-minute mark, and then in the 80th minute forward Diego Rossi followed with the second goal. Rossi told the media, "We work on that type of play. Bob [Bradley] has asked us to do this and it was a good play. 
Steven [Beitashour] gave a good ball to Dio [Adama Diomandé] and then Dio then gave me the assist. It's one of the type of attacks that we work on."
Lee Nguyen's goal was an incredible dance among defenders and he described it as being a blur. Once he saw the ball get into the box Nguyen made his moves. "I kind of just took the chance that it was going to bounce right out there. I was able to get to the ball first and make a play on it. I was fortunate enough that my shot was able to make the back of the net and beat [Rapids goalie] Tim [Howard]."
LAFC's next match is Friday, August 24, in Carson' StunHub Center as they take on the LA Galaxy. So far the Galaxy lead this LA Derby, having won the first match and came back to tie the second game and split the two points with LAFC.
Below are some reports from previous LAFC games. Be sure to subscribe to our YouTube channel.
Photos by Claudia Gestro

We are not the typical news website – nor do we wish to be. We will be offering more than news and blogs, but an opportunity for fiction writers, poets, comedians and musicians to showcase their talent and skills. Much like when the Beatles formed Apple Corps Ltd, they opened the door to all kinds of inspiring talent that never really got a shot. From that came the likes of James Taylor and others. We hope by providing a similar approach we can shine the light on some tremendous undiscovered talent and at the same time offer some familiar voices who live in Los Angeles and beyond.