Rams are prepared for Washington
Today the Los Angeles Rams welcome the Washington Redskins to the Los Angeles Memorial Coliseum. It's the second game of the season and the Rams have a win behind them while Washington has a loss.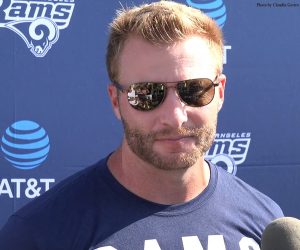 The Rams had a poor season last year, sacking former head coach Jeff Fisher in the season. With quarterback-friendly head coach Sean McVay they are hoping this will be a turnaround season for the team.
The Reskins lost their successful offensive coordinator — Sean McVay — and this season they have to adjust to a new coaching staff for the offense. Was that the issue in last week's game, which looked as if the Washington offense was unprepared?
Today both teams have something to prove and the win is vital to each team. On Friday McVay told the media, "I think it's just been refreshing to see what a good group of men that I'm surrounded with here and getting a chance to go on this journey. Fortunately, Week One started out the way that we wanted and we know that we have a great challenge ahead of us on Sunday."
Going from offensive coordinator to head coach has taken some adjusting for McVay. While he shares the play calling with offensive coordinator Matt LaFleur, McVay has to keep himself focused on the defense and special teams as well. On Friday he said, ""I think the biggest thing is just figuring out that balance to make sure that you're still involved in the offense, know what's going on, but paying close attention to the defense and special teams – you have to just be more specific with your time while you have great coaches and you can delegate and do different things like that and empower those guys. You still want to have an ownership on what's going on overall, big picture and when you've got 53 guys on the active roster, your 10 guys on the practice squad, there's a handful of guys that you want to make sure that you're continuing to try to build and develop those relationships with. You want to be real intentional, but also authentic and genuine about. So, that's where it's just being mindful of, 'What am I doing every single minute to try to do a good job in this role?' So, I think it's just more being real specific with that time is the biggest thing."
Defensive end Aaron Donald is back. He has had only one week of training, but McVay feels he is ready to step on the field today. ""I think in terms of what I've always thought about Aaron, just watching him from afar and the little bit of exposure that I've had from him – he came in in good shape, he's looked good, looks fresh, looks like the Aaron Donald that you guys are accustomed to seeing and that's kind of what I expected because you know he's a guy that's going to take great care of himself when he's away. He was working hard, he was doing everything that he could while not being here to make sure that when this opportunity presented itself, he would be ready to go and help his teammates out and try to be a positive thing that helps us win football games and that's certainly what he's done this week. I'm looking forward to seeing him get out there and compete with his teammates on Sunday."
Matt LaFleur, the offensive coordinator, is happy with the team's win last week, especially his quarterback, Jared Goff. ""I think first and foremost, it starts with his preparation and honestly, that he's had some good play around him and that always helps any quarterback in this league. But I thought just from day one, he's had the right mindset and he's prepared the right way each and every day."
The running game still suffers and LaFleur said, "Anytime you don't produce like you'd like to in that area…there's always room for improvement. But it definitely hurt us having two explosive runs getting called back. And so if we can limit those penalties, I think it'll keep us on track and you'll see us maybe be a little more committed to that run."
The Rams have a chance to go 2-0 today and the Coliseum will be rocking for them to win.
Photos by Claudia Gestro

We are not the typical news website – nor do we wish to be. We will be offering more than news and blogs, but an opportunity for fiction writers, poets, comedians and musicians to showcase their talent and skills. Much like when the Beatles formed Apple Corps Ltd, they opened the door to all kinds of inspiring talent that never really got a shot. From that came the likes of James Taylor and others. We hope by providing a similar approach we can shine the light on some tremendous undiscovered talent and at the same time offer some familiar voices who live in Los Angeles and beyond.