Super Bowl LIII is here, carrying with it some NFL history
It's Super Bowl Sunday, the 53rd such sporting spectacular in history. I've watched every Super Bowl, but I don't remember every Super Bowl.
The first two are easy to recall: Vince Lombardi and the Green Bay Packers beat the Kansas City Chiefs and Oakland Raiders, in that order. The next year Broadway Joe Namath and the New York Jets defeated the Baltimore Colts. Yep, the Colts were in Charm City. Maybe if they had won that game they would still be in Baltimore.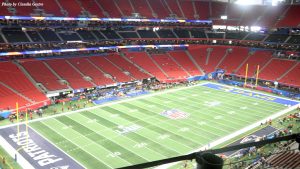 Super Bowl III is probably remembered mostly for Namath's bold prediction they would win. The Jets were considerable underdogs. The NFL was a much better league than the AFL, or so the conventional wisdom went — oh yeah, the two leagues hadn't fully merged.
In the 1970s I remember the Dallas Cowboys getting to the Super Bowl year-after-year (it seemed) but not winning. They actually made it to the Big Game five times in the 70s, winning it twice (SB VI and SB XII) Conversely, the Pittsburgh Steelers won four trophies with Terry Bradshaw as QB. They went back-to-back twice: SBIX-SBX, SBXIII-SBXIV.
It was in 1972 the Miami Dolphins had their perfect season, winning Super Bowl VII. It was "just" a 14-game season back then, but ask any player today how hard it is to win 14 games in a row. The mighty New England Patriots came close to a perfect season in 2007 when they won all of their 16 regular season games and two of the playoff games before losing Super Bowl XLII to the New York Giants. Eli Manning was the MVP of that one.
The Cowboys won three Super Bowls in the 1990s and the Packers went back-to-back, winning SBXXXI, spanking the Patriots in that one, 35-21. Then they lost to the Denver Broncos the following year. The biggest upset of my life. I still spit when I think of that game.
Since 2001 it has been the era of Tom Brady and the Patriots. This is their ninth trip to the Big Game, Super Bowl LIII. They have won it five times since 2001 with Brady leading their offense.
One thing that is rarely talked about is their defense. Teams don't get to Super Bowl without good to great defenses. As important as Brady is to New England's success, their defense has carried them in many games and the Patriots D can carry them in Super Bowl LIII.
I just don't think that will happen. The Rams offense is so good and playing so well it looks like they will over power the New England defense. Trey Flowers and Lawrence Guy probably differ. Just this season they have 116 tackles between them. Flowers has 7.5 sacks.
By comparison Aaron Donald has 59 tackles and 20.5 sacks. That's one man. Next to him his DT Ndamukong Suh who has 59 tackles and 4.5 sacks. As long as I've mention those two, the third man in the starting three-man D-line is Michael Brockers, who has 54 tackles.
The Rams play a 3-4 defense and the Patriots start with a 4-3 defense. Clearly, the Los Angeles defensive line is better than the New England D-line. That, for me, will be the deciding factor in this game.
With Suh, Donald and Brockers, backed up by some talented linebackers, the Rams defense will dominate the line of scrimmage when the Patriots offense takes the field. Then there is this: they are coached by John Fassel.
We can't forget the Rams special teams. Punter Johnny Hekker started playing football as a QB. When he sets up to punt he can deliver accurate throws. When he handles the ball for field goals he can toss passes.
This could be one of the best, most interesting Super Bowls in history. Historic even, when you consider the first time Tom Brady and Patriots won a Super Bowl (XXXVI) it was against the Rams. And, Sean McVay is the youngest head coach in history to lead a team into s Super Bowl. If Los Angeles wins, it will be that much more historic.
It's about ready to start so it's time to turn my attention to the TV. Gotta pay attention to the commercials too. Plus we will have In-n-Out for the game. It's gonna be great.
Photos by Claudia Gestro

Tim Forkes started as a writer on a small alternative newspaper in Milwaukee called the Crazy Shepherd. Writing about entertainment, he had the opportunity to speak with many people in show business, from the very famous to the people struggling to find an audience. In 1992 Tim moved to San Diego, CA and pursued other interests, but remained a freelance writer. Upon arrival in Southern California he was struck by how the elected government officials and business were so intertwined, far more so than he had witnessed in Wisconsin. His interest in entertainment began to wane and the business of politics took its place. He had always been interested in politics, his mother had been a Democratic Party official in Milwaukee, WI, so he sat down to dinner with many of Wisconsin's greatest political names of the 20th Century: William Proxmire and Clem Zablocki chief among them. As a Marine Corps veteran, Tim has a great interest in veteran affairs, primarily as they relate to the men and women serving and their families. As far as Tim is concerned, the military-industrial complex has enough support. How the men and women who serve are treated is reprehensible, while in the military and especially once they become veterans. Tim would like to help change that.