Kobe Bryant and his daughter die in helicopter crash
Breaking news reports confirm Lakers and NBA legend Kobe Bryant was killed in a Sunday morning helicopter crash in Calabasas with four others. TMZ first reported it and then the various news outlets began to confirm the news. There are no mentions on either the Lakers or NBA websites as of this writing.
Bryant has used his personal helicopter for years to commute around the area, going from his home in Newport Beach to Staples Center for games when he was still playing.
Details of the crash are still coming out; it was reported his wife Vanessa was not on the helicopter, but his daughter Gianna was and also died. Apparently they were on their way to the Mamba Academy in nearby Thousand Oaks to practice.
This is a tragic loss for the Los Angeles area, more than just Lakers fans. He was a fixture in the city and became an icon. Bryant spent his entire 20 years with the Lakers, making the All-Star Game 18 times and winning championships five times, three of them concurrently. He was the NBA Finals MVP twice and the NBA league MVP once. He also represented the U.S. in the Olympics twice.
Until Saturday, Bryant was third on the list of the NBA's all-time scorers with 33,643 points, but in his hometown of Philadelphia, PA, LeBron James, playing with the Lakers, passed Bryant on that list, finishing the game (in a losing effort) with 33,655. After the game James praised Bryant, saying "I'm just happy to be in any conversation with Kobe Bean Bryant, one of the all-time greatest basketball players to ever play, one of the all-time greatest Lakers."
On a night where the Lakers were playing in Kobe's hometown of Philly, LeBron passed him for 3rd on the NBA all-time scoring list. pic.twitter.com/PXSyQQKzAZ

— SportsCenter (@SportsCenter) January 26, 2020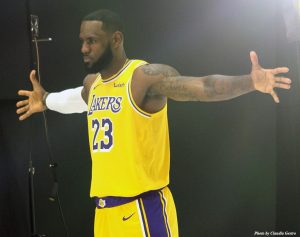 His career was marked with many achievements, but there was one allegation of sexual assault. After that Kobe was motivated to make his legacy as a player define his life. Having four daughters Kobe promoted women and girls in sports and other disciplines.
But he was also into multimedia arts and won an Oscar for Best Animated Short Film as the executive producer of Dear Basketball, which was based on a letter he wrote for the Players' Tribune when he decided to retire from the NBA at the end of the 2015-16 season.
Fans are already paying tribute to Kobe outside Staples Center. Kobe Bryant — Black Mamba — 1978-2020. Rest In Peace, Kobe and Gianna.
While he was still playing our sports reporter Claudia Gestro covered a number of his final games, including his final home game when he scored 60 points to help the Lakers defeat the Utah Jazz. We have some of those reports.
•••• •••• ••••• •••• ••••
UPDATE: It's just been reported that according to the flight manifest there were nine people (including the pilot) aboard the Sikorsky helicopter. The first 9-1-1 call came in at 9:47 a.m. Pacific Time and because of the terrain it took some time for the L.A. Fire Department to put out the 1/4 -acre brush fire so they could attend to the wreckage and search for survivors.
•••• •••• ••••• •••• ••••
UPDATE: The NBA issued a statement announcing the postponement of the Tuesday, January 28 game between the Lakers and Clippers.
NEW YORK – The National Basketball Association game between the Los Angeles Lakers and the LA Clippers scheduled for Tuesday, Jan. 28 at Staples Center has been postponed.  The decision was made out of respect for the Lakers organization, which is deeply grieving the tragic loss of Lakers legend Kobe Bryant, his daughter Gianna and seven other people in a helicopter crash on Sunday.

The game will be rescheduled at a later date.
Photos by Claudia Gestro — Top photo: Kobe Bryant

We are not the typical news website – nor do we wish to be. We will be offering more than news and blogs, but an opportunity for fiction writers, poets, comedians and musicians to showcase their talent and skills. Much like when the Beatles formed Apple Corps Ltd, they opened the door to all kinds of inspiring talent that never really got a shot. From that came the likes of James Taylor and others. We hope by providing a similar approach we can shine the light on some tremendous undiscovered talent and at the same time offer some familiar voices who live in Los Angeles and beyond.