Lou Williams is awarded 6th Man of the Year for third time
Los Angeles Clippers fans who have listened to coach Doc Rivers talk about the importance of the bench players, the record-setting duo of Montrezl Harrell and Lou Williams is no surprise. This past season they were the highest scoring bench duo in NBA history. To say they work well together is an understatement.
The key member of that Clippers bench has been guard Lou Williams, who has now won the 6th Man of the Year award for the second year in a row, three times total. He ties former Clippers guard Jamal Crawford who won his three awards while playing for L.A.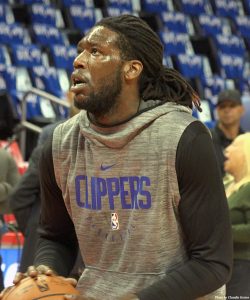 After winning the award Lou was asked what role Coach Rivers had in his success. He replied, "He puts guys in a position to be successful. I think he understands how important a bench is for a team to make successful runs, and he's bottled that up. He understands that, he gets the most out of his guys." He added, "Doc is one of those coaches that he realizes he needs guys that are going to come into the game and have some fire power. He's like the Sixth Man master."
Montrezl Harrell was also nominated for the award. Williams spoke about Trez as well. "A lot of my success is due to the chemistry that he and I had. We play well together; we made history together, being the highest scoring [bench] duo in history. I don't know the last time I've heard of two guys on the same team being finalists, so I wanted to make sure he understood what he means to me and how much I appreciated him to be there with me."
Williams started his career playing seven season with the Philadelphia 76ers, He then went to the Atlanta Hawks, then the Toronto Raptors, and then to the Lakers, where he began to catch the eyes of NBA fans. During the 2016-17 season the Lakers traded him to Houston. At the start of the 2017-18 season Williams was in a Clippers uniform. When the team signed him to a five-year deal Williams told the media he had found a basketball home, a place he would like to spend the rest of his career.
Williams is 32-years-old so there's no telling how many years he has left. Monday night he told the media that in 2015 he was telling his family and friends he thought he would be out of the game after that season. "Four years ago I thought I was done. I thought I was coming to the end of the road in my career. I came to LA and I was in an environment where I felt revitalized, and I felt I had something to prove." He added, "… coming to LA and having an opportunity to win another Sixth Man it gave me that boost. I really needed that. To get another one this year, I'm extremely honored and I look forward to the future."
Last season the Clippers proved all pre-season expectations wrong when they won 48 games and made the playoffs. Then they took the reigning NBA champions (at the time) to six games when experts said the series would be over in five games or less.
In that season Williams became the NBA's all-time leading reserve scorer and the only player in NBA history to average 20-plus points in under 27 minutes per game. His line for the season is 20 points, 5.4 assists, and 3.0 rebounds per game.
Lou Williams is looking forward to the next seasons with the Clippers. He isn't alone. The entire Clippers Nation is looking forward to seeing Lou Williams in Clippers colors for years to come.
The Milwaukee Bucks' Giannis Antetokounmpo was named the NBA MVP.
Photos by Claudia Gestro

We are not the typical news website – nor do we wish to be. We will be offering more than news and blogs, but an opportunity for fiction writers, poets, comedians and musicians to showcase their talent and skills. Much like when the Beatles formed Apple Corps Ltd, they opened the door to all kinds of inspiring talent that never really got a shot. From that came the likes of James Taylor and others. We hope by providing a similar approach we can shine the light on some tremendous undiscovered talent and at the same time offer some familiar voices who live in Los Angeles and beyond.