Rams start the season in Oakland
The NFL regular season is in full swing, with great moments and some rather remarkable games; remarkable that are in some ways a portent for the rest of the season for some teams. For instance, we know the Cleveland Browns won't go 0-16. They managed to finish their first game in a tie with the Pittsburgh Steelers. Pittsburgh, on the other hand, needs to figure out how to close out games.
The Los Angeles Chargers had a disappointing first game against the Kansas City Chiefs. Coach Anthony Lynn said, "Anytime we lose I'm very disappointed, and here on my home field. This would have done a lot for our football team to win this game against these guys, but we have 15 games left and we're going to get better. This is a long season, so we're not down by any means."
Quarterback Philip Rivers said, "It's crazy to say you left too many out there when we had 500 and however many of yards on offense we had. Today we should have thrown for 600, which is crazy to say. We should have thrown for 600 yards in an NFL game. We just didn't get it done. I had a couple just a hair underthrown. We had a couple we didn't bring down. We had a turnover down in there. That all affected points. The name of the game is points. As I said we should have had 600 yards and whoever knows how many more yards. You've got to score. You've got to score more than the other team and we didn't get that done today."
The final score of their game was 38-28, Kansas City.
Tonight the Los Angeles Rams will kick off their season in Oakland against the Raiders. The two teams met in the preseason, but neither team played the full complement of their starters, especially on offense. Tonight we will see the real matchup between Jon Gruden and one of his protégé's, Sean McVay.
The Raiders are planning to move operations to Las Vegas, but for now visiting teams will have to play in the Black Hole. As Rams head coach Sean McVay told the media last week, "We know that it's going to be a great challenge going to their place where their fans will be wild and it'll be a great atmosphere."
Their head coach, Jon Gruden has been considered the next best thing to God since he took over the team two decades ago (1998-2001). While there and then in Tampa Bay with the Buccaneers, he gained a reputation as a ruthless coach who puts 110% into his work. Some call his dedication to the game maniacal, even when he was an analyst for ESPN. He would get to his office by 4 a.m. to watch tape and we can be assured as head coach of the Raiders — once again — Gruden is just as maniacal. His mania helped produce a Super Bowl XXXVII win for the Buccaneers.
That won't guarantee a victory in tonight's game. Last month the Rams pulled out a win, a game Gruden called, "Downright embarrassing." It's not likely his starters will be an embarrassment, but they are going to face a defensive like that includes Michael Brockers, Ndamukong Suh and Aaron Donald.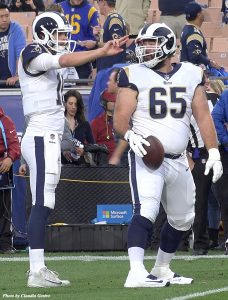 When asked what was so great about that front line, linebacker Ramik Wilson laughed and said, "It's self-explanatory. Aaron Donald, Brockers Suh; that's a lot to deal with. But we're going to take it one snap at a time, one game at a time and everything will turn out."
If Mark Barron doesn't play tonight — he's been recovering from an Achilles injury — Wilson will start.
Fans will be looking at the two quarterbacks: Jared Goff of the Rams and Derek Carr of the Raiders. Oakland was on track to play deep into the playoffs last season when Carr suffered a broken leg. He's 100% or pretty close and Goff is100% and getting better. He told the media, "Very excited to get out there and finally get some competitive — truly competitive — action with our offense. It'll be fun. We're really excited. It'll be under the lights – big time game, Monday night. Like I said, against a good team with the Raiders and it'll be really cool. We're excited to get out there as an offense and I mean, the defense only played a little bit too. I know they're excited as well."
Below is Claudia Gestro's most recent report from the Rams' training camp. This should be a great game.
Photos by Claudia Gestro
Top photo: Raiders Head Coach Jon Gruden

We are not the typical news website – nor do we wish to be. We will be offering more than news and blogs, but an opportunity for fiction writers, poets, comedians and musicians to showcase their talent and skills. Much like when the Beatles formed Apple Corps Ltd, they opened the door to all kinds of inspiring talent that never really got a shot. From that came the likes of James Taylor and others. We hope by providing a similar approach we can shine the light on some tremendous undiscovered talent and at the same time offer some familiar voices who live in Los Angeles and beyond.