Byron Scott talks about the development of his young players
Everyone knows, especially the fans, the Los Angeles Lakers are having one of their worst seasons in franchise history. To call it a rebuilding year might even be overstating it. Their record is an embarrassing 11-45, their number one draft pick, point guard D'Angelo Russell, is coming in off the bench and averaging about three assists per game (he averages 27 minutes per game) and to top it off, it's the retirement year for super star Kobe Bryant.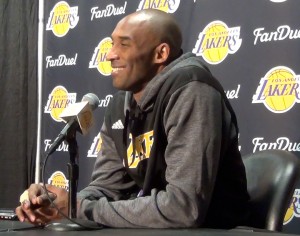 Is there anything positive for the coach and his team's future? A week ago Lakers general manager Mitch Kupchak was asked his opinion about Scott's performance as the head coach, in regards to the development of this young team, and the GM declined to answer.
Then on Friday, after the game with the San Antonio Spurs, Kobe Bryant defended his coach, saying, "It's been very tough for him. It's been very tough. I think he's managing it very well. He's remaining consistent and continuing to try to bring the best out of these young guys and demanding the best from them. He's doing the best that he can in the situation."
Head coaches for the Lakers getting criticized is nothing new, as Bryant pointed out after their loss to the San Antonio Spurs Friday Night. "I've seen Phil win 67 games here and get criticized. What does that tell you? Doesn't make any difference. People are always going to criticize. You just continue to do the job the best way you know how,"  he said, speaking of former head coach Phil Jackson.
Byron Scott has the worst record of any Lakers head coach that's led the team for more than a year, but he has one of the youngest teams as well. Before that game on Friday, Scott held his usual press conference and spoke about the development of his young players, especially D'Angelo Russell. "He's just kind of playing. He's not looking at the clock, he's not looking at situations. He's just trying to play basketball and that's where I got to get him to think."
Scott added, "It's not five-on-five at the Y. You gotta understand what's going on with the clock and your teammates."
Our reporter Claudia Gestro covered the game and the press conferences, before and after the loss to the Spurs. Below are her two reports.
Photos by Claudia Gestro.

We are not the typical news website – nor do we wish to be. We will be offering more than news and blogs, but an opportunity for fiction writers, poets, comedians and musicians to showcase their talent and skills. Much like when the Beatles formed Apple Corps Ltd, they opened the door to all kinds of inspiring talent that never really got a shot. From that came the likes of James Taylor and others. We hope by providing a similar approach we can shine the light on some tremendous undiscovered talent and at the same time offer some familiar voices who live in Los Angeles and beyond.